Figure 1 shows the CBRE 'real time' G7 economy tracker, made up of the best and most timely monthly economic data.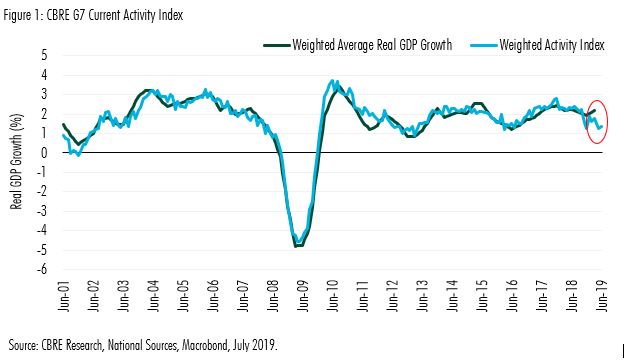 The main developed economies (U.S.A., Canada, Japan, Germany, France, Italy, U.K.) known as the G7 have slowed sharply since the end of 2017. That deceleration appears to have ended, and there is no evidence of a drift into recession, but we should not expect rapid bounce back in activity. Most likely the developed economies will see sub-par growth for the next couple of quarters.
The Q2 GDP numbers, as foreshadowed by our own G7 indicator are likely to be weak.
The source of the slowdown is easy to locate. The central banks of America and China tightened monetary policy through 2018. The former to 'normalize' monetary policy and keep inflation in check, and the latter to bear down on the growth of leverage. As economic conditions worsened in the early part of the year, both institutions put policy into reverse and that has boosted equity markets. However, since then businesses have started to cut back on investment because they are unsure how the trade war will play out. If we add to this the current global decline in new car registrations, in part due to technical change, then we have serious and sustained headwind for the global economy.
It is not all bad! On the plus side, inflationary pressures are de-minimis, and central banks have indicated that monetary stimulation is available. In addition, the major economies continue to add jobs, albeit at a slower rate than before, and consumers remain confident. These factors lead us to believe that no recession is imminent.