By Richard Barkham, Global Chief Economist; Neil Blake, Global Head of Forecasting; Wei Luo, Associate Director, CBRE.
The UK's long-term average share of global real estate investment is about 13%. Until early 2016, the level of UK investment moved in sync with the global total (Figure 1).
A divergence appeared around Q2 2016 in the run up to the UK's historic Brexit vote (June 23, 2016). Investment fell sharply, and then fell further after the referendum.
As with British political life, it has been a bit up and down since. Investor confidence has improved a couple of times as expectations of a smooth transition have risen. More recently, as uncertainties have increased, UK investment has been notably lower than the long run average would imply. Year to date, the market has experienced a substantial deterioration in transaction volume.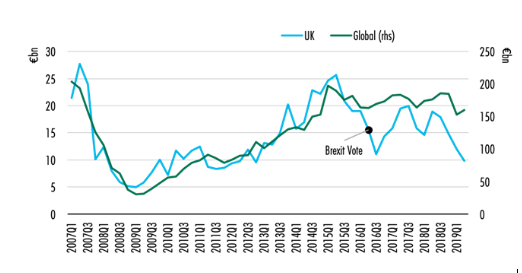 This makes it interesting to ask the counterfactual question: assuming the long-run synchronization between UK and world real estate investment would have held, what level of investment could the UK have expected if no referendum had occurred?