The prevailing build-to-rent (BTR) model has been seen in various jurisdictions across the US, UK, Canada, Japan, Australia and Singapore in recent years. This unique format has been modelled as 'multi-family real estate investment trusts (REITs)' or 'apartment REITs', as one of the sub-classes of residential REITs in the US. Within a Pacific Rim BTR-based portfolio, the US and Japan were more significant than Australia and Singapore, according to a new analysis published in my PhD thesis.
Key players of Pacific Rim BTR
Five of the top six global BTR sectors are in the Pacific Rim region. The Pacific Rim region constituted 93.1% of the size of the global BTR market in 2018, according to my constructed database, with consideration of survival bias. These include the US (US$111.0bn), Japan (US$17.5bn), Canada (US$9.8bn), Singapore (US$2.5bn) and Australia (US$0.8bn). Strong growth of BTR has been evident in the Pacific Rim region. Pacific Rim BTR has increased from US$28.3bn in July 2006 to US$141.7bn in December 2018, with a 501% increase. Particularly, Japan has grown by 649% since July 2006, followed by the US (541%), Canada (327%), Singapore (268%) and Australia (72%).
Players of Pacific Rim BTR are Equity Residential (US; US$30.0bn), AvalonBay Communities (US; US$29.2bn), Essex Property Trust (US; US$19.8bn), Daiwa House REIT (Japan; US$4.3bn), Advance Residence (Japan; US$3.7bn), Nippon Accommodations (Japan; US$2.3bn), Comforia Residential REIT (Japan; US$1.5bn), Kenedix Residential (Japan; US$1.2bn), Ascott Residence Trust (Singapore; US$1.7bn) and US Masters Residential Property Fund (Australia, US$0.4bn).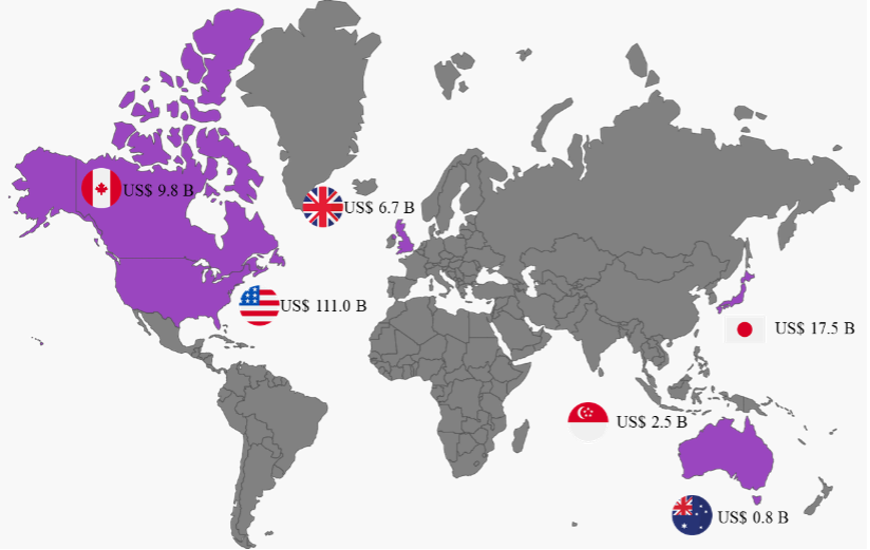 Investment performance of Pacific Rim BTR
The strong investment performance of BTR was validated as an attractive investment asset coexisting alongside the major asset classes in institutional investors' portfolios across the US, Japan, Australia and Singapore, offering desirable portfolio diversification benefits with both stocks and bonds for institutional investors seeking portfolio diversifying in each case.