INTERVIEW ORIGINALLY PUBLISHED NOVEMBER 2ND 2017
Veritable housing soothsayer Tony Pidgley turned 70 in August, and in September, Berkeley was re-admitted to the FTSE 100 for the second time – its share price hitting a new all-time high. Mr Pidgley's 2017 fiscal pay packet was £26.9 million and in recent weeks he has sold two tranches of 750,000 Berkeley shares each time (which raised twice that amount). But "I'm not stopping any time soon," he says, "there is still so much need, so much to do, so much to build" and "we have land everywhere". Tony Pidgley talks to Tony Williams, and they have known each other for 33 years.
1976 was the year of the hot summer, Berkeley's provenance and the emergence of Tony Pidgley. In the intervening 41 years all three have become soused in folklore, myth and legend. Apocryphal or not, what is real is the growth, nimbleness and ultimate pre-eminence of Berkeley in its chosen industry; and it is still led by Tony, who is Executive Chairman and a CBE.
The company was floated on the USM (Unlisted Securities Market) in 1984 and joined the main market in 1985 with a market capitalisation of some £67 million. Since then, the company has more than doubled in value in each of its 32 years as a fully listed company (i.e. +221% per annum). Put another way, Berkeley's market value has squared (officially at £4.5 billion) and then some i.e. this month (October 2017) it bounced off £40 per share and a £5.4 billion market capitalisation. In September, Berkeley was also readmitted to the FTSE 100.
The Berkeley Group key points
At its last balance sheet date, Berkeley held net cash of £285.5 million
Profit before tax has grown at 32% per annum over five years to clear £800 million
Return on capital employed has averaged 34.3% per annum 2013-17
19,000 houses built in the past five years
Berkeley delivers over 10% of London's new affordable and private homes
£6.4 billion gross margin on land holdings
30,000 jobs supported
£2.3 billion contribution to UK Treasury
£11.2 million to over 100 charities
Aims to be the UK's first carbon positive housebuilder
Group motto is "Suscipere et Finire" i.e. to undertake and to accomplish
It is also true that Mr Pidgley appears to have a sixth sense which tells him when the property market is going up and when it is going down. This started almost before it all began, when in the year (and pretty much the month) that Berkeley joined the USM i.e. July 1984, the base rate (aka the minimum lending rate) rose 200 basis points in a single leap to 12%. This had only happened previously in the dog days that were the second half of the 1970s. The float went ahead anyway, albeit less money was asked for, because Tony could see through the mist realising that this was simply a blip not a trend.
Empirical proof came again, early doors, in the financial storm of the late 1980s/early 1990s when interest rates doubled in 12 months and mortgage rates did the same with many homeowners (and more mature readers) paying a rate north of 15%. And who went liquid in advance of this debacle?
Similarly, who remembers Trencherwood which also floated on the USM in 1984? It hit the buffers in 1992 when it was also forced into a penal debt for equity swap before being absorbed in 1996 by Wilson Bowden (now part of Barratt). This recession and its aftermath changed the face of the UK industry and led to the wide scale exit of contractors from housebuilding (save for Luddites such as Galliford Try and Kier).
Same again, too, in the global financial crisis (GFC) which started in 2008 and ran through 2012. Berkeley was the sole UK listed housebuilder not to write down its assets. In the three calendar years 2008 through 2010, companies comprising the publicly listed UK housebuilding sector wrote off £5.2 billion in provisions against asset carrying values i.e. this was 41% of the starting price of £12.8 billion in Net Asset Value (NAV). The sector also raised some £1.7 billion of fresh dosh from its shareholders during this period. Once again, who was buying land when Lehman's went bust? And the group's performance is still benefitting from this investment – almost 10 years on.
As the late, great Carwyn James once said: some players sniff the wind, others create it. Mr James was coach of British and Irish Lions on their tour of New Zealand in 1971 and this is still the only Lions side ever to win a series against the All Blacks. He said: "I love an inner calm, a coolness, a detachment; a brilliance and insouciance which is devastating".
1984
I was a cub building analyst in 1984 at Grieveson Grant which was absorbed by Kleinwort Benson a year later which, in turn, was bought by Dresdner Bank in 1995 which then disappeared into Commerzbank in 2008…
In any event, Grieveson Grant, or 'GG' as it was affectionately known, was still a partnership (pre-1986s Big Bang) and one of the partners summoned me to his desk one day to ask about the privately-owned Berkeley Group. "Williams, I have just bought a super new house down in Surrey from this outfit called Berkeley. I think the company might be worth a look. I think they might float. You should go and see them."
And so, as 'recommended', I took the train to Weybridge and met Tony Pidgley and then-CFO Paul Read, and I was collected from the station by Paul in Tony's Rolls Royce (the boy had style from the get-go). They were both very nice people and self-deprecating to the extent that they said "we have a lot to learn". But even then, no one was building houses like Berkeley.
As is lodged in folklore, too, the company was named after Berkeley Square in the West End. "Why not?" they said at the time. And: "Who knows, too, we might have an office there one day." Okay, the latter is one of the few things that didn't come true.
Strategy and style
Berkeley is not simply a common or garden housebuilder, it is a creator of communities on both a diminutive and massive scale – and often in initially unprepossessing locations. It is probably the best at it in the UK (its sole marketplace). "Above all else, enhancing property value is about having time. This is afforded to Berkeley by its strategy of taking low financial risk through a combination of matching production to demand, selling forward and only gearing when there is sufficient visibility of future cash flow."
"Berkeley's strategy has been developed for a cyclical market. Residential development is not about individual reporting periods. It is about creating value over the long-term and this requires financial discipline and balance sheet strength. Berkeley acquires land differently to others. The primary focus is on adding value through its development expertise, for which we have an excellent record."
The Berkeley Group also comprises six autonomous companies: St George, St James, Berkeley, St Edward, St William (working with National Grid), and St Joseph (based in Birmingham).
It has also adopted a formal business strategy called 'Our Vision'. It focuses on five key areas and 10 commitments to be delivered between 2016 and 2018; and, through this framework, "the Group aims to become a world class business generating long-term value by creating successful, sustainable places where people aspire to live":
Customers – providing exceptional service to all customers, engaging with them and putting them at the heart of all decisions; and it boasts a 98% buyer 'recommendation-to-a-friend' (Institute of Customer Service).
Homes – developing individually designed, high quality homes with low environmental impact, smart technology – and an eye to climate change. For example, in May 2016, in a landmark announcement for the housing industry, Berkeley committed to becoming the first major housebuilder in Britain to be carbon positive.
Places – creating great places where residents enjoy a good quality of life, now and in the future – with a net biodiversity gain.
Operations – making the right long term decisions whilst running the business efficiently and working with the supply chain. This includes reducing operational carbon emissions intensity by 10% and a programme to become carbon positive; plus at least 1,500 people across both the direct and indirect workforce undertake an apprenticeship or vocational training.
People – developing a highly skilled workforce which runs autonomous businesses, operates in a safe and supportive environment and contributes to wider society.
And, by way of pudding proof, Berkeley was voted one of Britain's Most Admired Companies across all industries from 2012 to 2016 – and Housebuilder of the Year in 2015 at The Building Awards. In 2014, it won the Queens Award for Enterprise and in 2015, the Group was the first housebuilder in the UK to have 500 sites registered by the Considerate Constructors Scheme. And, finally, The Berkeley Foundation was set up in 2011 and has so far committed £11.2 million to more than 100 charities and worthy causes.
True to its word, too, the Group (and it uses 'The', the article, in its title) has adopted the Latin motto "Suscipere et Finire" i.e. "to undertake and to accomplish". Say no more.
Performance metrics
In the five fiscal years through 30 April 2017, Berkeley has more than doubled revenue to £2.7 billion which means a 22% per annum gain over the period.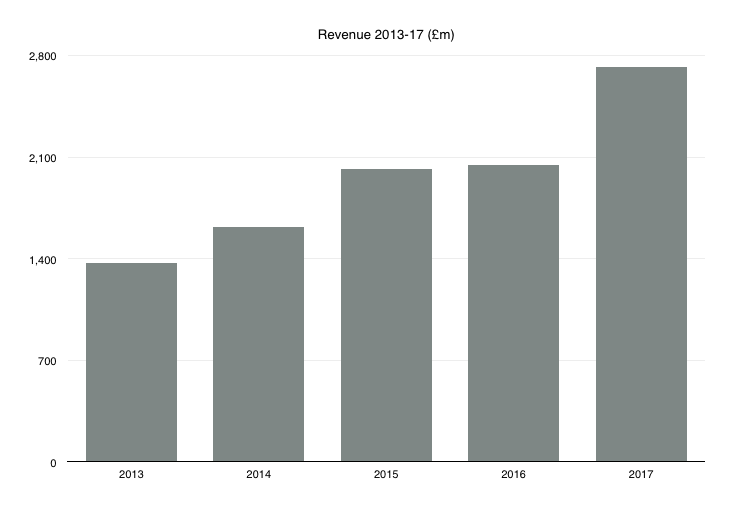 At the same time profit before tax has grown at 32% per annum over five years to clear £800 million.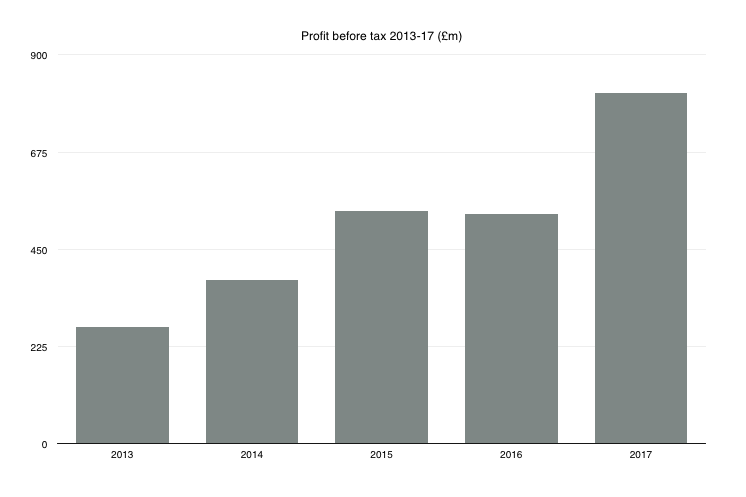 Finally, the Group has averaged a return on capital employed of 34.3% in the half decade from 2013 through 2017 (as defined and published by Berkeley).
Since 2011, too, Berkeley has also been operating a return of cash to shareholders scheme which through September this year had produced £8.34 per share or £855 million. This will continue through 2021 when the total will have risen to £16.34 and more than £2 billion.
Shareholder Returns Programme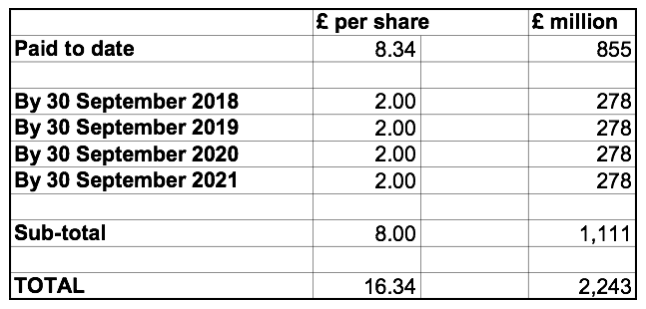 Source: Berkeley
It should also be noted that since the Brexit vote in June 2016, Berkeley has bought back 5.1 million shares at a total cost of £157.3 million. This equates to £30.74 per share against a current share price of £35.65; nice arithmetic. Note, too, that at the last balance sheet date 30 April 2017, Berkeley still held net cash of £285.5 million.
Berkeley AGM statement: 6 September 2017
"In the first four months of the year Berkeley has continued to trade in line with Management's expectations, with sales prices achieved remaining above business plan levels. This, coupled with the Group's strong forward sales position and unrivalled land bank, provides the Board with the confidence to reaffirm its guidance that Berkeley is on track to deliver at least £3.0 billion of pre-tax profit in the five years ending 30 April 2021, with profits for the current year anticipated to be at least as strong as 2016-17.
While Berkeley is in excellent shape, the London market continues to be adversely impacted by both, uncertainty around the terms and implications of Brexit and, the changes in recent years to SDLT and mortgage interest deductibility. This has been partly offset by good availability of mortgage finance at low interest rates, favourable currency exchange rates and the quality of Berkeley's well-presented and well-located homes.