Animals' bassist Chas Chandler saw the potential in an unknown black American guitar player called Jimmy Hendrix, when others didn't. Quickly, Chandler assumed the role of his first ever manager and brought the virtuoso to London in 1966. Within months, Jimi (new exotic spelling) had formed the Jimi Hendrix Experience (aka his band) and recorded three UK top ten hits: "Hey Joe", "Purple Haze", and "The Wind Cries Mary". All three songs were from his seminal (not used lightly here) first album, the partly eponymous Are You Experienced?
On its debut, as a teenager, I would have answered "no". Now, though, after three decades of listening to the music that is the UK building and real estate markets, it would be an A-sharp major. For many of these years, too, I have worked as an advisor to Experian and its forecasting of activity levels in UK building and property; and the Group, better known for credit services and scores (half of its revenue), is similarly seasoned and assonant.
Specifically, the industry forecasting work is undertaken by Experian's Construction Futures team and the Forecasting Committee for the Construction Industries. The latter is where I sit as a member of both the full committee and as Chairman of the Non-residential Group (which includes the commercial, industrial and public building sectors). Other members are sourced from a wide range of players including Carter Jones, CBRE, Costain, JLL, Galliford Try, Graham Group, the Housing and Communities Agency, Lloyds Banking Group, Nationwide and Tata Steel (on drums).
The forecasting which always runs all along the watchtower of three years out is driven off Experian's macro model and then sector-by-sector paradigms are generated bottom-up looking at all constituent parts and notes.
Historically, total UK construction output grew at 5.1% per annum in the three years 2014 through 2016, with the first of these being a platinum seller (+8.1%). Note, too, that all data are based on 'chain-linked GBP millions in 2013 prices' aka in real terms (a discussion for another day).
Relative musical scales are pivotal here too (when aren't they?) with private housing output recording 20% of last year's concerto output, commercial chiming on 19% and infrastructure at 13%; and, together, this trio accounted for half of all activity. The largest solo sector, however, is private sector RMI i.e. repair, maintenance and improvement (it should change its name). Industrial building, for example, represented just a 3% chorus within all UK construction activity last year.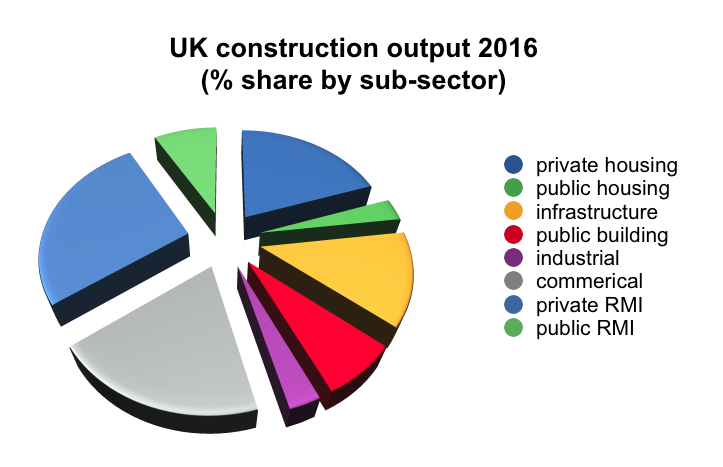 Looking forward, total output will grow at a more ambient, but still positive clef of 1.3% per annum in the three years 2017 through 2019 (which also makes the best sound +1.8%).
By sector, I have looked at the percentage movement in value of each one between 2016 and 2019. Startlingly, private housing and infrastructure are top of the charts by a symphony with growth of 14% and 12% respectively, i.e. the value of output in real terms will be higher by these percentages at the end of 2019 than they were at the end of 2016.