ARTICLE ORIGINALLY PUBLISHED AUGUST 15TH 2017
I have just returned from my old and dear friends' week-long 25th wedding anniversary celebration at Wyntoon, the 60,000 acre Hearst estate located near Mt. Shasta in Northern California. William Randolph Hearst, the famous tycoon and newspaper proprietor, purchased the property in 1929.
After leaving Harvard, this son of a wealthy 49er who made his fortune in gold and silver mining asked his father if he could take over the San Francisco Examiner, which he did in 1887, because he saw a future in the media. 'WR', as he is referred to by the family, had many grand and ambitious plans. One was to build a 68 bedroom castle at Wyntoon on the bend of the McCloud River. This design by Bernard Maybeck was not dissimilar in form but considerably larger than the present day Disney Castle as seen at Disneyworld. However, at this time, his accountants told him he had to scale back his spending so what he built instead, with the help of Julia Morgan, his female Beaux Arts trained architect, was a cluster of houses that imitated a Bavarian village. Here is the genesis of fairy tale architecture in California.
WR had wide interests in all European cultures, as witnessed by his purchase and construction of numerous large palaces all over the world to house his vast and varied collections. At the height of his collecting, it has been estimated that he controlled 20% of the world's art and antiques. However, WR's first trips to Europe, accompanied by his mother and tutor, took him to Bavaria among other places, and Germany remained his favourite destination. We forget this, but at this time before the First World War many wealthy Americans looked to Germany for their cultural lead. Consisting of three houses named after Grimms' Fairy Tales, Wyntoon was also to be the repository of his German art and antique collection which it is to this day.  Angel House, Cinderella House and Bear House were completed in 1933 and were decorated on the exterior by the Hungarian illustrator Willy Pogany who also happened to work for Walt Disney. These murals, however, are bright and cheerful in contrast to the often dark tales of the Brothers Grimm.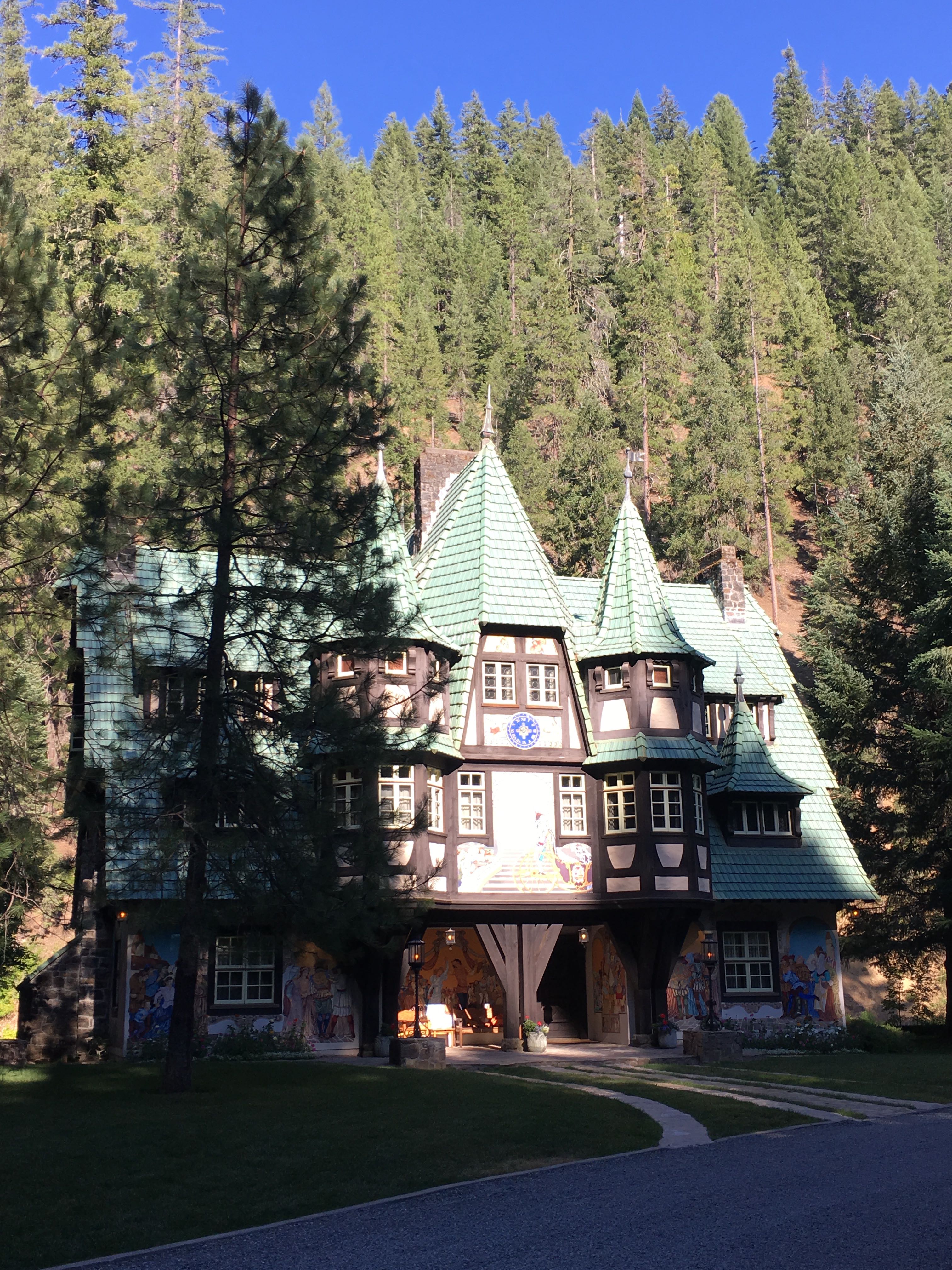 Bear House, Wyntoon, by Julia Morgan (completed 1933)
So why was there this obsession so early on with fairy tales and castles and make-believe? First of all, WR's happiest times occurred as a child when he was exploring Europe with his mother and these tales reminded him of those times. Secondly, all the California tycoons such as Louis B. Mayer at MGM and Walt Disney were very interested in the commercial potential of these stories. These stories, told as comic strips in the Hearst newspapers or as cartoons in the Walt Disney films, were extremely popular in America at the time – an America that was open to all European immigrants not just those from the British Isles, as had been the case before the Civil War. They were selling fantasies to the people and there was a consensus that these stories should be the happy, cheerful versions that would be appropriate for a country deep in the worst economic depression ever witnessed. Fairy tales were stories everyone could understand.
In parts of Europe in the 19th century there was also a fascination with fairy tales. Ludwig II built some extraordinary castles in Germany in the 19th century. However, after the First World War, with all the horrors witnessed on Flanders fields, Germany fell out of favour in America and its folklore was appropriated to make the American dream believable. Hearst and other American plutocrats were buying vast quantities of art and antiquities from Spain, Italy, Germany and even England because they believed they were saving a civilisation and culture that was destroying itself. They perceived that their purchases were true acts of altruism. But when they took this art and culture they often turned it into a more commercially viable and ultimately more palatable form that could be sold across the vast American continent and even back to Europe.
To this day, the fairy tale in California architecture is alive and strong. And I am not just talking about Disneyland or the new Wizarding World of Harry Potter at Universal Studios. (By the way, I would definitely recommend a ride just for the pure thrill of the exhilarating and vertiginous 3D graphics – but not to the faint hearted.) I am also talking about more recent fairy tale architecture.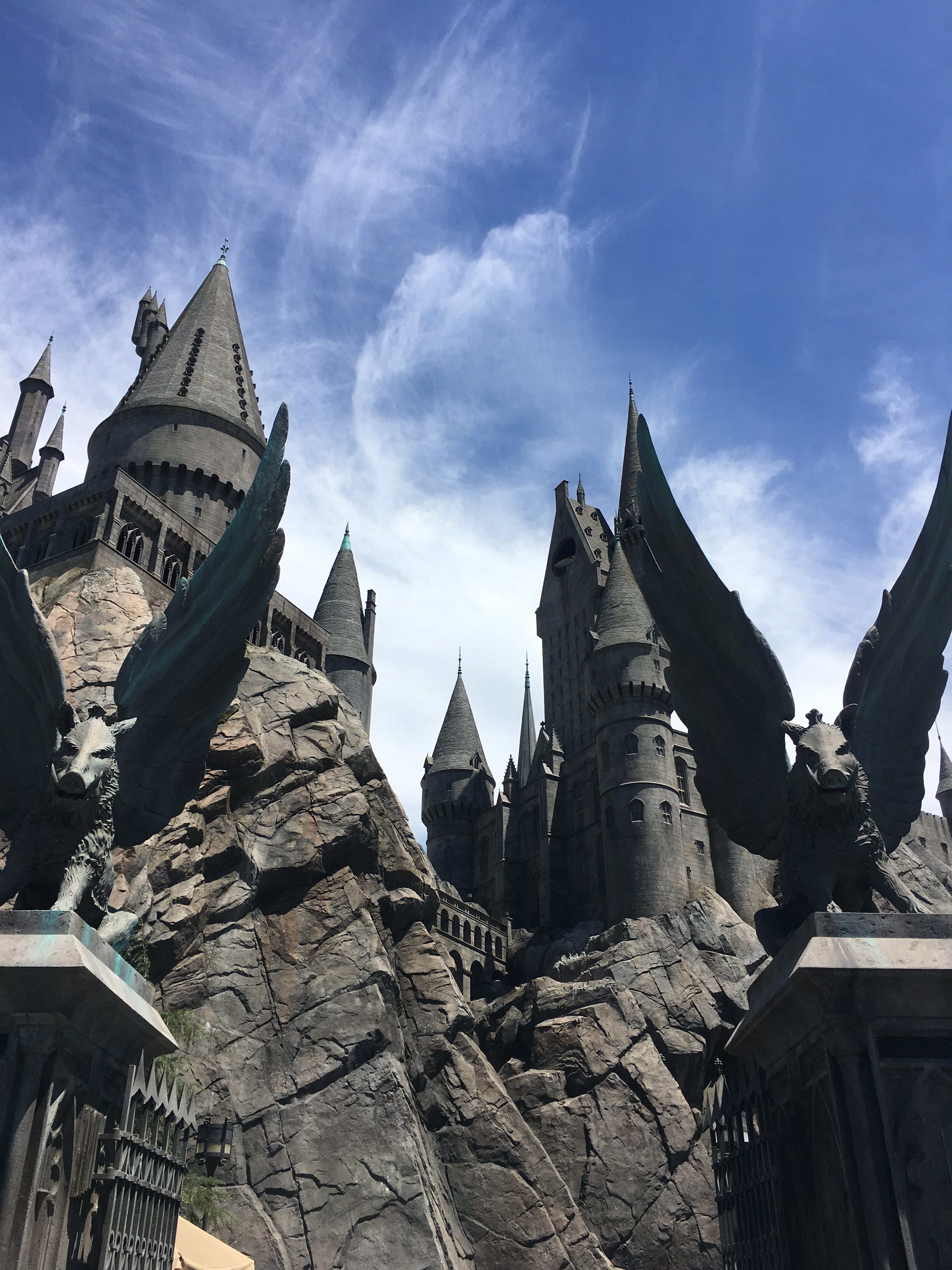 The Wizarding World of Harry Potter, Universal Studios, Los Angeles
In downtown Los Angeles, two recent buildings sit next to each other on the same street but actually could be from different planets. The Eli Broad museum was funded by the well-known property developer and contemporary art collector, Eli Broad. It was completed in 2015 and is designed by Diller Scofidio + Renfro.  Immediately next door is Frank Gehry's Walt Disney Hall which was completed in 2003 and serves as the concert hall for the Los Angeles Philharmonic Orchestra. Both buildings were part of a planned regeneration of the downtown area of Los Angeles.