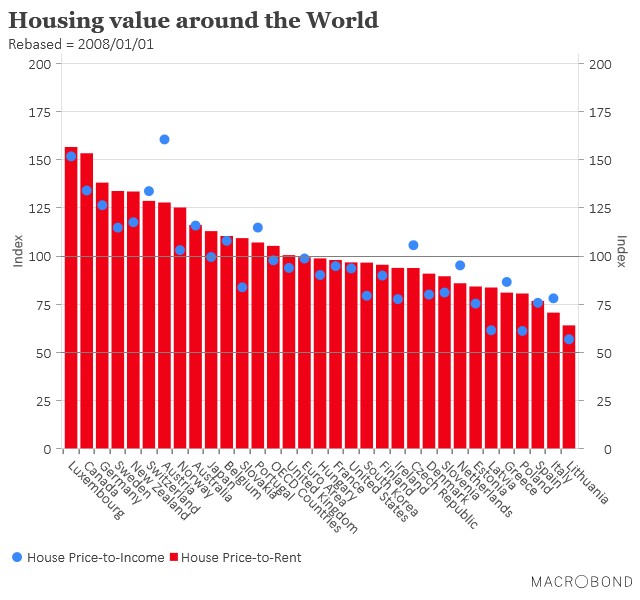 The last 12 years have seen a myriad of crises in various areas – international relations, climate, economies and, most recently, a global pandemic. Though the economic repercussions of COVID19 haven't been because of inadequate economic policy, it is likely that the current crisis may accelerate negative trends or burst inflated bubbles within some industries. This is why it's especially relevant to look at overvalued assets in our current environment.
This month's chart looks at the housing market in a group of countries around the world. Using data from the OECD Economic Outlook, I estimate how much housing is overvalued in terms of price-to-rent and price-to-income ratios, all rebased in 2008.
Luxembourg is the country with the most overvalued housing market in terms of rent prices, with an increase of more than 50% since the 1st of January, 2008. In terms of income, Austria's housing is the most overvalued, with a 60% increase, followed by Luxemburg, Switzerland, and Canada. The risk of an inflated bubble bursting for countries with overvalued housing is becoming increasingly high. Still, other factors including the housing debt, construction and demand are necessary to see the bigger picture.
On the other end of the spectrum, Southern European, CEE and Baltic countries have seen decreases in both price-to-income and price-to-rent ratios in the past decade. Yet, as the coronavirus pandemic continues to pummel economic growth in many countries, the drop in income will render housing to be even less affordable than before.
Article and chart provided by Macrobond