UK Automotive Industry
Like all industries, the UK automotive sector has been negatively affected by the global pandemic. While a disruption to a highly efficient supply chain is damaging in itself, in some cases the coronavirus has accelerated underlying negative trends that were previously observed. Intuitively, one would assume that unemployment and new passenger cars registered would be inversely correlated, and this was the case in the UK for many years. Yet the blue line in the chart indicating the rolling annual sum of car registrations has been on the decline since 2017, and has done a dramatic cliff-dive in recent months. This divergence between unemployment and new vehicle registrations suggests a change in consumption patterns that may accelerate even further after the pandemic.
Car manufacturing has also been on a downward trajectory since 2017. Yet, as the UK went into lockdown to combat the spread of the Coronavirus, car manufacturing was forced into a complete standstill. The blue line in the chart shows a decline of 99.7 percent YoY, which translates to only 197 cars manufactured in April, down from more than 122.000 in February. Production volumes will bounce back as the lockdown is lifted, but by how much remains a question. The economic impact will affect demand within the UK and perhaps especially abroad, as spending patterns change. This complicates a quick comeback for the industry as supply chains may remain disrupted for a while, particularly with the asymmetric pandemic policies adopted by different countries around the world.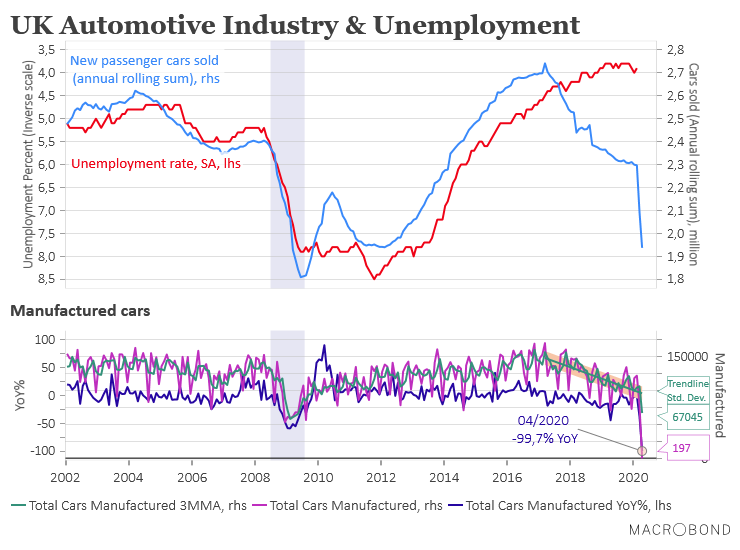 Article originally published by Macrobond.