The National Council of Real Estate Investment Fiduciaries (NCREIF) tracks the performance of over a half trillion dollars of commercial real estate in the US. Because the properties are marked to market every quarter for financial reporting, NCREIF can provide quarterly returns as a benchmark for institutional investors as well as other trends from the database. The total return was 0.71% in the first quarter which was a decrease from the 1.55% return for the prior quarter. This is the lowest return since the fourth quarter of 2009 which was the midst of the financial crisis that lead to the Great Recession. This is an unleveraged return for what is primarily "core" real estate held by institutional investors throughout the US and includes apartment, hotel, industrial, office and retail property sectors. (The industrial sector is primarily warehouse properties.)
NPI Total Returns Since Great Recession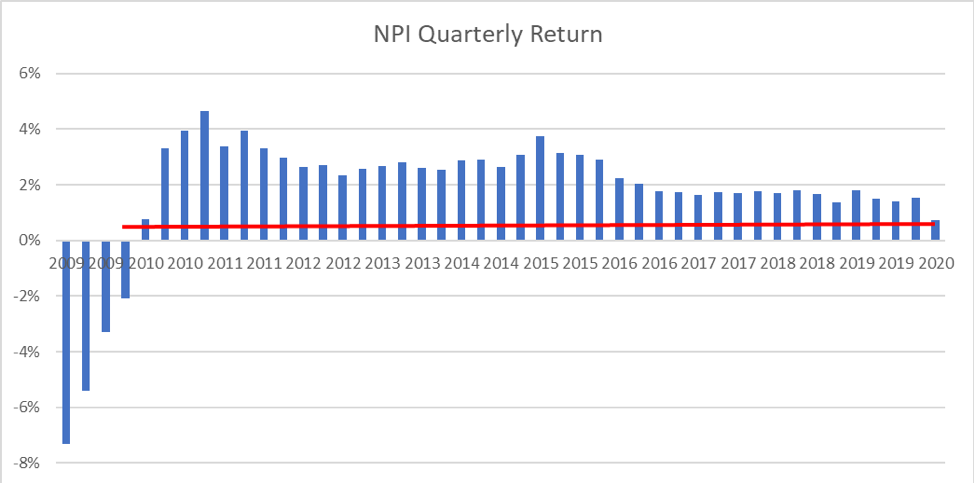 The total return of 0.71% consisted of an income return of 1.10% from net operating income (NOI) and a capital return (change in value net of capital expenditures) of -0.39%. This is the first negative capital return since the 1stquarter of 2010. That said, returns were considerably lower during the height of the financial crisis as seen at the start of the chart in 2009.
Market Values Peaked
The NCREIF Market Value Index (MVI) tracks how estimated sale prices are changing over time for properties in the NCREIF Property Index. Market values had been rising steadily since the recovery from the Great Recession began in 2010. But this quarter the index flattened if measured on an equal weighted basis and declined slightly if shown on a value weighted basis as shown in the exhibit.
NCREIF Market Value Index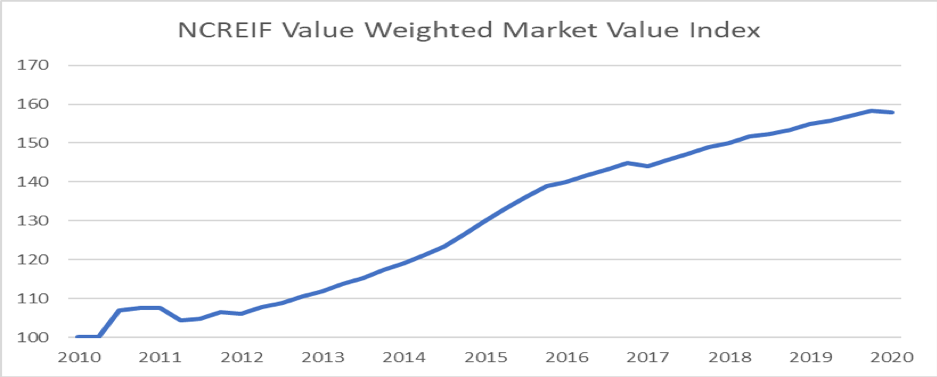 Returns Drop for all Sectors