In this very special series of exclusive articles for the Property Chronicle, Australian property legend Norman Harker reflects on his extraordinary 50-year life in real estate. He will pull no punches partly because, as he freely admits, Norman has a limited life expectancy of five years from December 2018 due to a diagnosed terminal blood cancer, which he has cheerfully accepted in preference to (in his words) "kicking the bucket without notice". We are honoured he has chosen us to publish these brilliant, funny and incisive reflections of a lifetime in property.
Chapter 11: Out of chaos came order – the evolution of the Red Book
Way back in chapter six, I rambled on about our firm having to create its own practice standards. Here I'll divulge how and why the RICS (aka 'chartered chappies) practice standards came about.
The least liked philosopher is without doubt Friedrich Wilhelm Nietzsche. This is because no one can spell or pronounce his name. While he was learning to write his name, he wrote the book Also Sprach Zarathustra: Ein Buch für Alle und Keinen – translated into English as Thus Spoke Zarathustra: A Book for All and None – probably the least riveting book title ever conceived. Going back to chapter six, you'll see Nietzsche also had that much prized (by me, anyway) attribute, a moustache.
And buried in that book is the clue to why the chartered chappies' practice standards were developed. Subsequent writers with more easily spelled and pronounced names have paraphrased the Nietzschen assertion that "one must face chaos to give birth to a star" as "out of chaos comes order".
Nietzsche… out of chaos comes order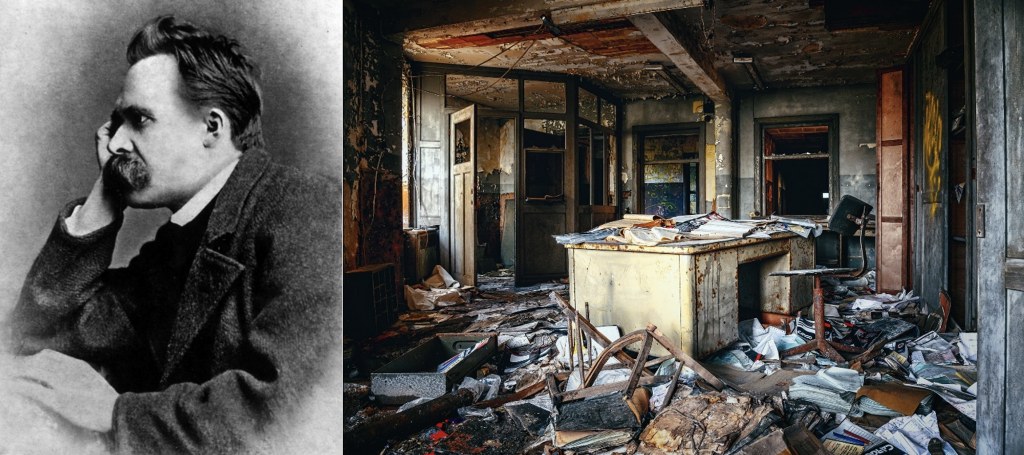 But…
The great property boom from 1945 onwards finally imploded in early 1974 due to the effects of the Yom Kippur War of 6–25 October 1973, which put the British economy up the proverbial watercourse without a means of propulsion. The market froze for nine months, there were numerous bankruptcies, banks and other lending institutions became unsound and there was a total loss of faith in the valuation professions led by the chartered chappies from their orifice just round the corner from Parliament Square.
Then out of the chaos came order – and it was all done here, the home of the chartered chappies