In this very special series of exclusive articles for the Property Chronicle, Australian property legend Norman Harker reflects on his extraordinary 50-year life in real estate. He will pull no punches partly because, as he freely admits, Norman has a limited life expectancy of five years from December 2018 due to a diagnosed terminal blood cancer, which he has cheerfully accepted in preference to (in his words) "kicking the bucket without notice". We are honoured he has chosen us to publish these brilliant, funny and incisive reflections of a lifetime in property.
Chapter 3: Strawberries at twenty paces, conducting buses, and qualifying as a chartered chappie
At seven, after getting a few pennies of pocket money, I felt like a millionaire.
A local strawberry grower paid by weight picked; just seven miles away, it was an easy ride in May with my brothers. Backbreaking work – but for 100lb at 4d per lb in 'old' money, it was well worth it! Even though one particular brother and I got split up after playing 'mushy strawberries at twenty paces'.
In the seaside town we lived near, there were always jobs for a willing seven-year-old and upwards. Peeling potatoes, washing dishes, clearing tables. Close to slave labour rates, maybe, but it was my money. What's more, I always got enjoyment out of the job, and I worked hard. It was a small town, so if a worker worked hard, then word got around – the same as within the valuation profession.
Child labour? But only a holiday job for me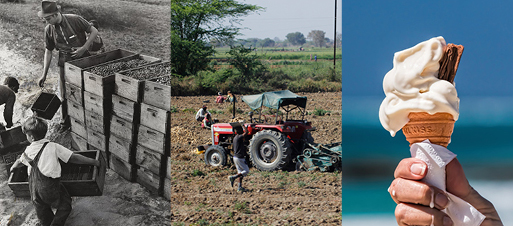 I learned a lot: mushy strawberries at twenty paces can be messy; potato peeling is an art form; peel onions under water and don't wipe your eyes; work well and they get you to do more, pay you more, and want you back.