Dear Friends and Colleagues,
1. Will agriculture finally out-perform energy?
This Commentary explores the likely pathways of food vs. energy commodities in the 2020s and '30s. It explores key factors including renewable energy and synthetic food technologies that are likely to drive their relative performance. It concludes that prices of food commodities are likely to out-perform those of energy in the years ahead.
2. Why may relative commodity prices matter in a post-Coronavirus world?
The world economy is currently reeling from the Coronavirus shock to the real economy (which via business losses will, in turn, hurt the financial and insurance industries). The responses of Governments to Coronavirus are significantly impacting discretionary sectors (particularly services)*. For example, it is estimated 25% of jobs in the UK are likely to be either made redundant or furloughed in 2020.
* See the Craigmore commentary "Analysing a Possible Coronavirus Recession"
To counter falls (estimated at an annual rate of 10% to 20% for at least two quarters) in GDP of the advanced economies, widespread income support is being made available by governments to citizens. In the UK it is likely that the income of approximately 5 million citizens will be supported by the government to maintain their solvency and some of their spending power.
For this period the productive capacity of the UK economy will be smaller (due to the lost services of e.g. restaurants and tourism that were until very recently part of GDP). If we assume that those who are supported do not save all the handouts, the question then arises; on which goods and services will citizens spend this borrowed (or will it be printed) income?
Putting it another way, since citizens will not be able to spend as much on foreign holidays or restaurants this year, where will they spend that part of their income they do not use to repair their bank accounts?
As before they will of course spend some of it on consumer staples, like food and energy. As before, if well supplied, prices of these will not necessarily increase. However, if the supply of energy or food falls short in coming months, then it is likely a population with the same spending power as before yet fewer things on which to spend it, may bid up any such "tight" commodities.
This is the reason why we focus in this Commentary on the likely path of supply and demand for commodities, to seek to identify which are likely to remain abundant, and which might go into short supply?
3. What has been the history of food commodities vs oil?
The graph below plots the relative performance of oil, as the benchmark energy commodity, vs. a simple basket of US$ spot prices of Corn, Wheat, Soy, Live Cattle and Milk over the 50 years since 1970.
As can be seen oil significantly out-performed food commodities for most of this period creating a shift in the allocation of world incomes to the oil sector. While the wealth and influence of rural landowners languished. Basically "Dallas" replaced "Downton Abbey".
More recently, however, oil prices have "returned to earth". Indeed, as can be seen in the graph, indices of energy and food are level-pegging again in 2020, for the first time in 50 years (in fact this graph is a 2-year moving average showing an oil price of around $35. In fact, oil has traded as low as $20 in the last few days).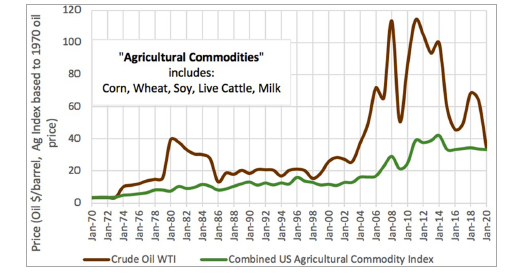 Looking more closely at the (less volatile) price of food commodities these spiked in 2010-2013 (a period of US and Russian droughts coming immediately after the world had eaten up the subsidy driven excess food stocks of the '80s and '90s). At the peak of this short boom prices had doubled to approximately twice their 2007 levels. They have since fallen back 25% when measured in US$.

The US$ has however risen more than 25% since then against many currencies (the US$ TWI index has risen 26% from 102 to 129 in the six years since 2014). As a result, as can be seen in the graph below, farm-gate prices received by most non-US farmers, including in New Zealand after its currency softened over the past three years (as it brought interest rates into line with those of other countries), are right "on trend" i.e. close to as good as they have ever been.

4. What drives the "terms of trade" of commodities?