Following the publication of our regional Crane Surveys at the end of January, we were pleased to report on unparalleled scale and volume of development as a result of significant investor confidence in the UK regional cities demonstrating strong business communities and an influx of new talent.
Reporting on construction activity in Belfast, Birmingham, Dublin, Leeds and Manchester, each city has seen a sustained or increased level of development across a range of sectors.
Residential on the high rise
This year we found that residential development stood out as the most active construction sector. The surveyed cities have shown a marked increase in housing development, in some cases doubling activity from the previous year. This demonstrates that housing targets are being taken seriously and developers are striving to meet demand.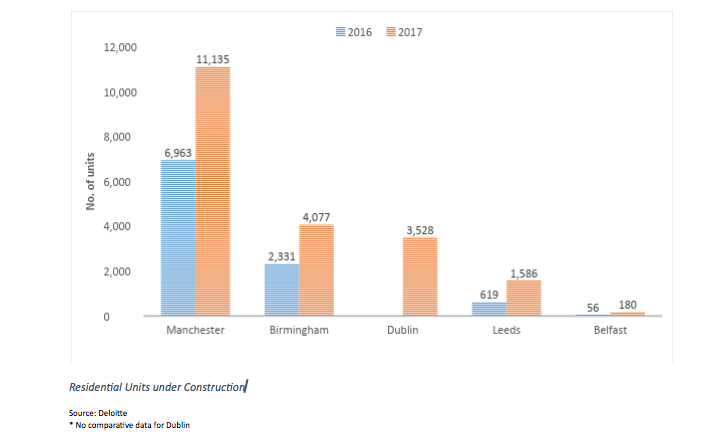 Manchester is paving the way as one of Europe's fastest growing cities with 11,135 residential units under construction across 41 schemes. This represents a 60% increase on the previous year. We have seen that developers are not shy of building upwards either, as six residential schemes in the city will exceed 25 storeys upon completion.
Birmingham has also seen residential development accelerate with 13 schemes starting construction, up 30% on the previous year, delivering 2,500 new units in 2018 alone.
Similarly, in Leeds the number of residential units under construction across the city centre is at its highest in a decade.
Building for business
Once again the office sector proved a fertile ground for investment with significant growth in Dublin where we reported on over four million sq ft of new and redeveloped office space under construction in 2017. Manchester and Birmingham both surpassed one million sq ft of floorspace currently under construction. Leeds and Belfast also benefitted from investment in this sector with an increase in new office schemes of 67% and 25% respectively.
With activity in this sector affirming developer and occupier confidence, the increasing availability of skilled workers and typically lower operating costs are making the commercial appeal of the regions more apparent.
Across all the cities, it is clear that the office sector is benefiting from serious investment as all locations sustained or significantly increased construction. However, although the supply of office stock is likely to increase, a considerable proportion of office buildings currently under construction are already pre-let, therefore, there is likely to remain a shortage of office stock.