CBRE's latest research into Asian outbound real estate investment has uncovered some compelling new insights into buyer behaviour and their markets and assets of choice.
Firstly, Asian buyers are spending less on overseas property. Outbound real estate investment fell by 17% y-o-y to US$45 billion in 2019, primarily due to fewer big-ticket transactions and weaker activity by Chinese investors amid the continued imposition of capital controls.
Secondly, they're buying assets closer to home. Asia Pacific continued to see steady intra-regional investment by Asian investors in 2019, with turnover largely stable on a y-o-y basis, However, investment in Europe and Americas declined by 13% y-o-y and 53% y-o-y, respectively.
Thirdly – and perhaps most interestingly – investors from several Asian markets have defied the overall slowdown by actually increasing their volume of overseas purchases.
Outbound investment by Korean groups surged by 66% y-o-y to US$12.5 billion in 2019, with nearly 70% of this figure directed into European markets as buyers capitalised on lower financing costs and higher yield spread compared to their home market.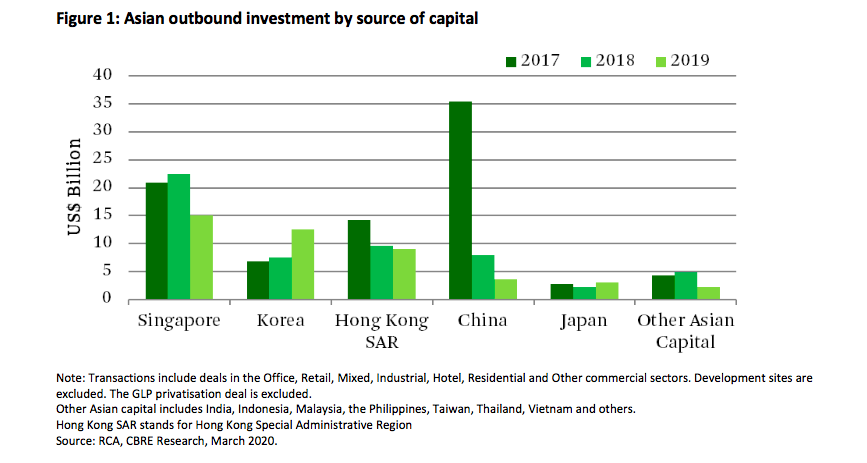 Note: Transactions include deals in the Office, Retail, Mixed, Industrial, Hotel, Residential and Other commercial sectors. Development sites are excluded. The GLP privatisation deal is excluded.
Other Asian capital includes India, Indonesia, Malaysia, the Philippines, Taiwan, Thailand, Vietnam and others.
Hong Kong SAR stands for Hong Kong Special Administrative Region