CBRE's latest research into Asian outbound real estate investment has uncovered some compelling new insights into buyer behaviour and their markets and assets of choice.
Firstly, Asian buyers are spending less on overseas property. Outbound real estate investment fell by 17% y-o-y to US$45 billion in 2019, primarily due to fewer big-ticket transactions and weaker activity by Chinese investors amid the continued imposition of capital controls.
Secondly, they're buying assets closer to home. Asia Pacific continued to see steady intra-regional investment by Asian investors in 2019, with turnover largely stable on a y-o-y basis, However, investment in Europe and Americas declined by 13% y-o-y and 53% y-o-y, respectively.
Thirdly – and perhaps most interestingly – investors from several Asian markets have defied the overall slowdown by actually increasing their volume of overseas purchases.
Outbound investment by Korean groups surged by 66% y-o-y to US$12.5 billion in 2019, with nearly 70% of this figure directed into European markets as buyers capitalised on lower financing costs and higher yield spread compared to their home market.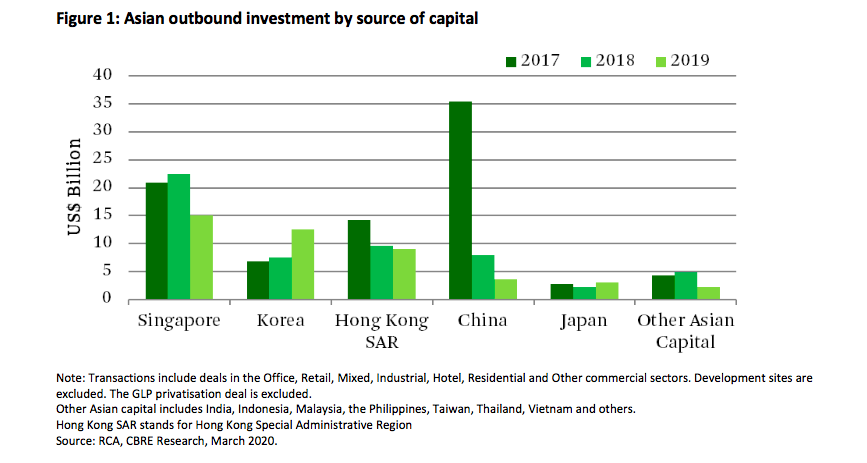 Note: Transactions include deals in the Office, Retail, Mixed, Industrial, Hotel, Residential and Other commercial sectors. Development sites are excluded. The GLP privatisation deal is excluded.
Other Asian capital includes India, Indonesia, Malaysia, the Philippines, Taiwan, Thailand, Vietnam and others.
Hong Kong SAR stands for Hong Kong Special Administrative Region
Source: RCA, CBRE Research, March 2020.
Activity by Japanese investors also picked up over the year, with investment turnover rising 40% y-o-y to US$ 3.0 billion. Japanese property companies and conglomerates led the way, with most acquisitions completed in the U.S.
Thailand has been somewhat under the radar as a source of outbound capital but buyers from this market enjoyed an active 2019. Hotels were keenly sought after, led by DTGO's acquisition of the 17-property Marathon Hotel Portfolio in the UK for around US$580 million.
Singaporean investors spent less in absolute terms in 2019 but retained a healthy appetite for overseas property. Alternative sectors have been an area of focus among seasoned overseas investors, with Singapore Press Holdings' purchase of a student housing portfolio in the UK for US$ 579 million and Mapletree Investment's acquisition of two purpose-built student housing buildings in Coventry for US$117 million both prominent examples of the trend.
Diversification has been top-of-mind for Hong Kong-based investors due to recent sociopolitical unrest in their home market. Prime office assets in gateway cities such as London and Sydney have been a key focus.
Outbound investment by Chinese buyers has fallen for two consecutive years but CBRE has observed a greater willingness on the part of some investors to shift away from their traditionally preferred office sector. Senior housing has attracted considerable interest, with Cindat Capital acquiring a UK-based portfolio for US$ 232 million in H2 2019, following a similar purchase completed in the U.S. in 2018.
Paris was the most popular city for Asian capital in 2019, attracting US$ 4.8 billion-worth of deals, of which Korean buyers accounted for over 80%. London – the most popular destination in 2018 – saw weaker activity amid Brexit-related uncertainty and the limited availability of stock for sale.