Archaeologists have been thrilled at some unique finds in a sixth-century princely burial site near Southend-on-Sea
In 2003 archaeologists from the Museum of London Archaeology excavated a small plot of land in Prittlewell, Essex, for Southend-on-Sea Borough Council. They were astounded to discover an intact Anglo-Saxon burial chamber, adorned with rare and precious objects, many of which have recently gone on permanent display for the first time at Southend Central Museum. But the dig was only the start: since then, MOLA archaeologist have been engaged in painstaking laboratory analysis of what they found. What has this research revealed about the princely burial and the man buried there?
From the moment the first hanging bowl (pictured below) appeared, still in position on the chamber wall, it became apparent that something extraordinary had been found – a miraculously intact, early Anglo-Saxon princely burial chamber. The excavation was relatively short but expertly executed, ensuring all the vital information and material had been gathered so that much more could be learned in the subsequent research phase. 
Many of the rare and precious objects found inside the chamber – which also included a Byzantine flagon, an ornate drinking horn (pictured below) and coloured glass vessels – lay concealed beneath centuries of earth and corrosion, and it is only now, thanks to research funded by Southend-on-Sea Borough Council and Historic England, that we have been able to reveal many of the chamber's secrets. This work has brought together more than 40 experts, including leading figures in the fields of Anglo-Saxon artefacts and art, musical instruments, scientific dating, soil science and engineering, as well as MOLA's own team of archaeologists, conservators, finds specialists, period specialists, zooarchaeologists and ancient timber specialists. 
Analysis of items found within the coffin has revealed exciting new details about who the person buried in the chamber may have been. The presence of weapons and a triangular gold belt buckle suggest this was a man, and items such as gold foil crosses (pictured below) show he was a Christian. Tiny fragments of tooth enamel, the only part of the skeleton to survive, prove he was older than six. From the position of the tooth fragments, gold crosses probably placed over his eyes at one end of the coffin, a gold belt buckle (pictured below) in the middle and garter buckles to fasten his footwear at the other end, we can now estimate that he was about 1.73m (5ft 8in) tall, indicating he was an adult or an adolescent.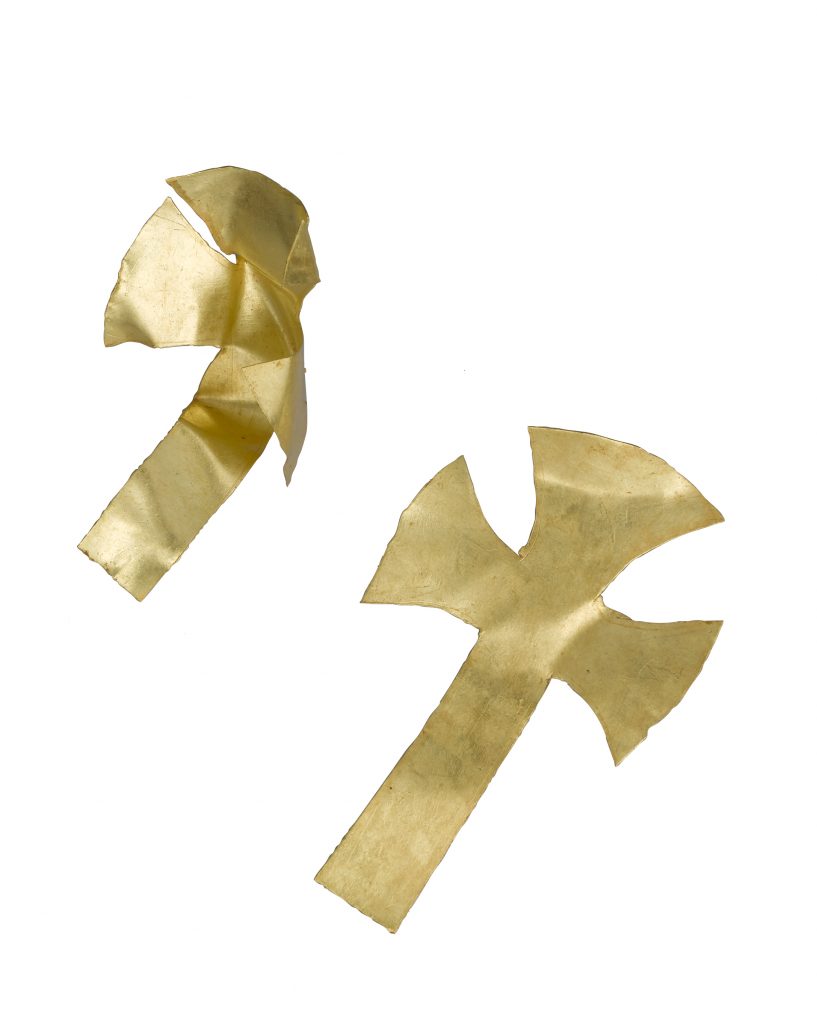 Scientific dating suggests that the burial probably dates from the late sixth century, making this the earliest dated Anglo-Saxon princely burial in Britain. The modelled radiocarbon date for the burial was narrowed to 575-605AD and further refined by coins to a date after 580AD. This is a remarkably early date for the adoption of Christianity, as attested by the presence of Christian symbols within the grave.