Elon Musk, perhaps the world's best-known serial tech entrepreneur, has spent the last 15 years creating an empire that has vertically integrated the sustainable energy and transport market and now he is on the verge of bringing it to the masses.
Today, you or I could visit Tesla's website and order everything necessary to completely and reliably remove ourselves from the national power grid. This includes solar panels complete with full installation, a large lithium battery to store the energy (the Powerwall) and a fashionable electric car to get around in. The entire cost of this? Around $82,000.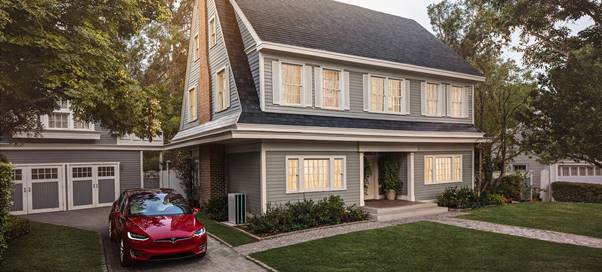 The Tesla House: complete with (well-camouflaged) solar roof tiles, Powerwall and Tesla car (image from Tesla.com)
While this may sound like a lot of money, it is marginally more expensive than traditional roof tiles and the equivalent gasoline powered cars. Tesla's estimation is that once the savings from zero-cost electricity are factored in, their product breaks even when compared to conventional methods. Roofs usually need replacing every 25–35 years so significant take up for the solar panels is expected as people's existing roofs reach the end of their utility. This could be further accelerated through subsidies.