Louis Kahn's greatest piece of architecture wasn't a building at all – and wasn't completed for decades after his death.
At Derwent London, we have always drawn inspiration from architectural past masters. One such was Louis Kahn (1901-74), an American architect based in Philadelphia who founded his own practice in 1935. He also served as a design critic and professor of architecture at Yale School of Architecture from 1947 to 1957. Kahn designed some notable buildings: the Kimbell Art Museum in Fort Worth (1967); the Salk Institute in San Diego (1965); the Yale Center for British Art in New Haven (1969) and the National Assembly Building of Bangladesh in Dhaka (1982).
However, I have chosen a lesser-known Kahn project, which wasn't an actual building at all. The memorial built to honour Franklin D. Roosevelt was constructed as a four-acre park on Roosevelt Island, a small strip of land stretching out across New York's East River; it is bounded on one side by 30th Street and on the other by the Queensboro Bridge, with a clear view of the United Nations Secretariat Building.
Kahn was asked to design the park together with an accompanying monument of President Roosevelt, in what happened to be one of his last works before he died in 1974. However, the project was substantially delayed due to funding problems and not actually completed until 38 years after Kahn's death. His designs were continued by Mitchell Giurgola, an architect who kept strictly to Kahn's original intentions. It was an exhibition at the Cooper Union in 2005 that brought attention back to Kahn's project and helped it finally move forward, although building work was not actually initiated until 2010. The park and monument were eventually dedicated in a ceremony on 17 October 2012. Participants included former president Bill Clinton and former mayor Michael Bloomberg.
The monument itself is a simplified, roofless and contemporary version of a Greek temple, constructed in Mount Airy granite sourced from the North Carolina Granite Corporation. More than 140,000 cubic feet of granite was used, forming a stunningly beautiful runway of stone that ends at the bronze bust of Franklin D. Roosevelt. Kahn placed five copper beech trees at the memorial's entrance as well as 120 little-leaf lindens in symmetrical groupings that lead up to the monument, giving the park a somehow spiritual atmosphere.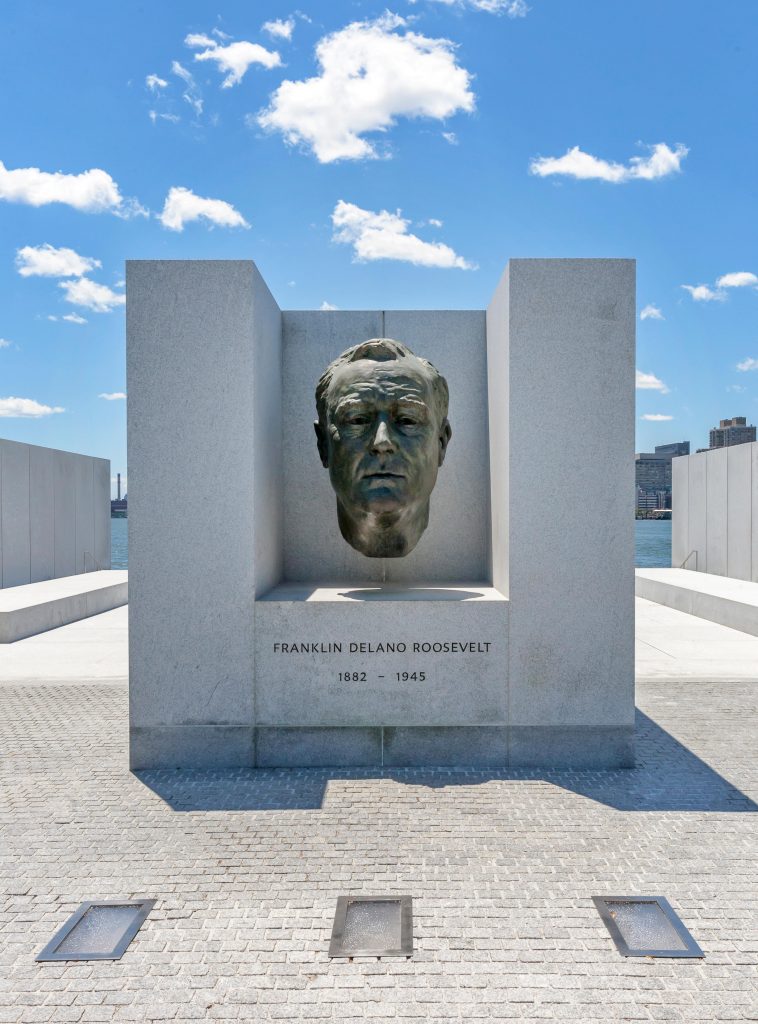 I was fortunate enough to visit this shrine to FDR, and what struck me was Kahn's particular form of minimalist approach. I've always admired his choice and use of materials on his projects, especially the beautiful natural stones, which were often contrasted with exquisite timbers and exposed concrete, all resonating so strongly. Consequently, I'm a big fan of his Yale Center for British Art, which has had a strong influence on some of Derwent London's projects.
At Franklin D. Roosevelt Four Freedoms State Park, as it later became known, Kahn kept to the Miesian principle of 'less is more'. It's an exquisite piece of landscape design, which captures an atmosphere of calmness and tranquillity. It's often styled 'Hyde Park on the East River' – but as a Londoner I feel that description, whilst charming, does not do it full justice. Four Freedoms is totally unique: a serene, uplifting place and simply exquisite to behold. Like all the best architecture, it has wonderful dimension and scale.