New retail leasing models and platforms capture the uplift a physical store can bring to online sales.
It is no secret that the retail sector has been in decline for some years, largely because the economics of online retailers and their network of next-day logistics enables them to outcompete physical stores. Meanwhile, personal consumption of experience-related services, such as going to restaurants, amusement parks and shows, has grown 1.5 times faster than overall personal spending and four times faster than expenditure on goods. In fact, 72% of Millennials now prefer to spend money on experiences than material items. As if things weren't already bad enough for the high street, statistics released in April 2020 showed an unsurprising ten-year high in year-on-year online retail growth, up 23.8% on April 2019, as a direct result of covid-19 lockdown orders. This represented an additional £5.3bn in UK online spending.
Online share of retail sales, UK and US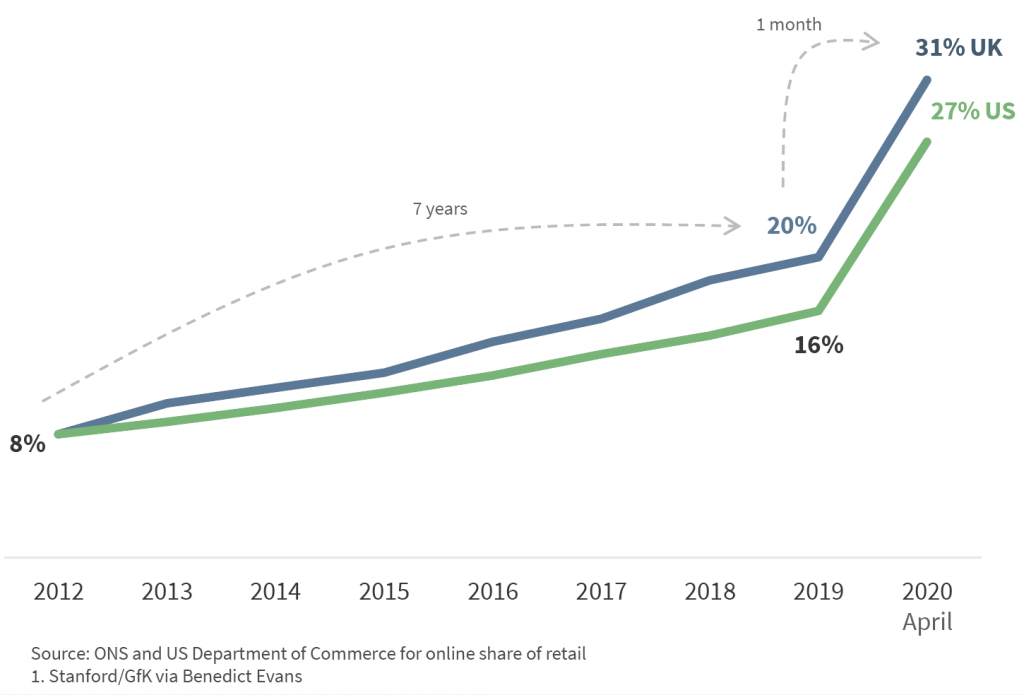 This seismic shift in purchasing patterns has placed a renewed urgency on retail occupiers to seek technological solutions that let them compete with online retailers. Meanwhile their landlords are experimenting with more flexible leasing concepts to identify a sustainable rent model that works for both parties.