Floating on a sea of money, will asset prices eventually sink – or make landfall on the solid ground of economic recovery?
Global equity markets have performed pretty well in the year to date, even as the world's major economies are only slowly rebooting from Covid-19. Over the eight months to late August, as we write this, the S&P 500 has risen by 5%, the NASDAQ is up 26%, and the Shanghai Composite up 11%. The Nikkei was down by only 1% and the Dax by 4%, steadily returning to pre-pandemic levels. The FTSE 100 and the Hang Seng performed less well, but these exchanges represent economies suffering substantial damage from other political and geopolitical shifts. Even these have recovered substantially since March, when pandemic-related fears were most intense.
The performance of the prime real estate sector is a bit more downbeat, but not by much. Figure 1 shows CBRE's latest data on global rents and capital values. In the office sector, capital values have fallen a little more than prime rents, implying a mild cap rate (yield) expansion. For industrial property, rents continued to climb and capital values edged up, implying further cap rate compression. In retail, the decrease in prime capital values outstripped the drop in rents, and cap rates have increased. Prime retail posted stronger gains than other sectors in the 2010 to 2016 period, so some of this drop is reversion to trend.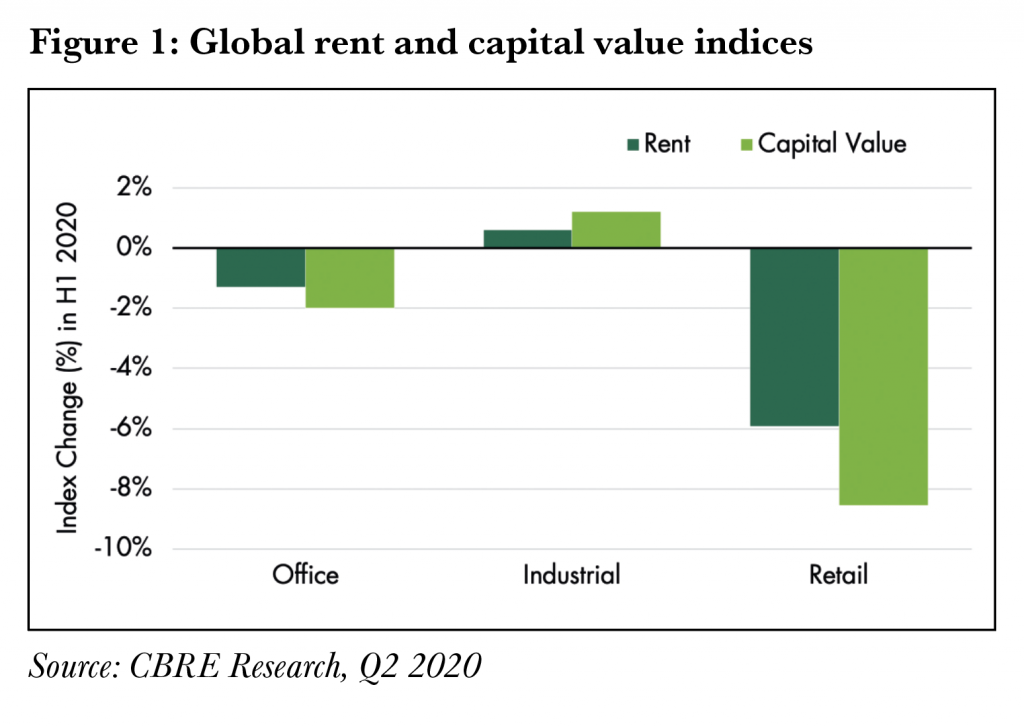 As for residential, the jury is out on apartment/multi-family home pricing. Cap rates for high-grade assets have not increased, but net operating incomes are challenged. There is some evidence that leasing is tough in big cities in the US partly because tenants are taking the opportunity of all-time low mortgage rates to acquire houses in the suburbs. The single-family housing market, which is more significant in overall value terms, is holding onto its value gains of the past ten years and edging up, in the US and elsewhere (see figure 2). Risk-off assets, such as bonds and gold, have also risen in value.