In a new four-part series, David Shiers looks at how the design of the built environment has evolved to take account of 'Green' issues and considers what may lie ahead in the way we experience the buildings in which we live and work.
With literally hundreds of thousands of low environmental impact buildings now in existence worldwide and 'Green' buildings the new-build norm in the UK, it's easy to forget that just 30 years ago, it would have been hard to find more than a handful of them in any one country. We only see Green buildings beginning to be developed more widely from the late 1960s onwards in Earth or Straw Bale houses, in the buildings of the counter culture and in prototypes such as the Bateson Building in the USA.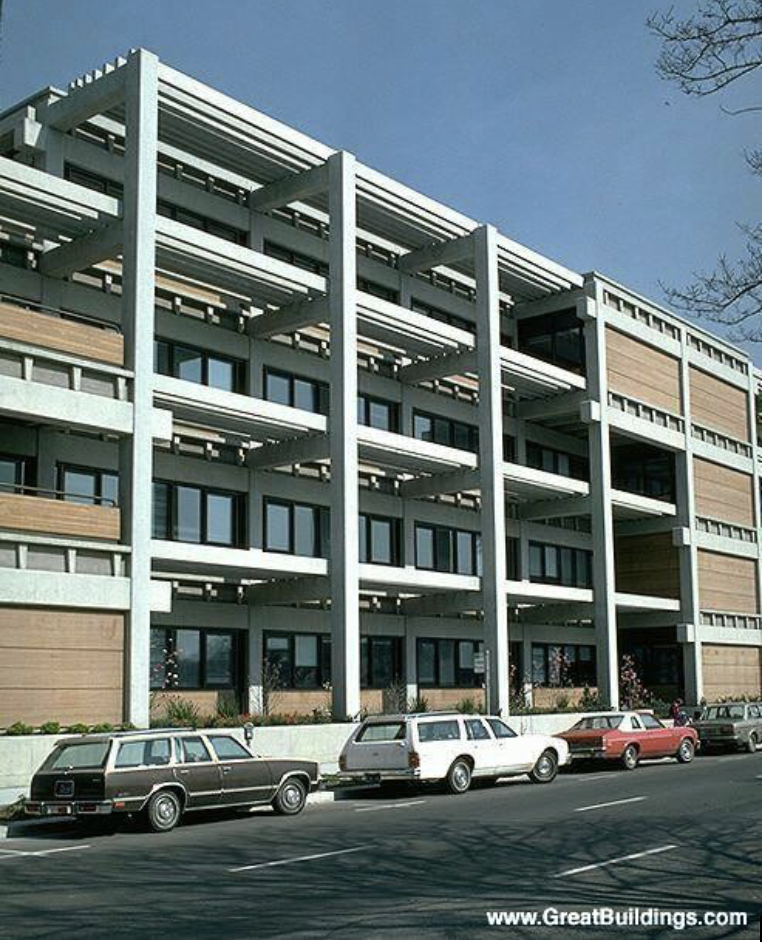 The Bateson Building 1977, Sacramento, California. Note the external solar shading to reduce the cooling load on the building's environmental services. 
The ideas of the early environmental visionaries such as Cerda (b.1815), Howard (b.1850), Geddes (b.1854) and Buckminster Fuller (b.1895), whilst influential in Town Planning and architectural circles, were not universally adopted. Governments and mainstream property professionals require the necessary incentives and drivers to embrace change and it took time to understand and accept the importance, feasibility and potential advantages of a Greener approach to building projects. Even in academia, study of the relationship between property and the environment only began in earnest in the recent past. In 1995, in the department of Real Estate at Oxford Brookes, we were the first surveying course in the UK to introduce modules which dealt specifically with Green buildings and the learning curve was steep for teaching staff and students alike. 
It could be said that it is historic, vernacular architecture which provides the earliest examples of Green building; that the ancient mudbrick Pueblo buildings of North and Central America and the medieval timber frame, wattle and daub, cob and thatch structures of northern Europe are as Green as it gets. This is largely true of course – and many lessons on materials use and thermal efficiency have been learnt from such buildings. Here though, we will discuss projects in industrialised societies of the past 150 years where the adoption of a Green approach was taken as an informed decision; where a choice was made between 'Green' and the more conventional or 'Brown' solutions available at the time. 
The historic examples of buildings which inspired and informed our current Greener approach to design are characterised, to varying degrees, by features such as:
the prioritisation of the health, well-being and comfort of the building's users

 

ensuring easy occupier access to open and/or green space and good quality public realm

 

efficient energy generation and use

 

reclaimed, low environmental impact, efficiently produced and transported materials

 

good waste management
connectivity and access to effective transport systems

 

minimisation of land, water and atmospheric contamination.

 
These are of course, recurring and enduring environmental themes and form the basis of many of our current Green badging systems such as BREEAM. However, most environmentally responsible projects pre-1990 address only one or two of these issues and even then, sometimes only partially. However, allowances must be made for what was at the time, often high-risk, innovative work; limited by the technologies of the day. Even in modern Green buildings, whilst the benefits of say, better internal air quality are generally acknowledged, some projects are criticised for requiring too great an input from occupiers in managing their 'natural', sometimes slow-to-respond, environmental systems. Improving the quality and occupier experience of all buildings is ongoing work in progress.