WeWork's ill-fated IPO is the tip of an iceberg
WeWork revenue and operating losses and 'valuation' (US$)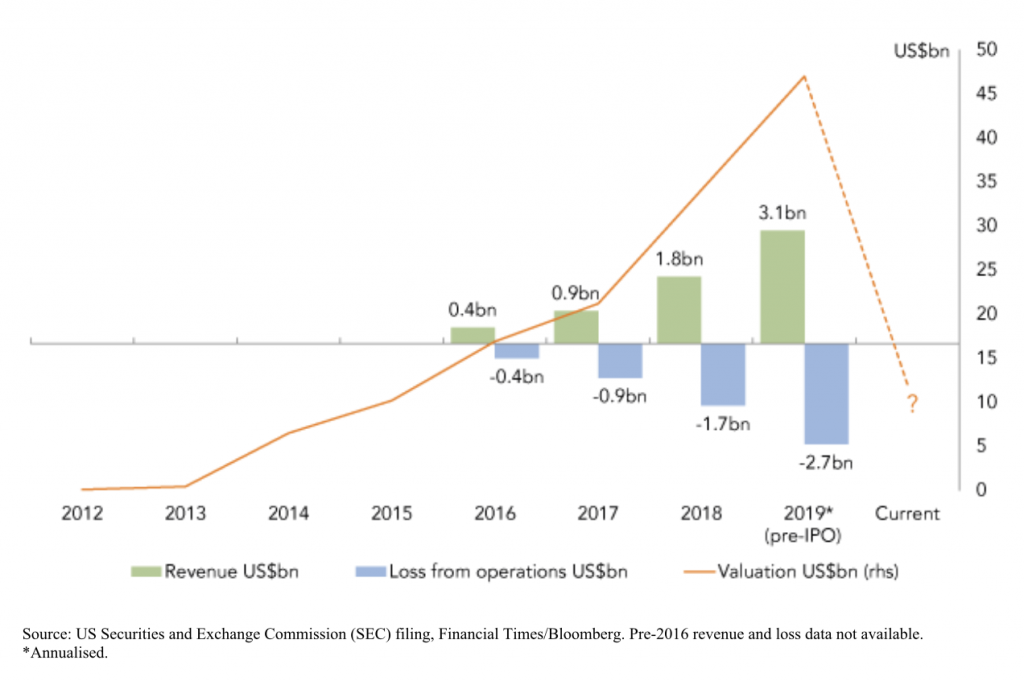 Riddle me this. We eat $229,000 every hour, every day, year after year. We are in nearly 500 places at the same time. We lose a dollar for every dollar of revenue taken. We have a mission to 'raise the world's consciousness' and a CEO-founder whose ambition is to be the world's first 'immortal trillionaire'.
What are we?
The answer, of course, is co-working landlord The We Company – better known as WeWork.
'We' is a unicorn: a private start-up business worth over a billion dollars. It is the largest private tenant in New York. In London, only Her Majesty's government rents more space.
This month's chart plots WeWork's recent revenues against operational losses, overlaid by its implied valuation. Revenues have been growing rapidly, doubling most years since the firm's foundation in 2010. Operational losses have grown just as fast. But in an ultra-low interest rate world, rapid growth – the implicit promise of future profitability – has been prized above all else. Unicorn losses are considered down payments on Amazon-sized prizes at the end of the rainbow.
Speedy expansion earned We a colossal valuation in private markets. Japanese giant SoftBank, We's biggest investor, injected money earlier this year at a $47 billion valuation. But being a greedy beast, WeWork needed to raise another$3 billion in an IPO (initial public offering) this year to unlock a further $6 billion in bank loans – just to keep going. Only weeks ago, leading bankers were suggesting an IPO valuation of $67 billion.
In private markets, a small group of investors can mark their own homework. That's harder in public markets, and WeWork's stratospheric valuation has just been gored by reality.
That's not all. WeWork has a business model that looks dubious even in benign conditions. It takes long-term office leases and sub-lets them to start-ups and businesses shorter-term. If it's not profitable now, what happens when a recession hits and WeWork is left with long-term leases but no tenants?
Unsurprisingly, having collapsed to an estimated $10 billion valuation, WeWork cancelled their IPO. But WeWork is only one of a stable of household names to take the plunge – literally – with IPOs this year (loss-making ride-hailers Lyft and Uber are down 47% and 35% since their respective 2019 flotations).
Back in June, we highlighted the record number of loss- making businesses being floated on public markets – a triumph of hype and low rates.