And where PRS and PBSA are.
Across Europe, residential property is typically an emerging institutional asset class. Although at the national level, as is the case with many things in the 'old world', a more nuanced picture emerges. For example, the private rented sector (PRS) is the dominant sector in some institutional property markets (eg, Switzerland and the Netherlands), growing quickly in many others (Denmark, Sweden and the UK) and utterly non-existent in a number of others (Belgium). This highly uneven picture is simply a manifestation of the strong diversification benefits available from European property and one of the key draws for those seeking to build up an allocation in this part of the world.
The Institutionalisation of PRS varies across Europe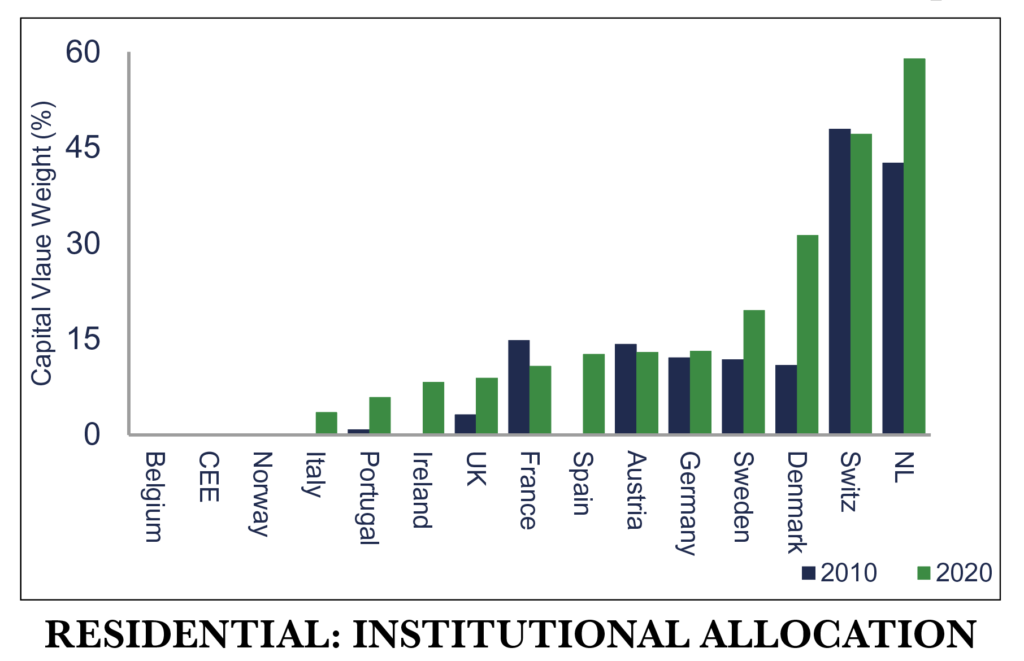 The countries (ie, Switzerland, the Netherlands) where PRS investment is most established tend to be physically smaller, but also very wealthy. This means there is a huge surplus of savings and relatively limited real estate investment opportunities in which to deploy investment capital. Population density and physical topographical constraints also make for a compelling residential investment thesis. Accordingly, institutional quality property assets are tightly held and market penetration for new entrants might be difficult to achieve in a meaningful way.
Where institutional capital sources have tended to shy away from investing in PRS in the past, one common refrain was that doing so is akin to doubling down the existing huge bet that all households have on the value of their homes upon retirement. However, the dark shadow of e-commerce overhanging physical retail, and thus contraction in the commercial property market's investment universe, has driven a major rethink in recent years. Further pandemic anxiety around working from home (WFH) and the future of the office only heightens this.