Total housing starts fell to a 1.421 million annual rate from a 1.584 million pace in January, a 10.3% decrease. Month-to-month volatility in housing construction can be influenced by weather conditions and conditions in significant portions of the country were unfavourable in February. From a year ago, total starts are off 9.3%.
The dominant single-family segment fell 8.5% for the month to a rate of 1.040 million. Despite the drop, single-family starts are up 0.6% from a year ago. Starts of multifamily structures with five or more units fell 14.5% to 372,000 and are off 27.6% over the past year.
Total starts and single-family starts were down in three of the four regions in February with only the West region posting gains.
For housing permits, total permits fell 10.8% to 1.682 million in February. Total permits are 17.0% above the February 2020 level. Single-family permits were off 10.0% at 1.143 million while permits for two- to four-family units dropped 21.4% to 44,000 and permits for five or more units sank 11.6% to 495,000.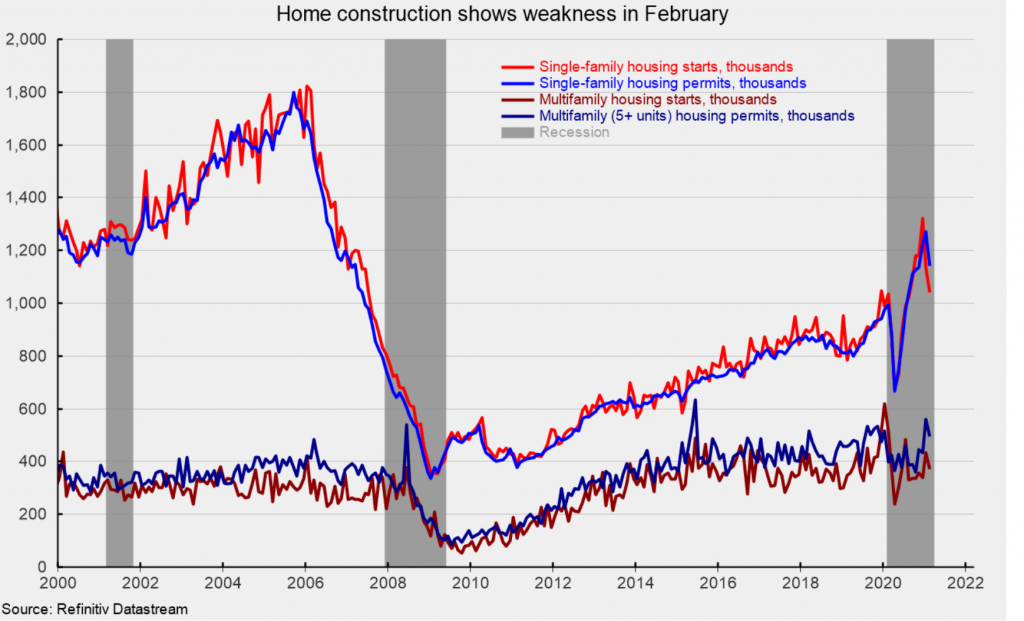 Home construction has been one of the strongest parts of the economy over the past year and excluding the plunge in activity during the government-enforced lockdowns in early 2020, single-family housing activity has been on an upswing since early 2019 (see first chart).