Total housing starts rose to a 1.739 million annual rate from a 1.457 million pace in February, a 19.4% increase. The March recovery was expected as weather conditions in significant portions of the country were unfavourable in February and significantly depressed activity. From a year ago, total starts are up 37.0%.
The dominant single-family segment saw starts rise 15.3% for the month to a rate of 1.238 million. After the March rebound, single-family starts are up 40.7% from a year ago.
Starts of multifamily structures with five or more units surged 30.0% to 477,000 and are up 26.9% over the past year.
Total starts and single-family starts were up in three of the four regions in March, with only the West region posting declines.
For housing permits, total permits rose 2.7% to 1.766 million in March. Total permits are 30.2% above the March 2020 level. Single-family permits were up 4.6% at 1.199 million while permits for two- to four-family units added 25.5% to 59,000 but permits for five or more units declined 3.6% to 508,000.
Home construction has been one of the strongest parts of the economy over the past year and excluding the plunge in activity during the government-enforced lockdowns in early 2020, single-family housing activity has been on an upswing for most of the last decade, recovering from the housing bubble and collapse of the late 2000s (see first chart). The post-lockdown recovery has been supported by a surge in demand as consumers sought less dense housing.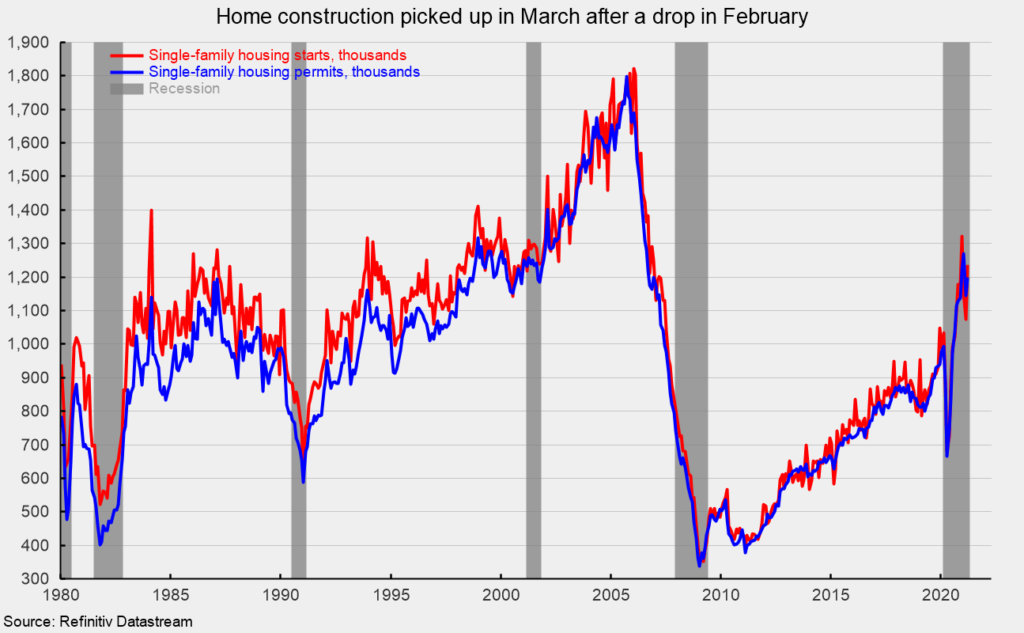 The surge has also been supported by low mortgage rates with rates falling to multi-decade lows (see second chart). However, conditions may be starting to change. Mortgage rates have been rising over the past several weeks, moving about 50 basis points higher off the low. Rates are likely to continue drifting higher as economic activity normalises and market distortions from monetary policy initiatives are removed. Even with a move higher, rates are low by historical comparison (see second chart).