A five-year review of the real estate debt demand
Twenty-nineteen marks five years since Laxfield Capital, a commercial property lending company, released their first report on the demand for debt in the UK property market. Such a report, named the Laxfield UK CRE Debt Market Barometer, sought to explain the nascent asset class to institutional investors struggling to find information from which they could benchmark risk and identify opportunity in the sector. Since then, we have release nine reports based on information collected from £130bn of loan requests and across 2,995 deals. Understandably, tracking demand for debt has been a good way to comprehend market evolution, as well as drawing attention to risk signposts and hotspots.
The fifth anniversary since our first report provides an opportunity to reflect on changes over the last half decade – and note where progress has been slow in an era of fast technology.
One very marked change since 2013 has been the shift in demand from refinancing to acquisition loans. In 2012, a large inventory of loans sought refinancing solutions to loans in breach of covenants. Borrowers also had little trust that lenders could meet an acquisition timetable, as bank processes were slowed by additional layers of credit control. While in 2019, with a variety of capital at work, there is more confidence in acquisition finance being delivered on time, non-bank lenders in particular have differentiated their offer by emphasising speed – for which some borrowers are prepared to pay a premium.
In one part of the market, however, there has been a full circle back to 2012 conditions, with many retail loans seeking refinancing against pressured covenants, and a much-reduced pool of debt liquidity available as the market struggles to find its new base.
Loan Requests (Volume) by purpose 2013-2018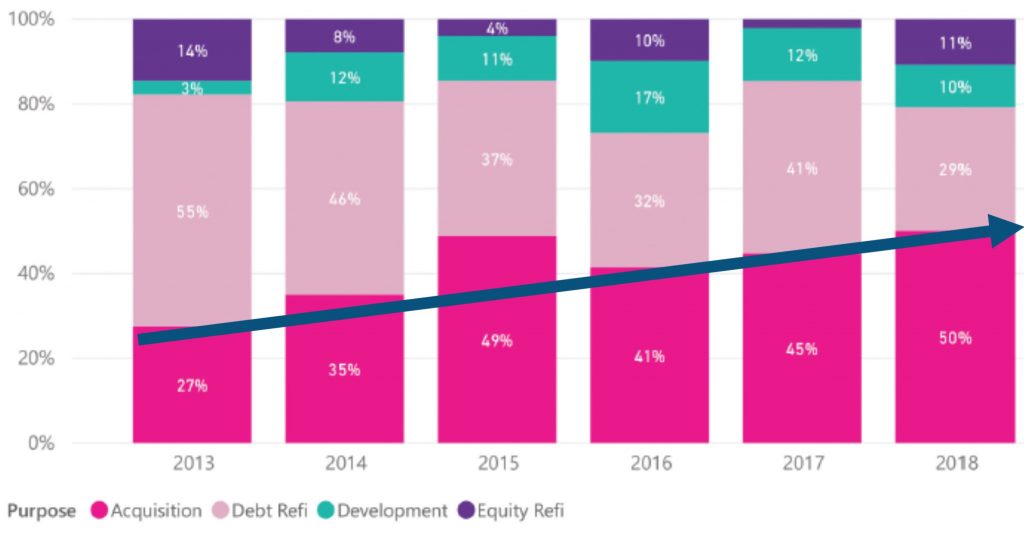 Moreover, the demand for finance has become much broader, spreading out from London to the regions, and from core sectors to a greater variety of assets. In this way, office demand is more widely spread through the largest ten cities that have become more actively traded with debt, whilst some buyers in London are utilizing the UK's secured debt markets less.
Loan Requests (Volume) – London vs. Regions 2014-2018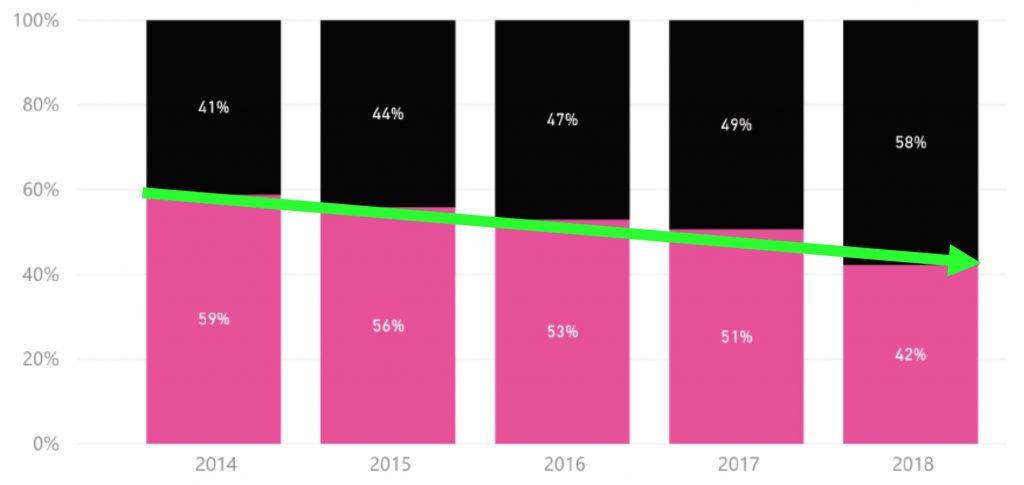 For some time, lenders have been adapting to a world of shorter leases, and with this, the need to understand space as a service. As tenants demand less bland, more differentiated, property that adds to their appeal as an employer or a retailer, so the lender needs a greater understanding of the borrower's ability to anticipate and respond. Good credit underwriting means going well beyond the cashflow and assessing both operational capabilities and business plan of the building owner. Careful thought needs to be given to how the underlying security will maintain tenant appeal and be re-financeable, rather than redundant, in five years.
Next, a huge rise in demand for finance against operational assets with a residential component has arisen in the past five years. Student housing, let residential and hotel financing have attracted strong investment, requiring lenders to take on complex underwriting of operational businesses. Whether or not the rented rooms which now form a substantial pool of security for lenders will be defensive in a downturn remains to be seen, but there is no doubt that it has become more mainstream over the period we have been monitoring the market.
In what feels like the blink of an eye, retail has become the most challenging sector on a lender's pipeline. Not only are many lenders exposed to assets that the current market has little appetite to refinance, but with the acceleration of CVAs, it appears that cashflows derived from assets outside prime locations have little legal certainty. Lenders are not well equipped to enforce security and assume ownership of retail assets where highly specialised skills and investment are needed to defend a struggling shopping centre. A very sharp increase in expected pricing against retail assets is evident, as well as a higher leverage ask as borrowers seek to replace debt against a backdrop of falling values. It feels the sector has a long way to go before it finds a new equilibrium, and there is real danger of debt withdrawal compounding the problem.
Weighted average LTV requirement – isolated by retail sector 2014-2018