Recently released Government housebuilding data contains a pleasant surprise – the number of new dwellings in England was over 241,000. This is the highest rate of housebuilding in England since the target for 240,000 new homes a year for the UK was set back in 2007.
This is good news for housing affordability, and national and city economies across the country. But it doesn't mean the job is by any means finished.
This recent increase in construction has been driven by the private sector. Using a different data set (Table 222) which captures differences in tenure, the annual amount of new build homes finished in England has increased by 68% from the historic lows between 2010/11 and 2018/19.
Symbolically, this is important as it shows that a recovery in new market-rate housing is essential for addressing housing shortages. While there has been an uptick in council housebuilding in recent years, these initiatives are still gathering steam.
But this means that arguments such as that from the Local Government Association that a "genuine renaissance in council housing is the only way to boost supply [above 250,000 a year]" are incorrect. Supply has been boosted, without a major increase in development by councils.
New social houses target the benefits of new supply at lower-income households, and cities should have the powers and resources to deliver them if they so choose. But the priority area for reform to ensure that homes are inexpensive for everyone is market-rate supply.
However, while the new national housebuilding target of 300,000 a year is inching closer, questions remain. Most important is – where are these homes being built?
The chart below depicts the rate of supply over the past year along the bottom axis, and the housing affordability ratio in 2017 (the ratio of average house prices to local average income – higher is less affordable) along the side axis.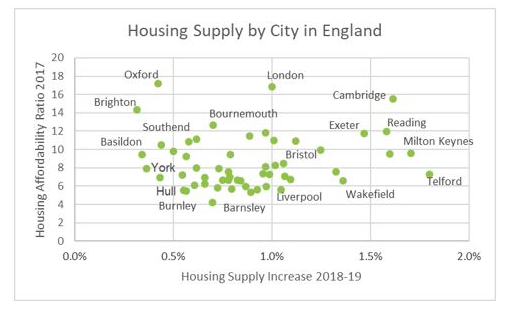 Some of our most expensive cities like Exeter and Cambridge are building new homes at quite a clip. But other unaffordable cities like Brighton and York are building very few homes – far fewer even than some cities where housing is much more affordable and where demand for new homes is lower, such as Burnley and Wakefield.
Not only does this damage the local and national economy, it also makes inequality and our Brexit divides worse. Not enough homes are built in Oxford, Brighton, or London to stabilise local houses prices in the long term. This means existing homeowners in these cities capture big increases in housing equity, while homeowners in cities with weaker labour markets see poorer returns. Since 2013, the average homeowner in Brighton has seen their equity rise by £83,000, compared to £5,000 in Burnley. How can that be fair in an economy which is supposed to reward hard work?
The problem is that unlike most parts of our economy, prices do not significantly guide where new homes are built, thanks to how our planning system rations land and controls development. Those new homes in Barnsley unfortunately do not do much for those facing sky-high rents in Oxford or those unable to buy in Basildon.
What this means is that to boost the economy, reduce inequality, and address the causes of Brexit, the next government should focus on not just boosting national housebuilding numbers, but on planning reform to ensure that those new houses are located in the cities with the highest demand. Switching from discretionary permissions to flexible zoning would rewire our planning system so that once a local plan is in place, development can occur unless the local authority explicitly says 'no', rather than forbidding any development until the local authority says 'yes'.