With the support of the Atlas Network, CapX is publishing a new series of essays on the theme of Illiberalism in Europe, looking at the different threats to liberal economies and societies across the continent, from populism to protectionism and corruption.
The dramatic rise in house prices is one of the stories of our time. Between 2000 and 2010 low interest rates fuelled house price bubbles around the world. In the U.S, it was this bubble bursting that led to the subprime crisis, which in turn triggered the global financial crash. Only very few developed countries seemed to be immune to spiralling house prices and rents, one of which was Germany, which remained a place of peace and stability with rents and prices barely rising in the years leading up to 2010, in stark contrast to other countries.
Rising rents and house prices
After 2010, the situation changed. The German housing market experienced sharp rises in house prices and rents, especially in major cities such as Berlin, Munich, Frankfurt and Hamburg. These developments were driven by a number of factors. Most importantly, more and more people started moving to German cities. Initially, the newcomers came from other cities and regions across Germany. But as the euro crisis gripped the continent, growing numbers of southern Europeans also arrived in Germany. And finally, starting in 2015, a large influx of immigrants began arriving as a result of Angela Merkel's policy of open borders. Over a million migrants arrived in Germany in 2015 alone, both war refugees and immigrants who came for economic reasons. In each of the following years, many hundreds of thousands followed in their footsteps.
With such high levels of migration into Germany's major cities, large numbers of new apartments needed to be developed. Unfortunately, this did not happen. The number of new dwellings built was nowhere near enough to satisfy the sharp rise in demand. The main reasons for this substantial shortfall are Germany's strict building regulations and slow approval procedures. In Berlin, for example, it currently takes 12 years to draw up a land-use and development plan, which in many cases is a prerequisite for any new construction. In addition, ever tighter environmental regulations have made construction more expensive.
Driven by a lack of supply and rising construction costs, rents and house prices have risen sharply.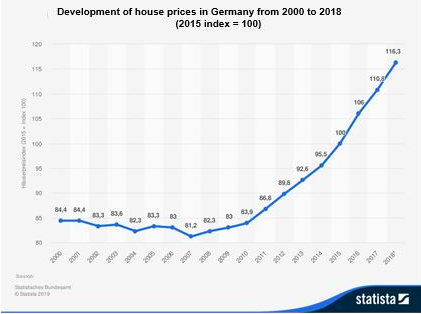 The rapid decline in yields in the rental housing sector was also accelerated by the European Central Bank's zero-interest rate policy. I know the effects of this personally: In 2004, I bought an apartment building in Berlin-Neukölln at a price-to-rent ratio of 6.8. Ten years later, I sold it at a ratio of 24. Today, I would be able to sell the same property at a ratio of over 30.
Rental price brake