US dollar food commodity prices have risen 40% since the onset of Covid-19 in March 2020. This sharp price jump, shown in the graph below, has reversed a painful period of farm produce deflation during the previous seven years. In fact, farm gate prices have returned almost to their nominal and real levels from the food commodity spike of 2009-2013.
FAO Food Price Index 1961 – 2021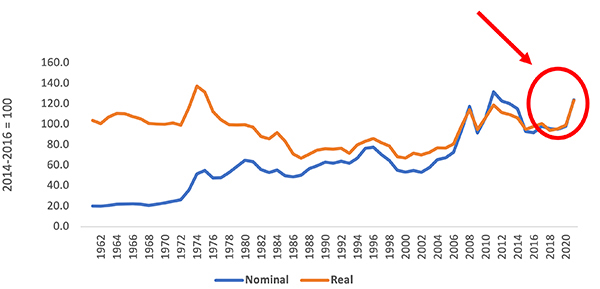 This Commentary analyses inflation globally and looks at the global dairy industry as a case study of how farm gate prices may evolve.
Supply push inflation
Prices of many goods and services are currently rising; US annual inflation is running over 6%, New Zealand at 4.9%. Inflation is being driven by shortages of:
Blue collar labour (less globalisation; Covid)
Fuel energy commodities (less capital available for fossil fuel production)
Logistics capacity (under-investment in infrastructure; Covid)
Food commodities (environmental restrictions on farm production; more frequent droughts)
Some of the causes of these supply shortages should in time be resolved (e.g. as society learns to live with Covid-19). A mainstream "inflation is transitory" school of economists have been arguing along these lines that supply shocks should heal themselves. They argue that, as Covid recedes, entrepreneurs, including farmers, will be motivated by higher prices to invest to supply more goods and services and resolve logistics bottlenecks. This will bring prices down or at least stop them rising further.
These arguments are coherent, all other things being equal. They would surely have been proven right if we were still in the globalised, well-financed yet fiscally disciplined world of 2000 to 2019. Unemployment and deflation followed the boom of the 1920s and the expansion ending in 2008.
However, I would suggest that all other things are not equal – and that as a result of likely further policy responses – fiscal largess – the 2022 global economy is unlikely to resemble that of 1929 or 2009. It may be more like that of 1974.
The spread of populism
Politicians and policy makers in the US, UK, China and elsewhere were stung by working class reactions to the inequities of the past decade. This contributed to the 2016 Brexit vote, to President Trump and to unrest in China. As a result, political leaders have got over their desire to focus government support solely on asset markets, which led to widening inequality. They are now re-focusing policies on support on the common man or woman. i.e. on "populism".
Hence many countries are seeking to restrict cross border transfers of labour (border restrictions) and of labour-intensive goods (tariffs), as well as to run unfunded fiscal deficits to pay for popular political programs. In this context fiscal deficit spending can be viewed as a "populism index". Thus, in the below graph, the US government boosted expenditures to 192% of receipts to address Covid-19, vs. the boost to 167% of tax receipts to address the 2008-9 credit crisis.
Federal Receipts vs. Expenditures
30 Sept 2000 to 30 Sept 2020