Proptech is not new: a conversation with (above, from left to right) Jim Young, founder and CEO of Realcomm, Michael Beckerman, CEO of CREtech, and Matt Ellis, CEO of Measurabl.
Biographies
Jim Young is the founder of Realcomm Conference Group, an educational organisation that produces Realcomm, IBcon and CoRE Tech, with conferences on technology, automated business solutions, intelligent buildings and energy efficiency for the commercial and corporate real estate industry. Realcomm is probably the oldest conference forum to integrate technology and real estate, where some of the largest real estate operators discuss the most advanced and progressive next generation real estate projects. Here we talk about proptech and the future of real estate. See www.Realcomm.com
Michael Beckerman is a leader in the commercial real estate tech sector. He entered the sector in 2012 after a 25-year career in commercial real estate public relations. Michael now serves as CEO of CREtech, the largest event, consulting and content platform in the commercial real estate tech sector. Michael blogs at www.cretech.com/michael-beckerman/ and is active on the commercial real estate tech speaking circuit. See www.cretech.com
Before founding Measurabl Matt Ellis spent five years with CBRE, where he began his career as a real estate broker and went on to lead CBRE's Sustainability Practice Group in the western US, implement CBRE's industry-first global carbon neutrality programme, and serve as director of sustainability solutions. He was a member of CBRE's global sustainability steering committee. See www.Measurabl.com
What is proptech?
Proptech (property technology) can be defined as any technology that impacts the built environment and has the potential to be disruptive in how we conduct business, in way analogous to fintech (financial technology) such as PayPal and Apple Pay and cryptocurrencies. With proptech being the buzzword in the last several years, it is fairly easy to assume that it is new to the real estate industry. However, when talking to Jim Young, the founder and CEO of Realcomm, a research and event company at the intersection of technology, innovation, and real estate operations, he indicated that contrary to popular belief, proptech is not new and has been around as early as the 1980s.
Jim suggested that it is crucial to understand the history of proptech in order to understand its present and future. Phase one of proptech, which began in the 1980s, focused on leasing, facilities management, building automation, and property management. Phase two was the dot-com era when everyone planned to invest a lot of money and change real estate forever. Phase three was after the dot-com era and cycled up and down, but some really good companies came out of it like Loopnet and CoStar. About 80% of the start-ups failed, but 20% succeeded in some way. Phase four started in 2009 after the financial collapse. Many companies created during this time are some of the most talked-about now. They created innovations on social mobile analytics, cloud IOT (internet of things) and cyberspace. Many thought proptech was brand-new (it was not). Phase five began in 2016 and features all the next-generation technologies like artificial intelligence (AI), machine learning, blockchain, and augmented reality. See figure 1 below.
Figure 1: The evolution of proptech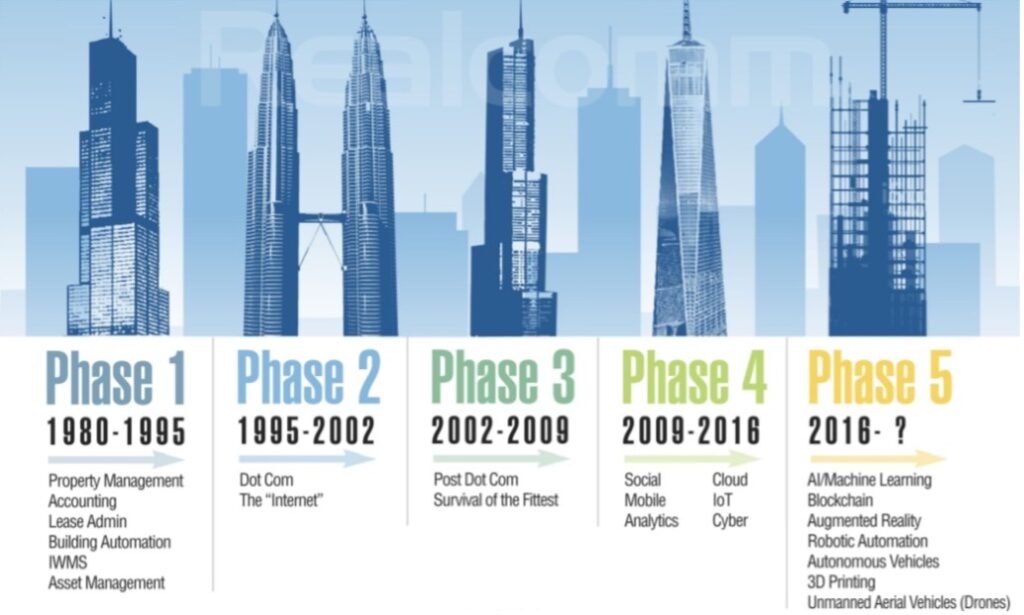 Michael Beckerman prefers the term 'CRE tech'. He says: "Proptech is honestly not one of my favourite terms for the industry. It's a very narrow definition in fact and doesn't do justice to the scale of innovation happening in the real estate industry. When I think of how most people casually refer to our industry as 'proptech', they are excluding a huge swath of the sector. I would argue that the majority of start-ups are not focused on property-level innovations, but rather on the operating side of the business, such as data, analytics, financing, insurance, transactions etc. To me, proptech is a concept that is largely encompassing the building-level technology solutions where 'real estate technology' or 'CRE tech' encompasses every aspect of constructing, operating, analysing, managing, financing, insuring and transacting in the built world. It's also why the name of our company is CREtech.com."
Matt Ellis, founder and CEO of proptech firm Measurabl, agrees with Michael Beckerman that proptech is any technology-based (including tech-enabled services) solution for the property business. This broad term encompasses not only physical property, but also anything that interfaces with it: sustainability, finance, construction, insurance, brokerage, management etc. If the beneficiary of the technology is an owner or stakeholder of the box, it is proptech!