The first new interpretation of a Roman ruin in London for nearly 20 years, London Mithraeum opened to the public in November 2017. The ruins of the mid-3rd century temple were discovered in September 1954 on a former WWII bomb site at the start of construction for a new office building. The press immediately picked up the story and there was a frenzy of press and public interest, with tens of thousands of people visiting. To forge ahead with necessary construction the ruin was dismantled. In February 1962 a rather unsatisfactory reconstruction was unveiled, approximately 100m from its original location.
In 2010 financial technology, data and media company, Bloomberg, bought the site.  A planning condition for its redevelopment was that the temple be reconstructed as close as possible to the location of the original Roman structure, seven metres below the modern streets of London.  A huge undertaking, Bloomberg embraced the challenge and today London Mithraeum is an immersive and powerful reimagining of the Temple of Mithras, giving visitors an opportunity to connect with London's Roman past.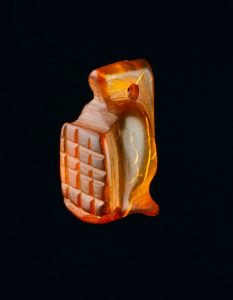 A Temple to Mithras
Mithras was a Roman deity that first appeared in the 1st century AD. The typical iconic image of Mithras is as a young man, wearing a soft Persian style cap, killing the 'primordial bull' in a cave, surrounded by other figures and animals. The scene is largely interpreted as an act of creation and fertility. Mithraism was a mystery cult, popular with the army and merchants. There were seven grades within the cult. There is evidence for initiation ceremonies into the different grades, but the rituals and beliefs of the cult were kept secret and what we know of these rituals comes from archaeology. The London temple was first constructed around AD 240-50 and it continued in use until about AD 380.
Reconstructing a ruin
The first job was to dismantle the 1960s reconstruction, which had to be carefully done with diamond tipped chain saws before the individual elements were catalogued and placed in storage.
Authenticity was of great concern to the team so MOLA archaeologists first created detailed drawings from which masons could build the new temple ruin. Stonemasons from PAYE Conservation began sorting the salvaged stone and where there were gaps in the material they sourced new Kentish ragstone and had new bricks handmade from clays dredged from the Humber estuary.
Different mixes of mortars and renders were prepared from samples taken from other 3rd century Roman buildings and new timbers were treated to look like the preserved oak timbers.