It is almost a decade since the beginning of the end of the debt-driven property boom. Back then, British banks supplied 72% of the finance to the market, Germans and CMBS supplied most of the remainder, and little else could compete.
Anyone returning from ten years on a desert island would be amazed at the diversification of debt supply in the intervening period, and broad cast of 'property lenders' at your service. Our list of would-be debt investors is well over 400 strong. International banks, insurers, pension and sovereign wealth funds are joined by a host of opportunistic investors – hedge funds, family offices and peer to peer lenders seeking route to market via a wide range of debt fund platforms and strategies. Regulators must be delighted by the reduction in systemic risk to banks from UK CRE.
The 'regional problem' summarised
It therefore surprised me to see latest statistics on transacted lending show less diversity than ever in the distribution of debt, with only 37% of lending deployed outside London and the South East, reducing steadily year by year from 58% in 2010 (source: De Montfort University UK Commercial Property Lending Market 2016).
This is out of kilter with strong investment activity in the regions, where turnover in the past three years exceeded 2005-7 (see chart below), and the referendum dampened turnover by only 12% compared to more than 30% across the whole UK market (source: PropertyData.com, Jan 2017).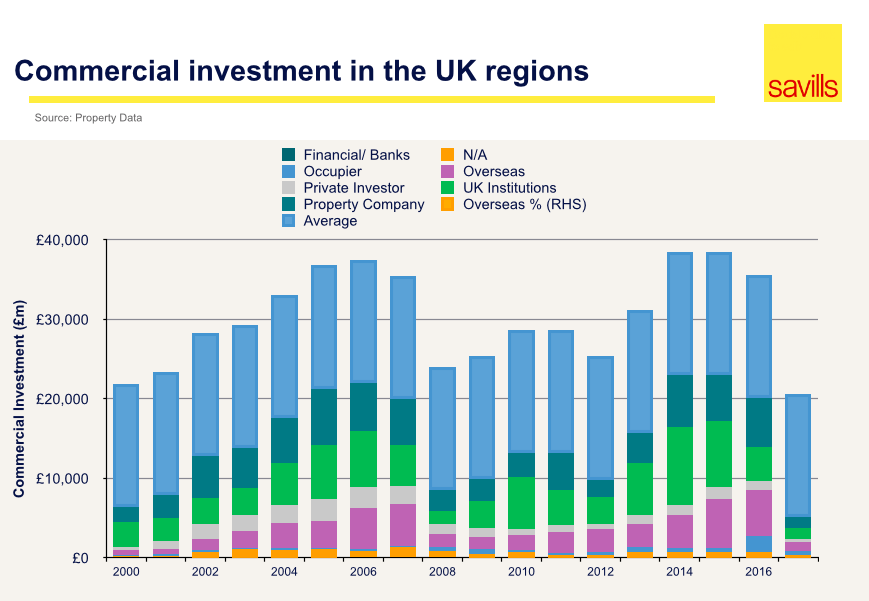 Used with permission
Nor can this be attributed to London's bulging super-prime equity pricing – since the majority Asian buyers ignore secured lending, leaving lenders with a diminishing stock of prime real estate to fund (to their chagrin).
Requests for finance that we track through the Laxfield CRE Debt Market Barometer show an even London/regional split, so the evidence points a failure in lending (however diversified) to match regional liquidity needs.
Operating in an 'equity glut', there has, to date, been no perceptible value impact caused by this imbalance. In more constrained conditions, it has potential to de-stabilise the market.
The borrower's perspective
On the ground, the story varies. Dominant regional propcos with large investment portfolios have no difficulty using these to finance development activities. Sitting in the core client category of the banks, and with additional access to long term institutional funding, they have strengthened their position in the past few years.
By contrast, an entrepreneur with good ideas for creating value from one unloved asset at a time needs an exceptionally high pain threshold to get through bank processes, where they are not considered a core customer. Building societies no longer finance 'building' either.
Most turn at this point to alternative finance, but two main barriers exist to efficient matching: