Equity investors might need to top up funds by tens of billions in Germany and the UK, thanks to covid.
Declines in capital values and more conservative lending in the immediate aftermath of the global financial crisis created a major refinancing challenge for commercial property – to the tune of £70bn in the UK, according to our debt funding gap analysis. What exactly is the debt funding gap? Basically, it quantifies the gap between debt at origination and debt available at the moment of refinance. We wanted to find out whether the covid-19 induced recession would result in a new debt funding gap, and if so how large it might be. To do so, we focused on our expectations of capital values and loan-to-value (LTV) measures.
Based on recent market updates, we expect capital values to decline or to rise more slowly as a result of the covid-19 lockdowns' impact on GDP growth, tenants' ability to pay rent and increased liquidity and volatility risk premiums. However, as shown in figure 1, the effect is much more marked in the retail sector, mostly due to a significant one-off step-up in e-commerce penetration during the lockdowns, its long-term impact on retail tenants and investors' return requirements.
Figure 1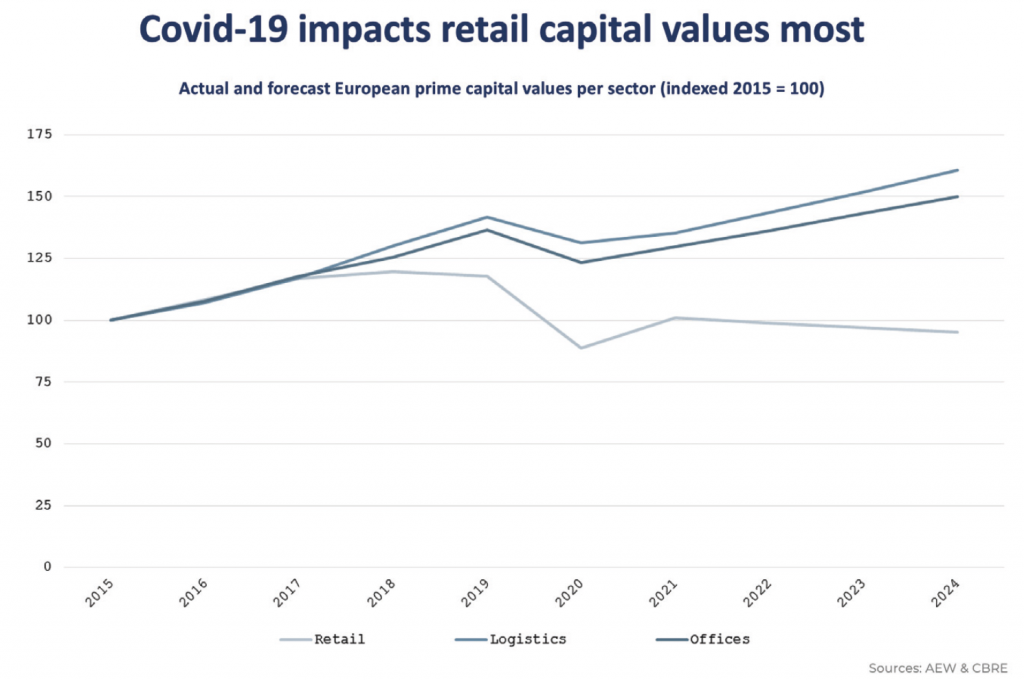 LTVs before the onset of the pandemic were moderate compared with before the global financial crisis. We estimate current acquisition LTVs at around 50% across the European markets, compared with the 70%+ pre-GFC levels. More importantly, lenders' LTVs have been adjusted downward during the covid-19 crisis, and it is reasonable to expect the 2020 full-year LTV average to come out below 50%.
To quantify the impact on the real estate market of excess leverage and capital value declines, we estimate the debt funding gap, as illustrated in figure 2, by the following steps: