As I read the billion dollar bids for land in Singapore and new launches of private apartments selling out in three days, I began to wonder whether the government has expanded the retail-driven Great Singapore Sale to the residential property market and I have missed the sale! A deeper look suggests that the residential market activity is somewhat like the Great Singapore Sale. The merchandise isn't discounted a great deal but somehow the consumers bought into the hype.
We have been flagging out the change in developers' and consumers' appetite for private properties since June last year. The turning point in sentiments was perhaps the successful launch of the GEMS Residences, a 578-unit private condominium in the suburb of Toa Payoh. The developer did an excellent job of marketing the project with some clever gimmicks like car rental, 24-hour concierge and private chef services. Since then, the market has gone from strength to strength.
Just like what you need to do in the Great Singapore Sale, investors need to look beyond the hype and get a clear perspective of value vs price and whether the "discount" justifies the purchase.
Billion dollar bids for land were expected
While it makes great headline sensation, the billion dollar bids for government land are expected. The sites being offered for tender have been increasingly larger and in relatively good locations. The larger sites are part of the government's deliberate, stated intention. As seen in Figure 1, the average gross floor area of the sites sold in 2017 is 29% higher than that of the sites sold in 2016.
Figure 1: The average GFA of sites in 2017 is higher than that in 2016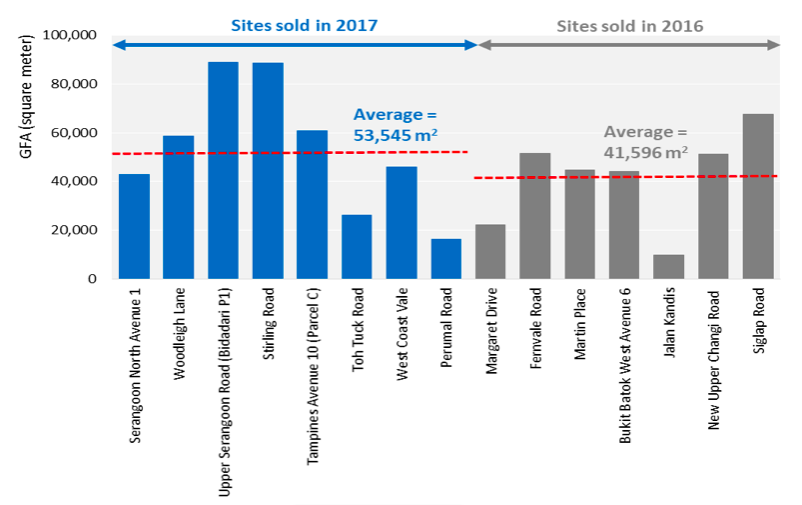 Source: URA, HDB, FundPlaces Research. Note: data obtained on 14 Aug 2017
Are local developers in danger of being unemployed?
Traditional local developers have become more aggressive in land acquisitions as many of them are running low on their land bank. Foreign developers, particularly those from China and Malaysia, have other strategic objectives for their aggressive land acquisitions. Some have formed joint ventures with the traditional big boys to undertake developments. Others have decided to take the plunge themselves.