ARTICLE ORIGINALLY PUBLISHED 12TH FEBRUARY 2018
My visit to Yale was not to study a post graduate degree but happily for me to look at the extraordinary range of Modernist Architecture over the length and breadth of their campus.
I was aware that Yale, which boasted one of the best architecture schools in the United States, had commissioned some great Architects from both the late 19th Century and also the 50's & 60's which included amongst others Louis Kahn (Yale Centre for British Art, 1974), Paul Rudolph (Art & Architecture Building, 1963), Eero Saarinen (Ingalls Hockey Rink/The Whale, 1958) & Philip Johnson (Kline Biology Tower, 1966).
Arriving by train in New Haven and walking towards the Yale campus, I first spotted Philip Johnson's impressively dominant and commanding Biology Tower. It was at this point I realised I was in for a great architectural adventure! None of the buildings disappointed and whilst all were completely different from one another in both style and use, each one in turn, left an everlasting impression.
Whether viewing Rudolph's scintillating form of Brutalism, Kahn's beautiful symmetry or Saarinen's architectural gymnastics, nothing could have prepared me for what has now become one of my favourite top six modernist buildings. I was ambling towards the centre of the campus along a serene and tree lined approach when I beheld a 'jewel box' of a building that hovered over the plaza it stood upon.
Here was a building of breath-taking beauty; a unique building unlike any other. The Beinecke Library remains a significant building that houses a significant library of historic and valuable collection of rare books and manuscripts and the literary archive of Yale University.
Located on Yale University's Hewittt Quadrangle, the building was designed by Gordon Bunshaft of Skidmore, Owings & Merrill and completed in 1963. Established by a gift of the Beinecke family, the library is financially independent from the University. It remains one of the largest buildings in the world entirely dedicated to its collection of rare books and manuscripts.
The building is supported on each of the four corners by massive triangular concrete piers that allows it to float over its plaza like setting. Internally a six storey glass enclosed tower is surrounded by a windowless rectangular outer shell. Here within specially temperature controlled conditions are housed the spectacular literary collection which are thus carefully protected.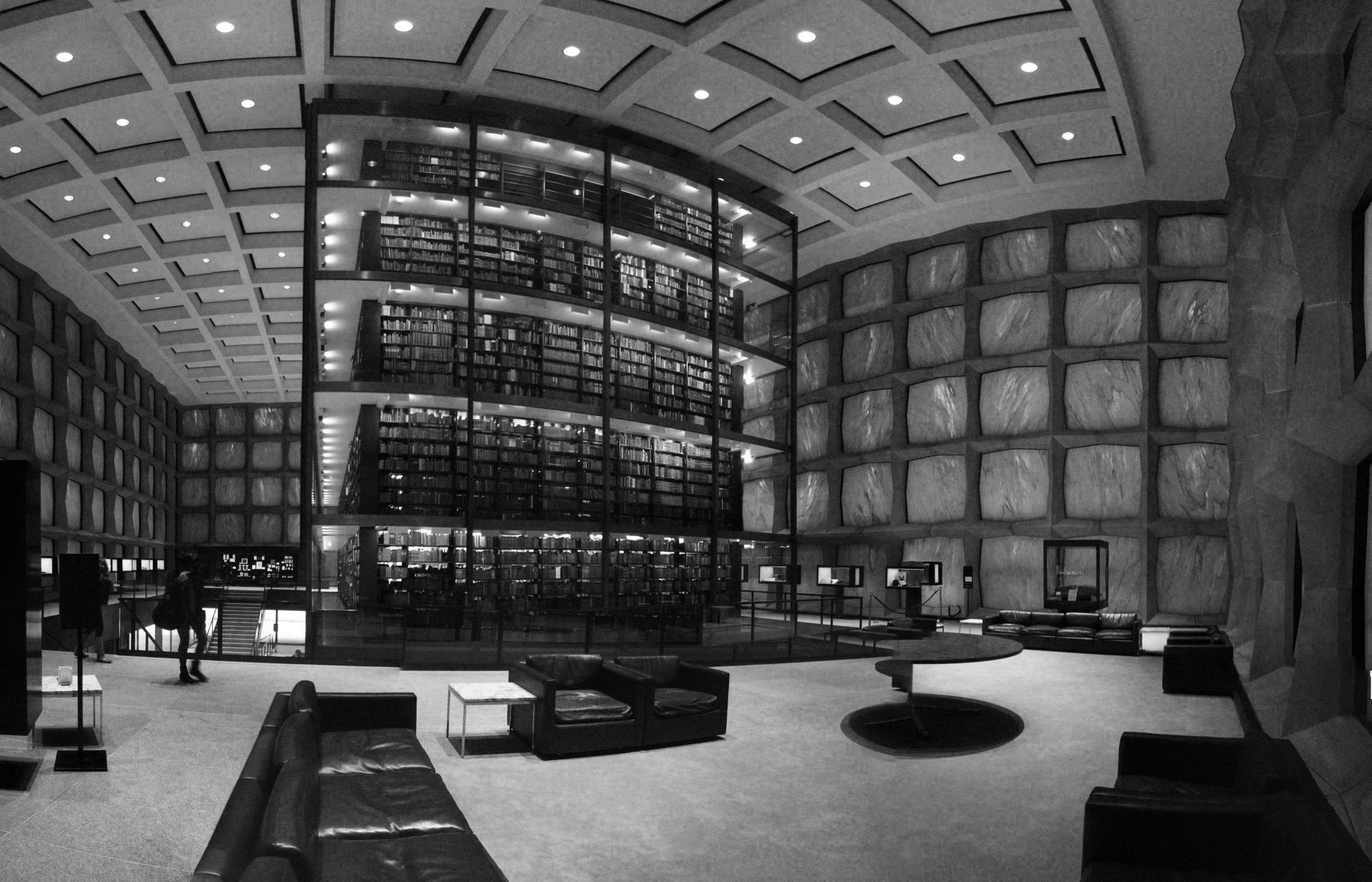 Panoramic interior view of the Beinecke's mezzanine level by Lauren Manning – Flickr: Yale University's Beinecke Rare Book and Manuscript Library, CC BY 2.0, Image source
The outer walls of the Library building are made of translucent veined marble panels quarried from Danby, Vermont and which transmit subdued lighting from the outside while providing protection from direct sunlight. At night, the stone panels transmit light from the interior which gives the exterior a beautiful ambler glow. The overall effect is absolutely stunning and unique.
There is also a large basement floor which extends under the Quadrangle. This level contains a sunken courtyard which features three abstract sculptures by Isamu Noguchi that represents time, sun and chance. The library itself is immense. It has room in the central tower for 180,000 volumes and room for over 1,000,000 volumes in the underground book stacks.