The returns on most investments are purely financial.But some investments have other rewards. Buying art, for instance, offers the chance not only to anticipate what is going to do well, but to exercise your taste, look for something you appreciate, and enjoy it for as long as you like before selling it – if others appreciate it too – at a profit.  The poet Stephen Spender and his wife Natasha often bought pictures, and since they moved in creative circles and counted the sculptor Henry Moore and the artist John Piper among their friends, some of the pieces they acquired became very valuable. Occasionally they would sell one because they needed money, but they would devote part of the proceeds to buying from promising younger artist-friends such as David Hockney.
Collecting is not only fun but an education.  All collectors make mistakes, especially early on, but things you find you don't want can be sold, and you soon learn that the ones you regret–perhaps for the rest of your life–are the ones that you didn't buy.  As a book dealer once advised me, "Only buy the things you can't afford." 
The more expert you become, the more discriminating you will be, and the greater the chance that you will buy well, because you know something or can see qualities that the vendor does not.  You may recognise a maker's mark on a piece of furniture or a potter's characteristic use of colour; you may decipher a signature in a book and understand why its provenance is important; or you may know how exceptionally rare a particular Dinky toy is, because it was one of the earliest.  There is an expertise that can only be acquired from the experience of handling many objects, discovering their history, how they were made and what they tell us about their own period.  At a sale viewing once, a friend of mine found a tiny piece of paper inside a harpsichord which turned out to be the invoice from a very famous maker.  Sotheby's hadn't noticed. He tucked it back and was very pleased with his purchase.  
But beyond collecting there is a further imaginative step, which is to commission something new from an artist or craftsman.  This requires time and commitment as well as cash, but can give a special sense of fulfilment because the work is partly your own creation, the fulfilment of a conception of your own.  Commissions are crucial investments in traditions of workmanship that make originality possible, expressions of trust not only in an individual sculptor, silversmith, cabinetmaker or glassblower, but in the future of the trade or art.  And trust in the collaboration is very important.  "I need to have confidence that the client has confidence in me," says Hugh Wedderburn, Honorary Secretary of the Master Carvers' Association. 
The impulse to commission can come in various ways.  You may admire the work of a particular maker; you may be marking an occasion; you may need new curtains and want to have a special design woven; or you may want a gift of jewellery to embody a personal story.  
If you don't have a maker in mind, it may be useful to contact a trade association such as the British Woodworkers' Federation, Memorials by Artists or one of the ancient guilds such as the Goldsmiths' or Carpenters' Company.  Before you commit yourself, make sure you meet the individual craftsman (is this someone you'd like to work with?) and see his or her work close up (never merely on screen).  Hold the work, inspect it from all angles; imagine how your idea might take shape if this craftsman undertakes it.  
The degree of clients' involvement varies a lot, says Wedderburn.  "One will simply ask for a chair with a touch of the Orient about it and leave me to it, whereas another client, who has commissioned from me frequently, is involved throughout.  It can take years before we get as far as a drawing, and she makes regular visits to the workshop."  Commissioning can take time, so don't be surprised if you are asked for part-payment up front.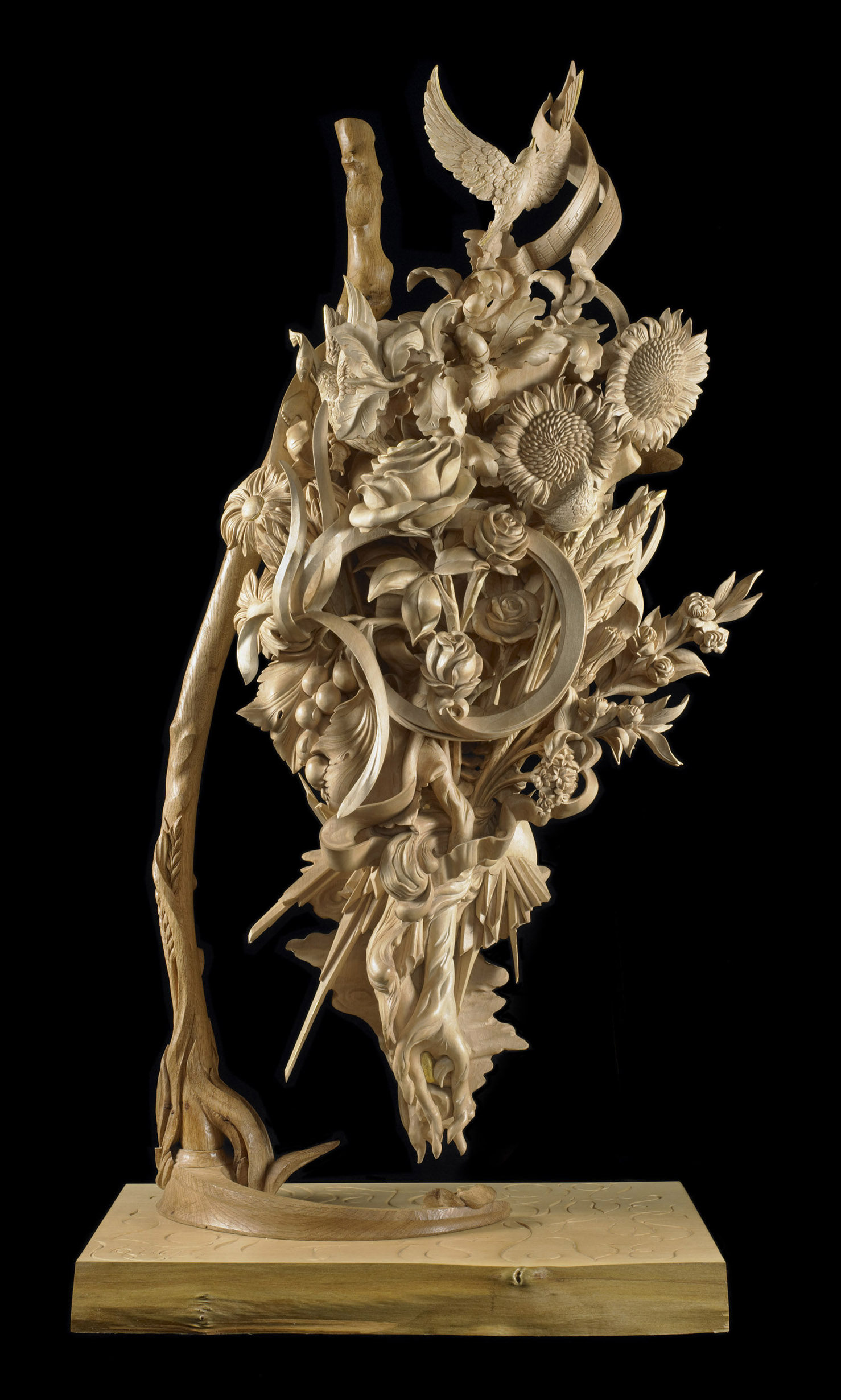 Abundant Harvest by Hugh Wedderburn
When discussing what you have in mind, the better you know how the craftsman works – characteristic materials, designs, techniques and styles – the more likely it is that you will speak the same language.  "The patron comes with an idea which I have to fathom and make practical," says Wedderburn.  "They have to understand my limitations and what wood can do.  It's not a compromise, but we have to find mutual territory, so that my work can express their vision."