Assuming the U.S. elections still happen in November 2020– how might that affect the U.S. economy and investment returns going forward?
While no one can yet predict the outcome of the November election – it may be instructive to look at what has happened over the past 40 years. Reviewing the 2-year election cycles to see what happened when Republicans (GOP) versus Democracts (DEM) party were in charge is instructive. Since there are three U.S. government branches (President, Senate and House) the analysis looks first at periods when one party had majority control (at least 2 branches of government), Next when the executive, senate and house were in charge separately. History shows that Republicans/GOP had majoritycontrol 12 out of 20 terms. The same 12 out of 20 for Executive and Senate, and it was even split at 10 term periods each GOP and DEM for house control. Exhibit 1 reviews the three main US economic indicators: Real Gross Domestic Product (RGDP), Employment Growth (Employ) and Inflation using the Concumer Price Index (CPI).
Exhibit 1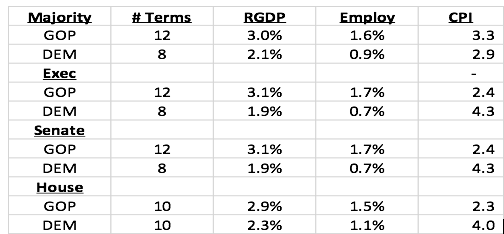 In all cases, when the GOP was in charge real GDP and Employment growth outperformed and usually at a 50% higher rate than when DEM was in control. Inflation (using CPI) was 13.8% higher when GOP had majoritycontrol, but was 79% higher when DEM had control of Executive, Senate or House. (Most believe high inflation is not a good thing).
Next the returns for private institutional real estate (represented by the National Council of Real Estate Investment Fiduciaries NCREIF – ODCE index) Barkley's Bond Index, S&P 500 stocks and publicly traded real estate (represented by the National Association of Real Estate Investment Trusts FTCE-NAREIT index.
Exhibit 2