The vast majority of the British public thinks that affordability is one of the big issues in the housing market, with half rating it is the single most important issue. Those are the results of an exclusive poll for The Property Chronicle by Electoral Calculus and pollster Find Out Now.
We interviewed a representative sample of the public, asking them what they thought should be improved about homes in their area. Participants were asked to select up to three items from this list: better car parking, better construction quality, better public transport links, bigger average size, higher ceiling heights, more affordable, more environmentally friendly, more local shops or none of these.
The results are shown in the first graph, which excludes the 9% of the public who didn't know.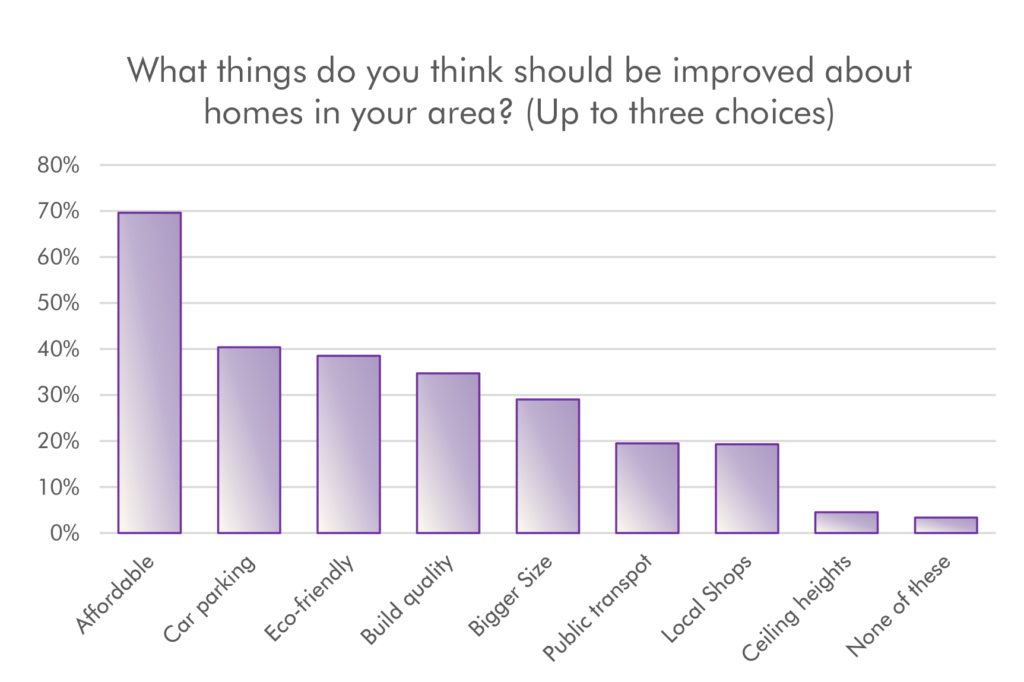 We see that affordability comes top of the list, with a whopping 70% of the public naming it as one of the top three housing issues. Coming behind affordability were desires for better car parking (40%), more environmentally friendly properties (39%) and better construction quality (35%).
There was more modest support for bigger property sizes (29%), better public transport links and more local shops (both on 19%). Ceiling heights are not seen as a major issue. Importantly, only 3% of the sample thought that none of the given options was needed.
A cynic might say that this only shows that people want cheaper, greener, bigger and better homes with somewhere to park. Who wouldn't? But it's the relative importance of the issues which is striking. The public put the housing affordability crisis far ahead of other issues, such as tackling man-made climate change.