The Physical Market Cycle Analysis of 5 Property Types in 54 Metropolitan Statistical Areas (MSAs).
The economic expansion has been solid with 1Q GDP growth at 3.1%, which also drove continued job and wage growth so far in 2019. Trade uncertainty moved investors toward safety and drove the 10-year treasury down to a 2.16% yield in May, which should help to keep mortgage interest rates low and real estate's positive financial leverage position very favorable. Demand and supply growth are in equilibrium balance in more markets and property types than ever before. We expect the moderate economic expansion to continue for a few years.
Office occupancy decreased 0.1% in 1Q19, rents grew 0.5% for the quarter and 2.1% annually.
Industrial occupancy decreased 0.1% in 1Q19, rents grew 1.1% for the quarter and 5.6% annually.
Apartment occupancy increased 0.1% in 1Q19, rents grew 1.3% for the quarter, but grew 3.2% annually.
Retail occupancy was flat in 1Q19, rents grew 0.1% for the quarter and 1.4% annually.
Hotel occupancy increased 0.3% in 1Q19, room rates grew 2.5% for the quarter but grew 3.6% annually.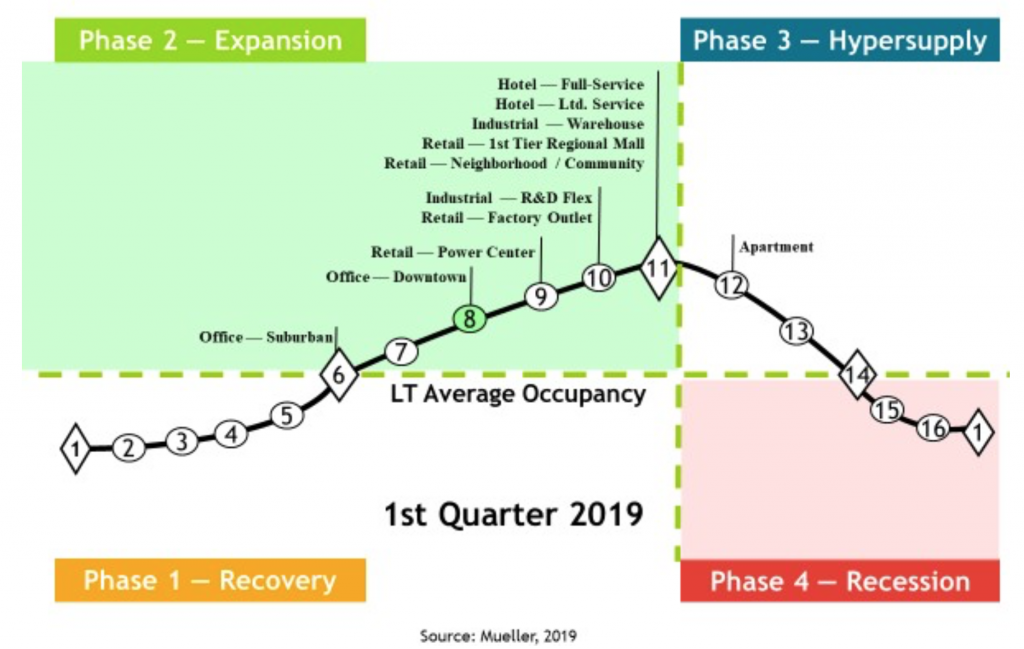 The cycle monitor analyses occupancy movements in five property types in 54 MSAs. Market cycle analysis should enhance investment-decision capabilities for investors and operators. The five property type cycle charts summarise almost 300 individual models that analyse occupancy levels and rental growth rates to provide the foundation for long-term investment success. Commercial real estate markets are cyclical due to the lagged relationship between demand and supply for physical space. The long-term occupancy average is different for each market and each property type. Long-term occupancy average is a key factor in determining rental growth rates — a key factor that affects commercial real estate income and thus returns.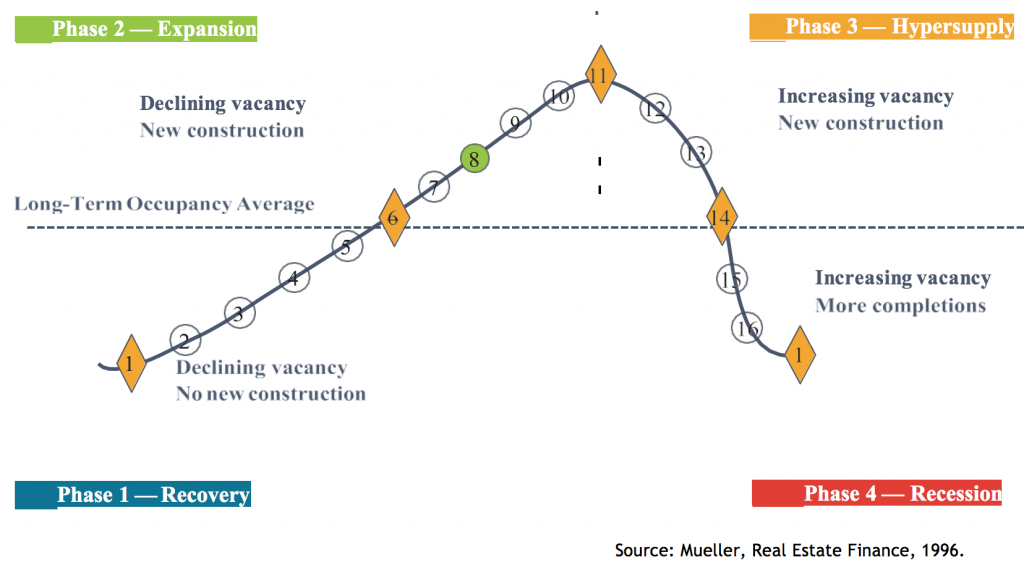 Rental growth rates can be characterized in different parts of the market cycle, as shown below.
Office
The national office market occupancy level decreased 0.1% in 1Q19, but was up 0.3% year-over-year. Continued GDP and employment growth are driving moderate office demand growth. More landlords are adopting short term rental programs to compete with WeWorks and other flex rental companies.