Much has been written in the Spanish press recently about the Valle de Los Caidos (the Valley of the Fallen), the monument to those who died in the Spanish Civil War (1936-9) which is a one hour drive north of Madrid near the Escatorial Palace, Philip II's summer residence. It is built from the same austere grey granite as the Escatorial, during General Franco's rule of Spain (Franco ruled from 1939-75) and he himself is buried there along with J A Primo de Rivera, who was the founder of the Falange (the Spanish fascist movement).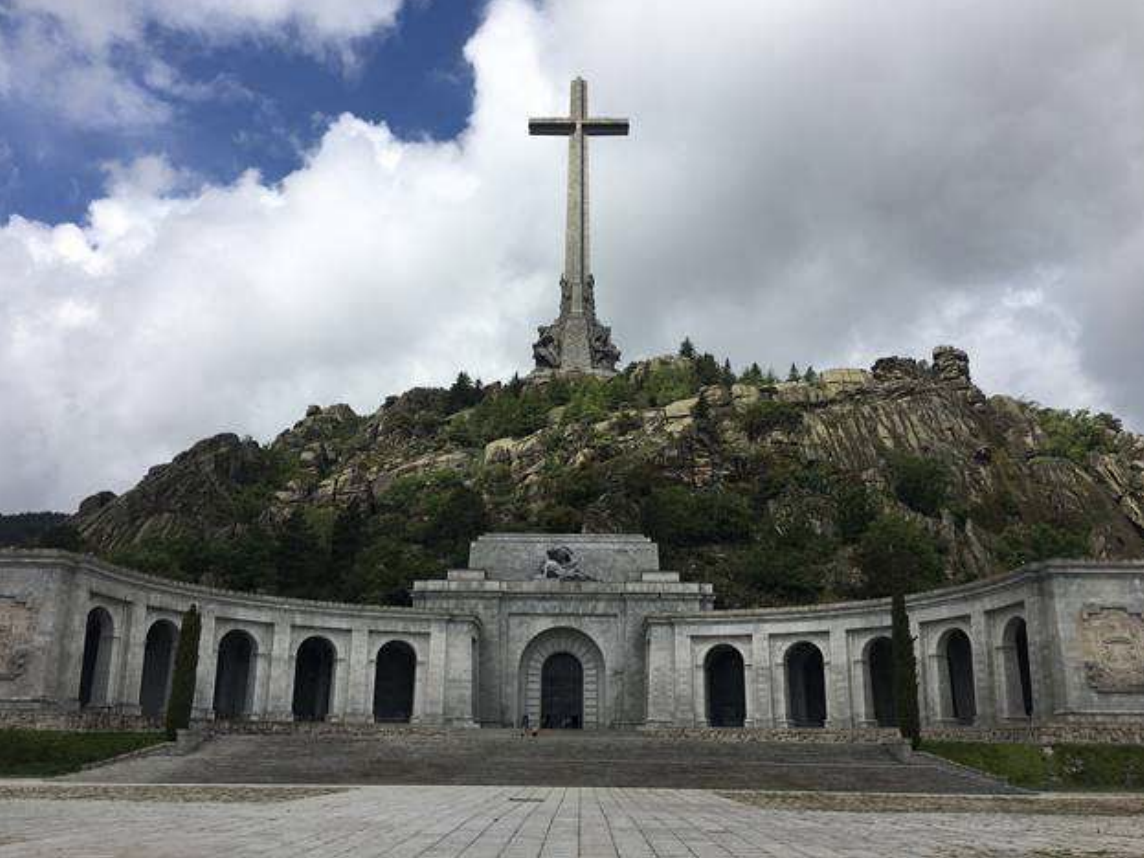 Monument at Valle de Los Caidos (Valley of the Fallen), near Madrid, built 1940 to 1959 (photograph by author)
The site is in the hills and there is a more alpine feel to the climate here which is why Phillip II escaped to this region during Madrid's hot summers. The monument consists of a very tall imposing stone cross under which lies a crypt dug deep into the hillside. The monument conforms to most people's idea of fascist architecture. It is monumental, imposing, solid, symmetrical, austerely detailed and overbearing in both scale and proportion. The crypt is dug a staggering 300 meters into the hillside and is impressive both in its size and in the kitsch way one would expect of a building commissioned by a totalitarian regime.  The individual is diminished and the state is aggrandised by the strength of the building which overpowers the observer.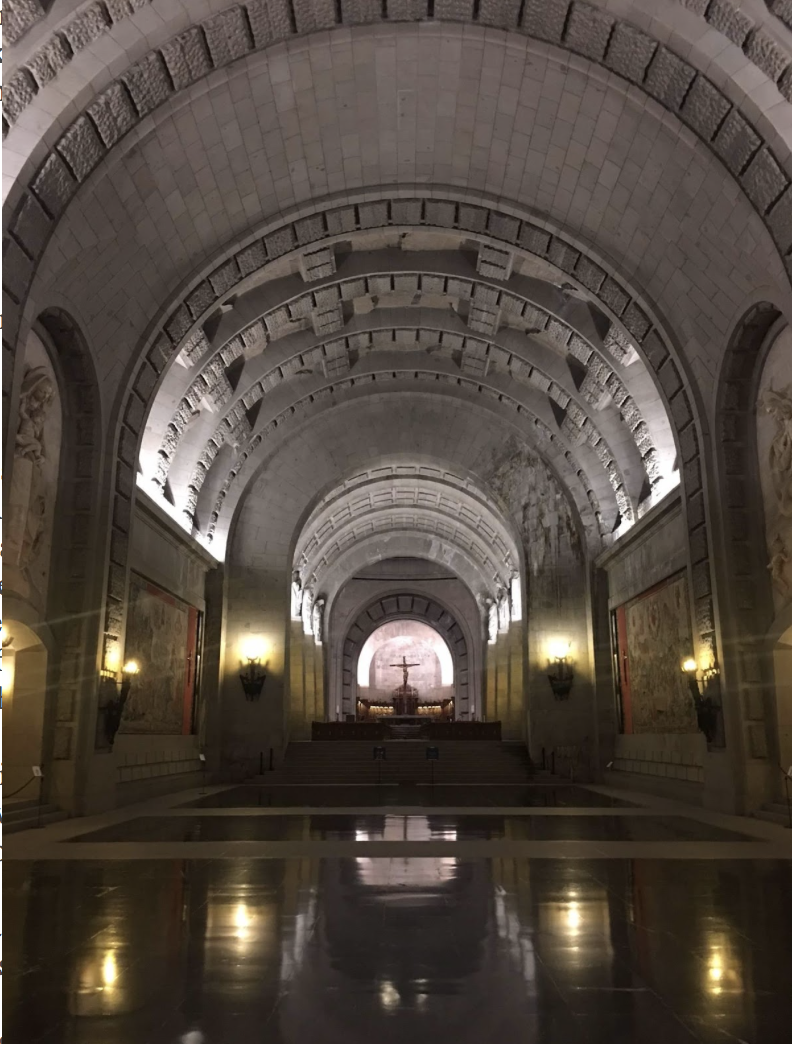 The Crypt at Valle de Los Caidos (Valley of the Fallen) containing General Franco's tomb (photograph by author)
The recent uproar about the Valle de Los Caidos has been raised by the families of those who died and fought for the Republican cause and who are buried here. The vast majority of the 30,000 dead buried here fought on the Nationalist side. It seems that the government has agreed to disinter the Republican dead and rebury them elsewhere but is actually unable to find the funds to do so.   There is also a movement to move Franco's body elsewhere as he actually did not die during the war.  Controversially, many Republican prisoners were forced to construct the monument and certainly a number of them died during the construction although the actual number is disputed by both sides.
My friendly taxi driver told me that his grandfather was a doctor in Madrid and fought for the Republican side as Madrid was controlled by the Republican government.  His brother, who was a soldier, lived in Zaragoza and so fought for the Nationalists.   Some did try to change sides but it was a risky business and those who were caught were executed (on both sides).  Furthermore, independence movements such as Basque Nationalism played a confusing role.  However, time and again I have heard of families split horribly like this.
We were visiting Madrid to see my wife's former housekeeper/nanny, aged 94.  I always wondered on what side the sympathies of this charming lady lay during the conflict.  She said that she could not support the Republic as they desecrated the churches (over 6,800 priests were murdered during this brief but vicious war) and besides she was from Zaragoza which was Nationalist.  Often it was geographical chance that determined which side one fought for and often two members of the same family fought on opposite sides.
However, I am interested to see how architects in Spain responded to the great twentieth century ideological battle between communism and fascism.  Generally it is true that the Republic attracted 'avant-garde' artists and architects as it perceived the avant-garde as being synonymous with progress.  And the rostrum of artists associated with the Republic is impressive; Alexander Calder, Robert Capa, Henri Cartier-Bresson, Salvador Dali, Juan Miro, Pablo Picasso and Man Ray for example.  The list of architects is less well known but includes the GATPAC group, founded by Josep Lluis Sert and L G Soto amongst others.  Much of what had been built by the Republic in Madrid before the civil war was destroyed during it.  Madrid still suffers from this and has a feeling of a city left behind architecturally.  There is really very little that excites and part of the reason for this is that the country's isolation after the Second World War and its poverty, as a result of its isolation, did not encourage new design.
After Franco's death there have been a few attempts to drag Madrid back into the modern world.  Herzog de Meuron's Caixaforum displays an impressive cantilever and some of Raphael Moneo's buildings are well designed but hardly excite.  There aren't even many interesting examples of totalitarian architecture as there are in Rome, for example.  Madrid, with its less grand, Paris like boulevards, is on the whole attractive but rather insipid architecturally.
Barcelona however, by contrast, seems to have captured much of the dynamic art and architecture that has bypassed Madrid.  Barcelona is an energetic industrial city, much of it designed in the 19th century on a grid system except for the one road that cuts diagonally across the grid.  Corners are chamfered so crossings have a more open feel.  However, most building plots are the same size as they conform to the grid plan.  As a result, the conundrum for most architects and their clients was how to differentiate themselves from their neighbour.  This was resolved by highly designed, one off, often very idiosyncratic and slightly vulgar facades that expressed the owner's wealth and the architect's preference for the latest neo baroque or art nouveau fashion in decoration.  It is the only city where Antonio Gaudí can be imagined as a natural product of this extreme and competitive context.  Gaudí, I personally find difficult to like, but in the context of Barcelona I can understand him.  And Gaudí's great gift to the city was to say to future generations of architects 'Look, I have had a bit of fun, why don't you?'  When an architect receives a commission in Barcelona there is always in the back of his or her mind, the thought of being compared to Gaudí and this nudges him or her to push the boat out a little further.  As a result Barcelona is showered with fun and exciting new architecture.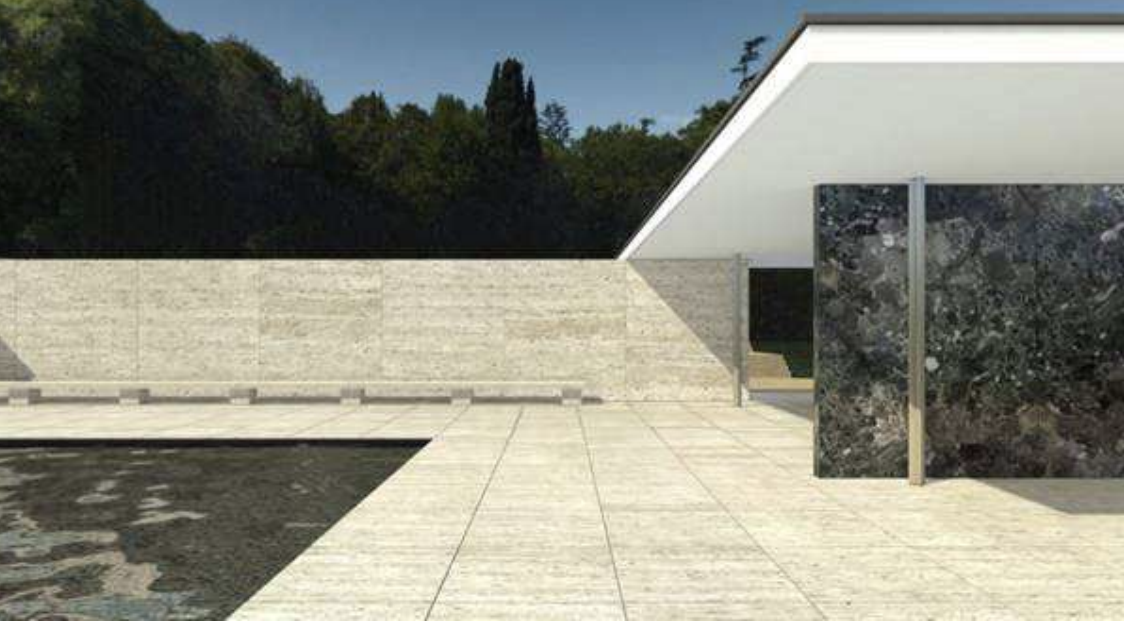 Barcelona Pavilion by Mies van der Rohe 1928 – 9
It is also the site of one of the great and truly iconic (to use an overused term) pieces of modern design – the Barcelona Pavilion designed by Mies van der Rohe in 1928-9 and built as the German pavilion for the World Exposition held in Barcelona in 1929.  It was a temporary pavilion, without exhibits and meant merely as a place to walk through.  It was to showcase the new German Weimar Republic and was built before the National Socialist's rise to power in Germany. This was before the Second Spanish Republic which lasted from 1933 to1939. However, it had a short life and was torn down in 1930; but was then reconstructed between 1986 and 1989, so that what you see today is a meticulous reconstruction.  It is genuinely a complete work of art and architecture and stands in wonderful contrast to its host city. Mies reacted to Barcelona, by not trying to compete with Gaudi on his terms but, in fact, by going in the complete opposite direction. It is through the manipulation of free floating walls and roofs, glass planes and richly veined slabs of marble and selective positioning of furniture (of his own design) that he manages to create the very first complete and  self-consciously minimalist space.  The building seems to inspire the inhabitant to have solely elevated thoughts and one sort of floats around all day on some imaginary elevated plane after visiting it.  It is rare that I do not cry when I listen to a Chopin Nocturne. But equally rarely am I moved by architecture in the same way that I am by music.  However, the Barcelona Pavilion is one of those exceptions; and it is a building that genuinely moved me the first time I saw it. However, let us turn to Mies's motivations for designing this building.
In architecture or art, generally, when the term chameleonic is used, it is used pejoratively.  In contrast, when the words 'singular' or 'with integrity' are used, they usually connote some positive association and are deemed words of praise.  It is interesting to note that Mies took his mother's name 'Rohe' and added the aristocratic Dutch prefix 'van der' demonstrating an early propensity to massage his own identity.  Indeed his early career, before he went to America in 1938, where he had such huge success, was more chameleonic than has generally been supposed and certainly more than he would have wished to be known.  In 1926, Mies designed the monument in Berlin to the November Revolution (torn down by the National Socialists nine years later).  It was a sort of elongated, cubist red brick gravestone for the Communist martyrs, Karl Liebknecht and Rosa Luxemburg amongst others, who were executed against a brick wall during the 1918 communist uprising in Berlin.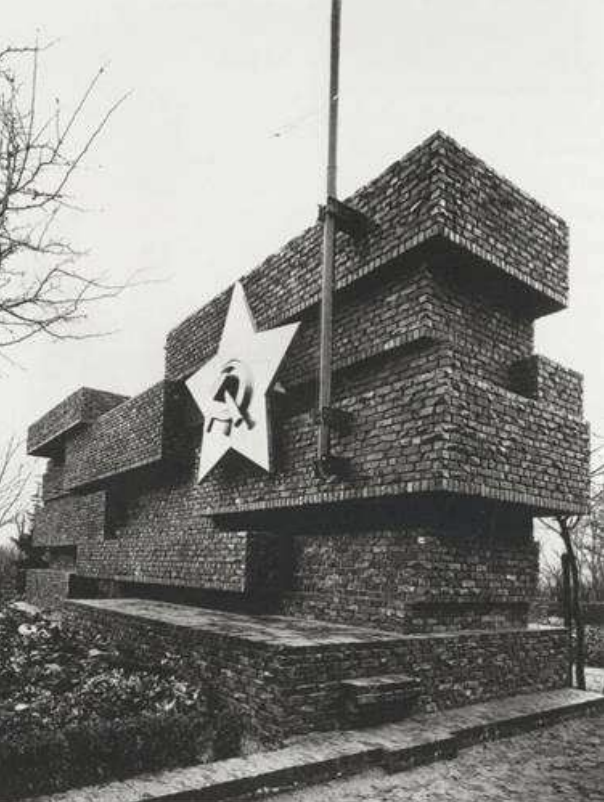 Monument to the November Revolution in Berlin by Mies van der Rohe, 1926 and torn down in 1935.
Mies also designed and built a rather dull private double house of brick for two German industrialists, Hermann Lange and Josef Esters, in the town of Krefeld near the German/Dutch border between 1927 and 1930.  He rarely talked about this building in his later life.  However, he once did say that 'I wanted to make this house much more in glass, but the client did not like that. I had great trouble.' This project has only come to light quite recently and it has now been turned into a Museum.  I presume that he was slightly embarrassed by it.  It certainly does not have the conviction of his later work and perhaps he was still in the process of working out his ideas.   But the reasons for his rejection of this early building may have been part of a post rationalization of his personal narrative rather than the restrictions placed on him by the conventional brief of a bourgeois industrialist's home.
Between 1928 and 1930 he built and collaborated with the interior designer Lilly Reich on the Villa Tugendhat in Brno, Czechoslovakia.  This was much more expressive and successful.   It used wonderfully rich materials such as onyx which compensated for the banning of decoration and paintings within the house, a rule which he imposed on his clients. (It seems that he was having greater success at restricting the input of his clients!)  The house was built of reinforced concrete and had a wonderful floor to ceiling glass facade that slipped into a crack in the floor at the touch of a button.  Inevitably, it was extremely expensive as even the furniture was designed by him, but it was the first commission in which he really started to show both his design aesthetic and talent.  Sadly, the villa's life was short lived as the Tugendhats were forced to flee to Switzerland and the villa was seized by the gestapo in 1939.
Later, in 1934, Mies received his only commission from the National Socialists for the design of the Deutsches Volk, Deutsches Arbeit (German People, German Work) exhibition in Belgium.  Also in 1934 Mies won a competition to design the German pavilion at the 1935 Brussels Universal and International Exposition which was never built for economic reasons.  However, the sketch (beautifully drafted by the master, for he was an excellent draftsman) clearly shows a reworking of the Barcelona pavilion, this time symmetrical and embellished with a German eagle above the entrance and flags, adorned with swastikas, on flagpoles flanking the head on approach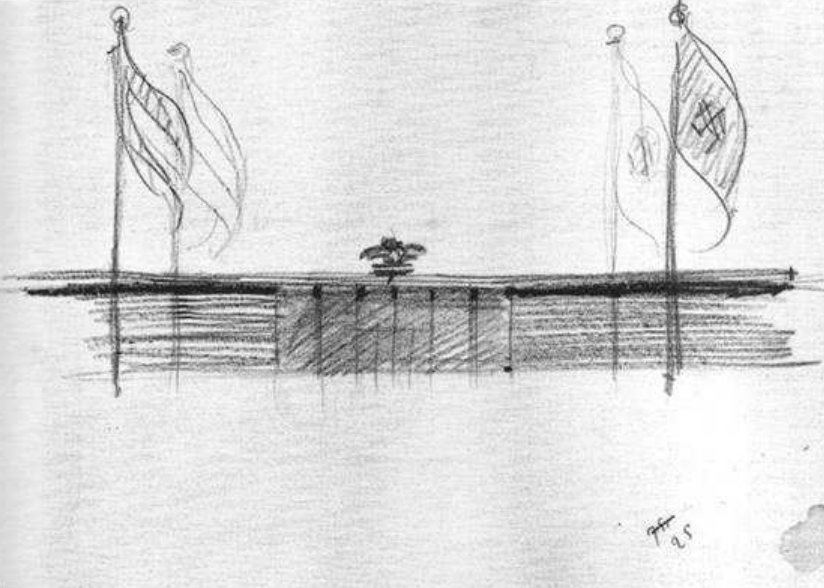 Sketch for the German Pavilion at the 1935 Brussels Universal and International Exposition, Mies van der Rohe.  Note the swastikas drawn onto the flags and the centrally placed German eagle.