I have met Richard Rogers on a number of occasions and I can say for a fact that he is an utterly charming man. When my wife and I were courting, many years ago, we found ourselves walking through Chelsea one summer evening. I was eager to impress this clever, Oxford educated, barrister with examples of the greats in my own profession, so, when we passed by Rogers' own house in Royal Avenue I pointed upwards to the first floor and said: "See up there, that double height space, with the Andy Warhols on the wall, that is Richard Rogers' house." After a brief conversation explaining the importance of Richard Rogers to the development of contemporary architecture, I looked up towards the first floor balcony and noticed that the great man himself was standing there. Feeling rather sheepish, I mentioned to her that he was just there, standing and looking out the first floor window. Whereupon my wife started waving frantically and shouting "We love your house! It is so amazing! We love it!!" Then, to my great surprise, he opened the window and shouted down "Would you like a tour? Do come in and I will show you around. I'll be right down."
It was a Friday evening, and possibly, I felt, acceptance could have been construed as an invasion of someone's private space at a personal time, but no, my affianced was well up for the tour and before we could blink, the eminent architect was leading us up the stairs, past his mother's ground floor flat, to the 'piano nobile'. This space was impressive, not just for the scale of it but also for sculptural, filigree metal stairs that led the eye up, into and through this almost impossibly large volume.
But first, we had to negotiate Ruth, his equally charming and, it has to be said, extremely tolerant wife and sons with their girlfriends enjoying a quiet family bottle of Pinot Grigio, a few sun dried tomatoes and slices of prosciutto (presumably delivered straight from Ruth's Michelin starred River Café) on this Friday summer evening. The three of us traipsed by, Rogers all the time expositing about the brushed stainless steel kitchen island while also managing to introduce us to the varied assembled guests and family members who all displayed startling courtesy to a couple who had literally just been swept up off the street. We proceeded to have the full tour from the master himself, with nothing left unexplained. The master bedroom, even the master bathroom, the children's' bedrooms, all were immaculate right the way up to the roof garden at the top of the building.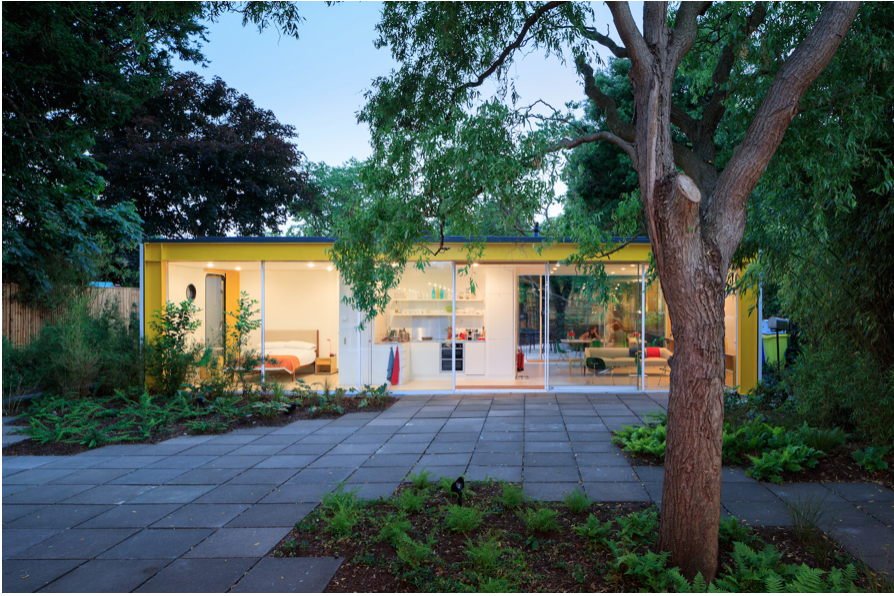 House for his parents by Richard Rogers, 1970
(Photograph by Iwan Baan)
I have never forgotten this kind gesture and I suspect that the largesse shown to us that summer evening was a trait learned from his parents, Dr. William and Dado Rogers. When Rogers was really quite young (around the age of 25) his parents bought a plot of land near Wimbledon Common and asked the young architect to design a house for them. Dr. Rogers' brother Ernesto was an Italian architect based in Milan and so the family was familiar both with architecture in general and with his work. They greatly admired Ernesto and he actually designed the bedroom furniture for Dr. Rogers and his wife as a wedding present.