It is incredibly spoiling to be flown privately. It removes so much of the hassle of travelling especially at each end of the journey. There is no checking in, no personal bag searches and no stepping through machines at the behest of officials. The journey is so much quicker and instead of staring blankly for an hour or so at the balding, dandruff-ridden head of the person in front of you, real conversations can be had. Being lifted by helicopter straight from the runway at Dundee to the final destination is both incredibly appealing, for its efficiency, and exciting. When flying over the hills towards the glens of Angus, the views, from above, of the ancient seats perched on that upland edge between moor and farm land, and surrounded by mature planting and parkland are spectacular. Winding through the glens, scattering herds of red dear that meander across the hillside is a real visual pleasure too. What is surprising is that the ultimate destination in this case is a rundown Victorian hunting lodge on the edge of a vast and beautiful wilderness.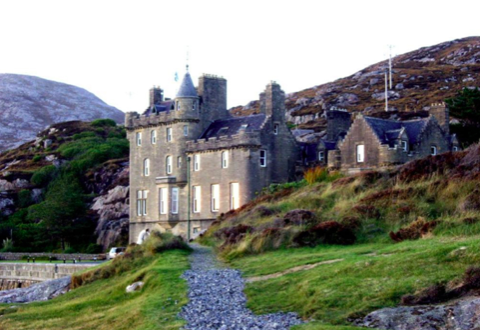 Amhuinnsuidhe Castle designed by David Bryce and completed in 1867
I have to admit that I am not a big fan of Victorian architecture in general and never really understood what it was that was deemed so attractive about the Scottish Baronial. A style invented in Scotland but, bizarrely, contrived from French castles in the Loire and Dordogne. Turrets, arrow slits, machicolations, crenelated battlements and crowfeet gables conjure up images of ancient times. In fact, the old fortified houses were unadorned with such architectural fripperies as they were deemed unaffordable and served little purpose. Amhuinnsuidhe is a good example of this decorative style and was designed by David Bryce (who also designed the fantastical Fettes College in Edinburgh). It was completed in 1867 and its construction bankrupted the Seventh Earl of Dunmore. The well-heeled started to visit Scotland as a tourist destination in the nineteenth century and spent vast amounts of time and money in the Highlands. Many aped Victoria and Albert at Balmoral. Here, the Prince was reminded of the landscape in his native Germany. Castles were built, trains were hired, armies of staff were employed, bags and guns packed and whole teams of families and their retinues would decamp to the Highlands of Scotland for the summer.
And so today, similarly, tourists arrive but now not just from the British Isles. The Scandinavians, the French and Germans, all nationalities expend vast amounts of money to get to the wild scenery and enjoy a few days of sport on the hills. Scotland has, after all, been ranked the world's most beautiful country in 2017. What is curious is that the accommodation is often run down and dilapidated and so it was on my recent visit to the Highlands. Paint is peeling off the walls, carpets are patched with gaffer tape and bathrooms (invariably those wooden seated affairs with large porcelain tanks above one's head) are visited down long freezing corridors. The word en-suite is a dirty word here. Butter balls cling to the ceiling from last week's hilarious dinners. There is no central heating so rooms are bone-chillingly cold, even in summer. Beds are piled high with blankets and quilts. Despite this, guests often surreptitiously smuggle in their own electric heaters. But such is the allure and romance of these places that if it was any different it would be somehow less appealing, less real.
Vast teams of people are on hand to make the whole week work. I am not just talking about the domestic help of butlers, cooks, maids and cleaners but also the numerous loaders, beaters, flankers, gillies and keepers. Economically, this is the way the whole place keeps going. It is not just the people though; the wildlife depends on the hosts, their guests and the tips too. Without the sport and the fees generated, the flora and fauna would not be managed and so not be conserved.
Andy, my truly charming and incredibly knowledgeable and patient gillie, who helped me with my rather haphazard attempts at casting a fly – catch and release but no catch unfortunately – has two children. He and his wife have lived and worked in the glen for all of his 72 years of life. He is as fit as a fiddle and loves his work and life. His daughter, a single mother of two, and his son live just down the glen in Dundee. Both live on benefits. It made me feel sad that this proud and strong working man has not been able to pass on his way of life to his children. What is also sad is that his way of life is constantly under threat from those who disapprove of shooting, stalking and fishing. The present Scottish government seems dead set on destroying his way of life. They are making the rules stricter for landlords and are demanding certain standards of SAP rating (energy performance) for buildings, demanding hard wired smoke alarms and imposing punitive taxes on properties that are left unoccupied for a certain length of time. Just recently they have decided to tax shooting. However, those who attack this type of sport do not see that banning it would have terrible economic consequences for many good hard working people and disastrous consequences for the flora and fauna they purport to protect.
Dundee is a city that grew in the 19th century from sea trade in jute and jam, amongst other things. It fell on hard times and its port is now under used and separated from the old city by the Tay bridge feeder roads. When the workers at the Timex factory called a strike in 1993, everyone and especially the workers were surprised when the company just shut the factory down. Dundee never really recovered. But now there is a large scale development of the city's Tay waterfront and the city is undergoing a cultural renaissance. Part of that redevelopment is the new Victoria and Albert's Museum of Design due to open in 2018. What a good idea to display some of the vast number of artefacts collecting dust in the basement of the South Kensington museum somewhere else in the British Isles.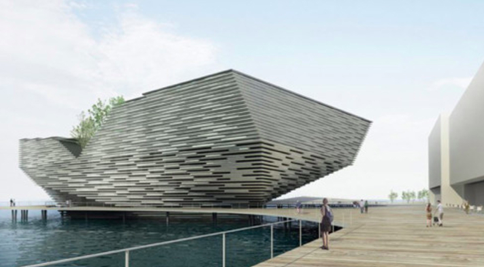 The proposed new Victoria and Albert Museum in Dundee designed by Kengo Kuma
When Frank Gehry designed the Guggenheim Bilbao, a new phrase was coined – 'the Bilbao Effect'. This was the positive economic impact a new and adventurous landmark museum building, designed by a 'star architect', would make on a decaying post-industrial city. In the case of Bilbao, the Guggenheim has had an enormously beneficial effect on this small town in Northern Spain. Bilbao is now a destination in itself both for the museum and for the culture and gourmet restaurants that have opened up as a result. Visitor numbers to the city have jumped since its completion in 1997 and building costs were recouped by the city in only three years. The city of Dundee expects an extra 500,000 visitors to the city in the first year and 300,000 visitors per year thereafter. Let us hope that there is a Bilbao effect from the new V&A in Dundee.
The Victoria and Albert Museum's new outpost is in the old disused docks of Dundee and will be the first dedicated design museum in Scotland. The new building, which is currently under construction, is designed by the Japanese architect Kengo Kuma and will celebrate Scottish design. (Charles Rennie Mackintosh's tea rooms will be rebuilt and will be seen for the first time since the 1970s.) Kengo Kuma is also the architect for the new 2020 Olympic Stadium in Tokyo. He is an admirer of Kengo Tange who designed the 1964 Tokyo Olympic Stadium, a brutalist tensile concrete building that is now an architectural icon. Kuma similarly has an interest in skin and surface but not in the same way as his famous forebear.