It is incredibly spoiling to be flown privately. It removes so much of the hassle of travelling especially at each end of the journey. There is no checking in, no personal bag searches and no stepping through machines at the behest of officials. The journey is so much quicker and instead of staring blankly for an hour or so at the balding, dandruff-ridden head of the person in front of you, real conversations can be had. Being lifted by helicopter straight from the runway at Dundee to the final destination is both incredibly appealing, for its efficiency, and exciting. When flying over the hills towards the glens of Angus, the views, from above, of the ancient seats perched on that upland edge between moor and farm land, and surrounded by mature planting and parkland are spectacular. Winding through the glens, scattering herds of red dear that meander across the hillside is a real visual pleasure too. What is surprising is that the ultimate destination in this case is a rundown Victorian hunting lodge on the edge of a vast and beautiful wilderness.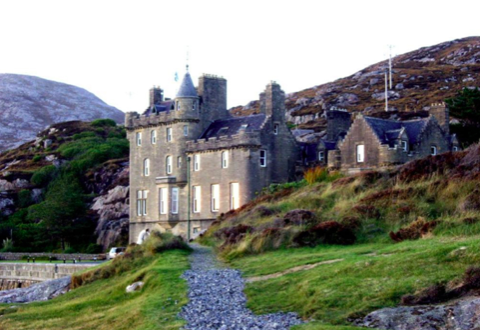 Amhuinnsuidhe Castle designed by David Bryce and completed in 1867
I have to admit that I am not a big fan of Victorian architecture in general and never really understood what it was that was deemed so attractive about the Scottish Baronial. A style invented in Scotland but, bizarrely, contrived from French castles in the Loire and Dordogne. Turrets, arrow slits, machicolations, crenelated battlements and crowfeet gables conjure up images of ancient times. In fact, the old fortified houses were unadorned with such architectural fripperies as they were deemed unaffordable and served little purpose. Amhuinnsuidhe is a good example of this decorative style and was designed by David Bryce (who also designed the fantastical Fettes College in Edinburgh). It was completed in 1867 and its construction bankrupted the Seventh Earl of Dunmore. The well-heeled started to visit Scotland as a tourist destination in the nineteenth century and spent vast amounts of time and money in the Highlands. Many aped Victoria and Albert at Balmoral. Here, the Prince was reminded of the landscape in his native Germany. Castles were built, trains were hired, armies of staff were employed, bags and guns packed and whole teams of families and their retinues would decamp to the Highlands of Scotland for the summer.
And so today, similarly, tourists arrive but now not just from the British Isles. The Scandinavians, the French and Germans, all nationalities expend vast amounts of money to get to the wild scenery and enjoy a few days of sport on the hills. Scotland has, after all, been ranked the world's most beautiful country in 2017. What is curious is that the accommodation is often run down and dilapidated and so it was on my recent visit to the Highlands. Paint is peeling off the walls, carpets are patched with gaffer tape and bathrooms (invariably those wooden seated affairs with large porcelain tanks above one's head) are visited down long freezing corridors. The word en-suite is a dirty word here. Butter balls cling to the ceiling from last week's hilarious dinners. There is no central heating so rooms are bone-chillingly cold, even in summer. Beds are piled high with blankets and quilts. Despite this, guests often surreptitiously smuggle in their own electric heaters. But such is the allure and romance of these places that if it was any different it would be somehow less appealing, less real.