Technical Analysis of FTSE ST REIT Index (FSTAS8670)
The FTSE ST Real Estate Investment Trusts (FTSE ST REITs Index) continued its bullish rally, raising from 832.03 to 842.91 (+1.31%) as compared to my last post on Singapore REIT Fundamental Comparison Table on Feb 4, 2019.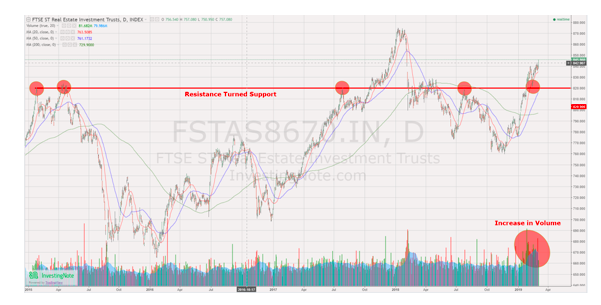 Chart 1: FTSE ST REIT Index (FSTAS8670)
The REITs index retraced and successfully tested the 820 resistance-turned-support to continue the uptrend. In addition, this bullish uptrend is supported by a strong volume. Based on the current chart pattern and trend analysis, the trend for Singapore REITs is up! There is a chance for the Singapore REITs index to test the immediate resistance at about 875 (the previous high in 2018) based on current market sentiment and bullish momentum. This represents another 4% upside potential from the current level before the REITs index can reach a new high. All eyes will be on whether the Singapore REITs can break the all time high of around 890 back in May 2016.
Fundamental Analysis of 39 Singapore REITs
The following table is the compilation of 39 REITs in Singapore with colour coding of the Distribution Yield, Gearing Ratio and Price to NAV Ratio. This gives investors a quick overview of which REITs are attractive enough to have an in-depth analysis. There are currently 39 REITs in Singapore after VIVA Industrial Trust merged into ESR REIT.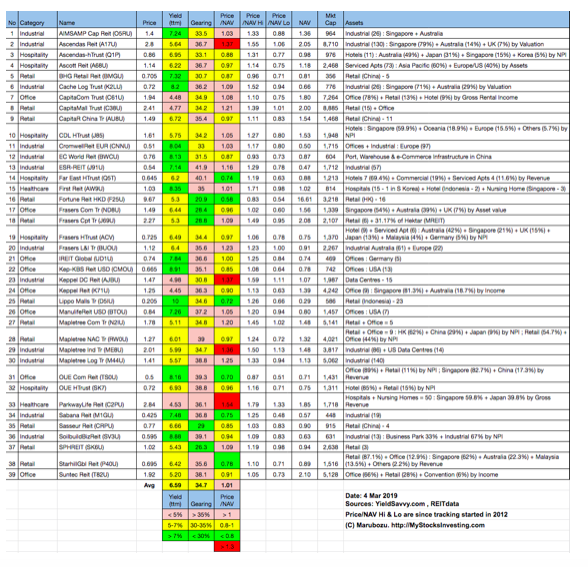 Table 2: Singapore REITs Fundamental Comparison Table Mar-2019
Summary of Singapore REITs Table (Mar 2019) compared to Feb 2019 Singapore REITs Table