So far, in my previous articles, I have introduced the 3 most important financial ratios for analysing and shortlisting REITs, and also the FTSE ST REIT index to gauge the Singapore REITs market sentiment. Moving forward, I will give an overall market update starting with the FTSE ST REITs index and then moving onto the Singapore REITs table.
Technical Analysis of FTSE ST REIT Index
The FTSE ST Real Estate Investment Trusts (FTSE ST REIT Index) decreased slightly from 808.04 to 802.97 (-0.63%) as compared to my last article on The Singapore REIT Fundamental Comparison Table on Sept 2, 2018. The REIT index continues to trade within a tight range between 800 and 820 and is currently forming a Symmetrical Triangle (a medium term consolidation chart pattern).
There are two chart patterns observed in this FTSE ST REIT Index. A Head and Shoulders pattern is a trend reversal pattern, this is a bearish pattern. The symmetrical triangle is a consolidation pattern, i.e. moving sideways. Thus, the short to medium term Singapore REIT direction is: Sideways to down.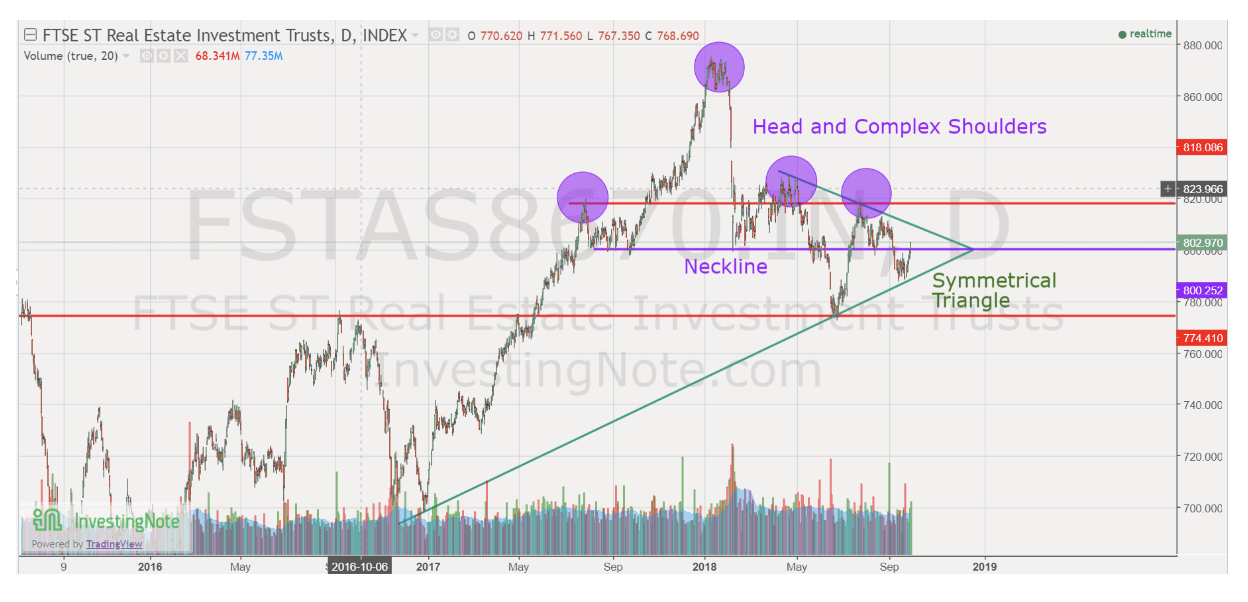 Chart 1: FTSE ST REIT Index
Fundamental Analysis of 40 Singapore REITs
Table 2 is the compilation of 40 REITs in Singapore as of Oct 2018 with colour coding of the Distribution Yield, Gearing Ratio and Price to NAV Ratio. This gives investors a quick way to see which REITs are attractive enough to have an in-depth analysis.