In the 1990s, the South African property market was largely directly owned and managed by insurance companies and pension funds, while the listed market was in its infancy at the time. But over the last two-and-a-half decades, the landscape has shifted 180 degrees. The listed market has ballooned from owning R1.5bn of South African property assets in 1995, to R320bn at present. Although there has been some growth in property values, the expansion can largely be attributed to the shift of property assets from the direct market to the listed space.
The introduction of Regulation 28 of the Pension Funds Act meant that retirement funds had to downweight their direct property portfolio (a regulatory limit of 15% for direct property and 25% for listed and direct real estate combined). Real estate investment trust (REIT) legislation, which was introduced in 2013, also helped to encourage the shift from direct assets to the listed market. In fact, South Africa now has one of the highest proportions of its professionally managed commercial real estate market listed on the stock exchange.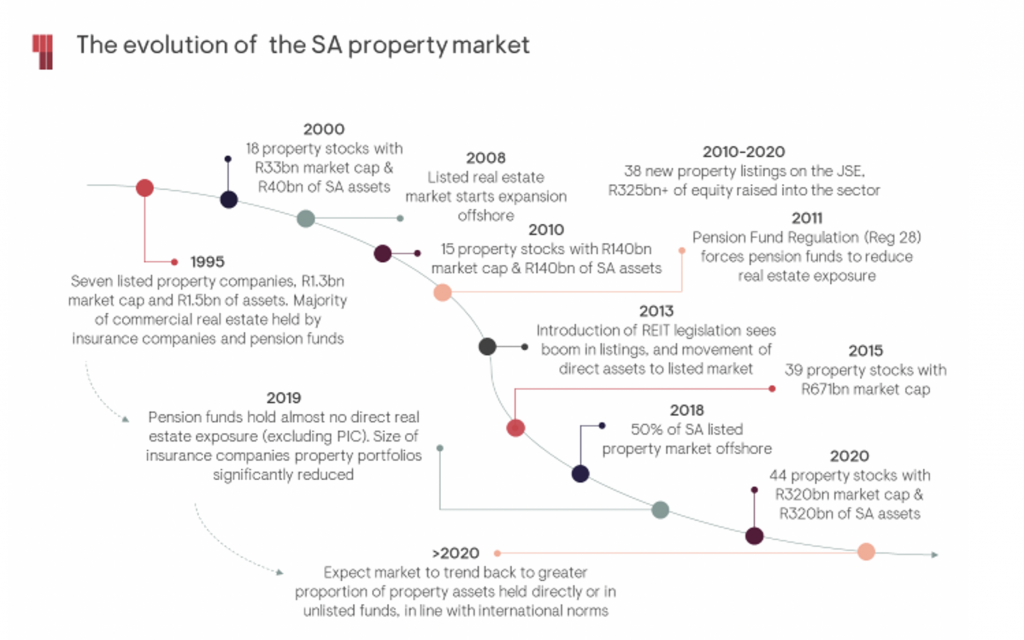 The listed property market boomed for a decade up until the end of 2017, fuelled by combined equity raises of R325bn and 38 new listings. It transformed from simple businesses owning South African property, to highly complicated businesses spanning multiple geographies, invested in numerous other listed property companies. Unfortunately, complex structures resulted in many property portfolios becoming unfocused. In addition, governance issues and high debt levels have been material headwinds for the sector in recent times. These factors, together with elevated levels of volatility for listed property, have sparked renewed interest in direct property as an asset class.
Allocation trends to real estate