A continuing upward trend makes this a good defensive asset class amid global uncertainty
Early this summer the FTSE ST Real Estate Investment Trusts index broke through the 875 level after 10 years of resistance, with a significant increase in trading volume (see the chart in figure 1). The index increased from 858.67 to 916.95 (+6.78%) between 3 June and 1 July.
The REIT index is entering into uncharted territory after breaking a new high and may head towards 1,000 points, based on projection of 161.8% Fibonacci level. Based on the current chart pattern and momentum, the sentiment is bullish and the trend for Singapore REIT direction is still upwards. However, the REIT index may go for a short-term pause before moving higher.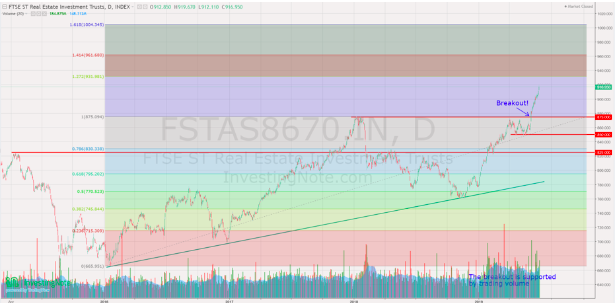 The table in figure 2 is a compilation of 39 REITs in Singapore with colour coding of the distribution yield, gearing ratio and price to NAV ratio. This gives investors at a quick glance an idea of which REITs are attractive enough to deserve in-depth analysis. The two new IPOs, ARA US Hospitality Trust and Eagle Hospitality Trust, are not included in this table because of insufficient data points.
The key points to note from this table are as follows:
Price/NAV has increased from 1.02 to 1.07 (Singapore overall REIT sector is overvalued now).
Distribution yield has decreased from 6.51% to 6.22% – note that this is a lagging number. About 33.3% of Singapore REITs (13 out of 39) have a distribution yield that is greater than 7%.
Gearing ratio remains at 34.9%, with 22 out of 39 having a gearing ratio of more than 35%. In general, the Singapore REITs sector gearing ratio is healthy. Note that the limit of gearing ratio for REITs listed on the Singapore Stock Exchange is 45%.
The most overvalued REIT is Parkway Life (price/NAV of 1.64), followed by Ascendas REIT (price/NAV of 1.52), Keppel DC REIT (price/NAV of 1.59) and Mapletree Industrial Trust (price/NAV of 1.48), Mapletree Logistic Trust (price/NAV of 1.36), Frasers Logistic & Industrial Trust (price/NAV of 1.33) and CapitaMAll Trust (price/NAV of 1.31)
The most undervalued (based on NAV) is Fortune REIT (price/NAV of 0.65), followed by OUE Comm REIT (price/NAV of 0.71) and Far East Hospitality Trust (price/NAV of 0.78).
The REIT with the highest distribution yield (TTM) is Sasseur REIT (8.59%), followed by First REIT (8.35%), SoilBuild BizREIT (8.39%), Cromwell European REIT (8.54%) and Lippo Mall Indonesia Retail Trust (8.04%).
Those with the highest gearing ratios are ESR REIT (42.0%), Far East HTrust (39.9%) and OUE Comm REIT (39.4%) and SoilBuild BizREIT (39.3%).
The top five REITs with the biggest market capitalisation are Ascendas REIT ($9.7B), CapitaMall Trust ($9.7B), Capitaland Commercial Trust ($8.1B), Mapletree Commercial Trust ($6.0B) and Mapletree Logistic Trust ($5.7B)s
The bottom three REITs with the smallest market capitalisations are BHG Retail REIT ($354M), Sabana REIT ($484M) and iREIT Global REIT ($485M).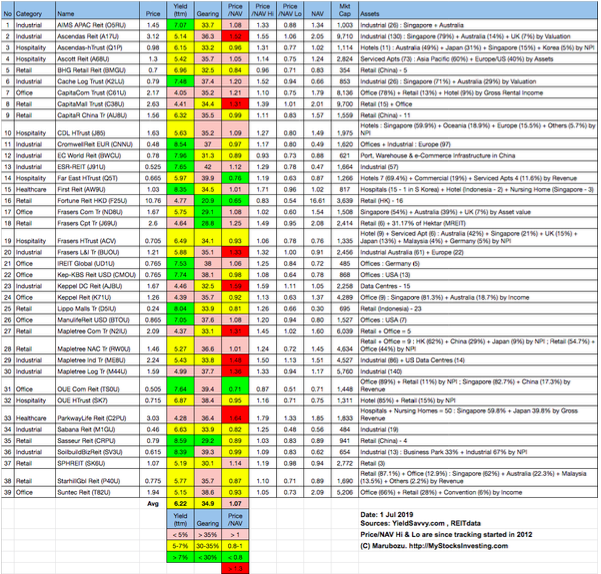 The chart in figure 3 shows the relative positioning of distribution yield versus price/NAV for each individual REIT. The current bullishness in the REIT sector is mainly powered by the REITs with bigger market capitalisations. In summary, the big-cap REITs are trading at a much higher premium to their NAV compared with those small and medium-cap REITs. The yield spread has widened for big and small-cap REITs, and the small-cap REITs are very attractive in terms of the distribution yield. There are a few small-cap REITs trading at a significant discount to NAV with a distribution yield of more than 7%.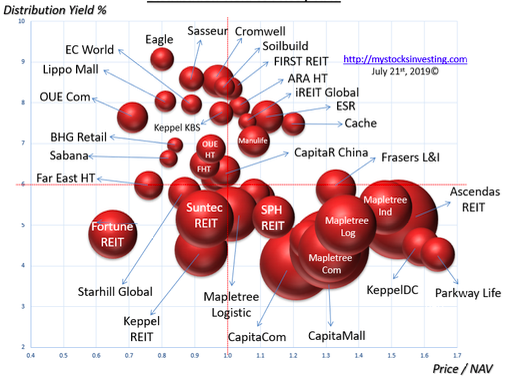 The chart in figure 4 shows the current price/NAV compared with the historical range for the past seven years. In general, the industrial sector is overvalued, as a number of industrial REITs are being traded at a historical high. There are still some REITs from the retail, office, hospitality and healthcare sectors trading at the lower range of historical price/NAV.