By Brad Thomas and Michael Boyd
Sometimes, you've got to switch it up to keep your portfolio properly diversified. That's why this isn't the first time we've sung the praises of buying into alternative asset classes.
When people think of real estate investment trusts (REITs) – if they think of them at all – they tend to conjure images of apartment complexes, shopping centers, and office buildings. To be sure, those are valid investment vehicles with significant diversification potential.
But they're not the end-all, be-all in this regard.
There are studies showing the portfolio-strengthening capabilities of also buying into timberland, infrastructure, and data center REITs as well. For the record, this is also true when it comes to less common categories of precious metals and the like.
When done right, they simultaneously lower risk and raise returns. And that's why we're willing to at least evaluate Weyerhaeuser(WY).
Though we should start by saying that there have been reasons to criticize this timberland REIT before. For instance, some of previous CEO Doyle Simpson's choices weren't as wise as we would have liked.
In many ways, he chopped the company down to a more suitable size. Yet he also put too heavy a focus on the business' wood products segment, resulting in some nausea-inducing volatility.
Unfortunately, that kind of thing can happen when you're dealing with manufacturing products on top of raw material… just one reasons why our pure timberland play, CatchMark Timber Trust (CTT), is outperforming Weyerhaeuser.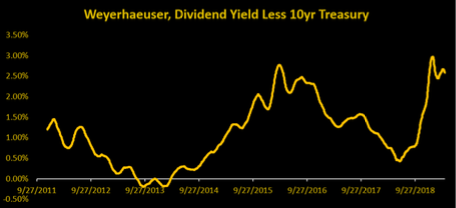 However, as shown in the chart above, Weyerhaeuser's dividend yield – less the 10-year Treasury, which can act as a substitute for demanded risk premium – is doing quite well. In fact, it's at the strongest levels it's shown in years.
The last time we saw this kind of action was in March 2016… at which time, the company took off on an ultimate 30% share-price run. But is that what we're seeing now?


Timberrrrrr!
Perhaps the reason Weyerhaeuser likes to do it all is because it literally grows its business from the ground up.
It plants, cultivates, harvests, and manufactures, selling most of the resulting product externally in the end. Earnings before interest, taxes, depreciation, and amortization (EBITDA) is typically split evenly between its harvesting and manufacturing divisions. Yet that's because timberland as a business model is capital-intensive…
Very much so.
Some 85% of a timberland REIT's business assets are usually going to be in timber alone. Which could explain why management refuses to "settle down" into a pure timberland play.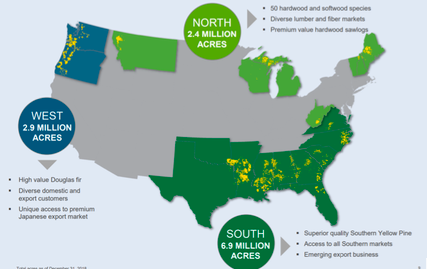 That aside, let's talk numbers, such as how Weyerhaeuser owns 12.2 million acres. While the bulk of that is down South, as evidenced by the map above, it also has land out west and up north.
This makes it the largest private operator within the U.S. with significant diversity of scale.
With that said, there's a strong case to be made for selling off its Northern properties. Comparatively speaking, they've generated weaker economic earnings, which makes sense since the trees there take longer to mature.