US Companies are paying shareholders more than they can afford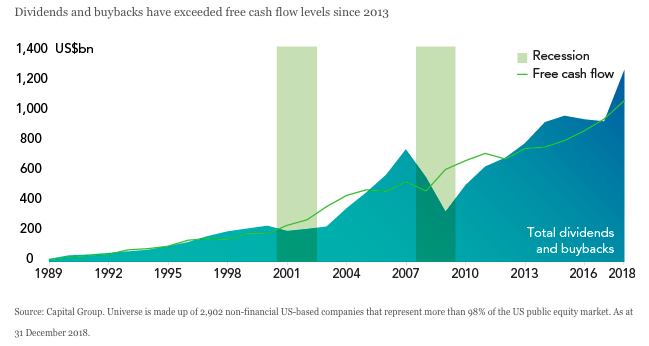 Dividends and buybacks have exceeded free cash flow levels since 2013
Source: Capital Group. Universe is made up of 2,902 non-financial US-based companies that represent more than 98% of the US public equity market. As at 31 December 2018.
Imagine a household budget where the money flowing out exceeds the money coming in by 10-15% each year. Just like drinking too much, this might be fun in the short term, but it usually leads to a hangover.
This is a good analogy for Corporate America. This month's chart considers nearly 3,000 of the largest listed non-financial companies in the US. The data shows these companies have been paying out more than their free cash flow since 2013, almost seven years!
Without getting bogged down in the accounting complexities, the chart shows free cash flow (think cash profits after maintenance spending) compared to cash returns to shareholders (buybacks plus dividends). Over time, we would expect one of these lines to cap the other: companies can only sustainably pay out to shareholders cash not required to operate their business.