Which US asset classes perform best or worst amid periods of high inflation (6% or more)? Answer: commodities perform best, while bills perform worst. It's commonly recognised that bonds are not a good inflation hedge – and they aren't – but less recognised is that equities also fail in this regard; each has returned only a bit more than bills amid periods of higher inflation.
With the US CPI up by 6.9% over the past year – the highest rate since 1982 — have US asset returns reflected this longer-term history? Mostly, but not perfectly. Figure One illustrates how commodities have outperformed all other assets over the past year (through November, the latest available CPI data), with a real gain of 46%. Bills have lost 6.2%, also consistent with the history.
The outlier is equities, which have gained 19.7% in real terms. This is contrary to history. Why? Probably because the Fed until recently chose not to 'chase' the higher inflation rate with rate hikes; yet this month it hinted that it would raise rates three times (by 75 basis points) in 2022.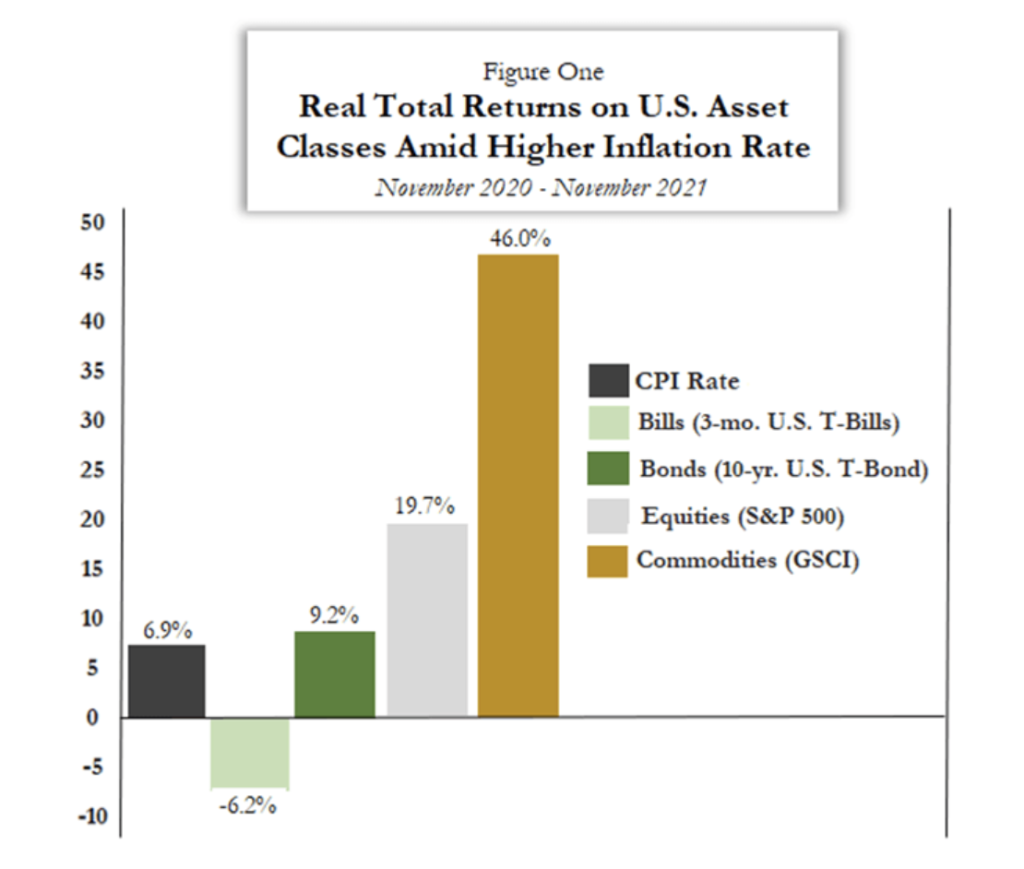 Now consider the longer-term history. Figure Two shows that commodities have materially outperformed equities (13.2% versus 1.8%) under periods of high inflation (averaging 6.7% pa) while significantly underperforming (by -35.7% points pa, or -19.3% versus 16.4%) amid low inflation (average: 1.0% pa). Equities have returned far more (16.4% pa) under episodes of low inflation versus 9.1% pa under moderate inflation and only 1.8% pa under high inflation. Meanwhile, bonds have returned 7.7% pa under low inflation, 5.7% pa under moderate inflation and just 0.9% points pa under high inflation.