Architects have different obsessions and ultimately these obsessions are expressed in their built work. Some, for example, become concerned with mass and others with lightness. Architects from the modern movement were often more focused on lightness and expressing weightlessness.  Advances in technology meant that structural spans could be greater, beams thinner and large sheets of glass could be used that not only brought in light but also appeared light.  Others were fascinated by the sculptural qualities of new mediums such as reinforced concrete. But few in the twentieth century were concerned with mass, weight and expressing gravity.  Nicholas Hawksmoor, in the early eighteenth century, is an example of an architect who was obsessed by heaviness.  This may be why Hawksmoor fell out of fashion for a couple of centuries and is only recently again being recognized as the true genius that he was.  Although this was not his only concern, there were few architects in the twentieth century who expressed mass as well as Louis Kahn.  Kahn's output was limited and his buildings had many varied qualities, but he is the acknowledged twentieth century master at expressing mass.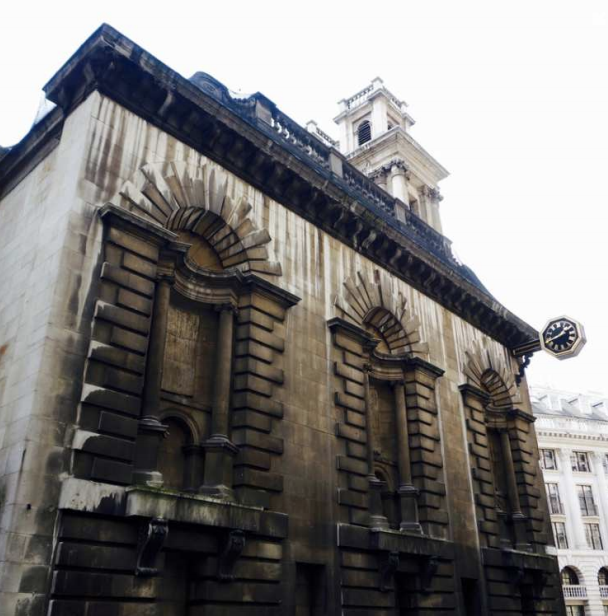 St. Mary Woolnoth, by Nicholas Hawksmoor (completed 1727). Note the lack of fenestration and the expression of mass
Kahn, despite being perceived as one of the five great architects of the last century is hardly known in this country.  Most have heard of Frank Lloyd Wright, Le Corbusier, Mies van de Rohe and Alvar Aalto but few have heard of Louis Kahn, outside a small circle of cognoscenti.  Probably, there are a number of reasons for this; he died unexpectedly, and in inglorious circumstances (which ironically may have actually contributed to his posthumous fame); he had only a small number of buildings to his name; he fitted into a category of purist modernism that is unfashionable at present; and what he did build was not in Europe but often in obscure, out of the way countries, such as Bangladesh.  However, he certainly was one of the more colourful characters in the profession, not only in his teaching and writing, but also in his unusual and salacious private life.  He had one child within his marriage, two outside (from different women) and three long term affairs with co-workers.  However, because of whom he was and his great energy and charm, he seemed to manage to juggle them all, but only just.
The story of Louis Kahn's life has been retold excellently in a recently published book written by Wendy Lesser. Also he was the subject of the moving 2003 film 'My architect – a son's journey' produced by his only son, Nathanial Kahn. Louis Kahn was born into a poor family in Estonia.  His father, who was escaping both conscription in the Russian army and rumoured pogroms, emigrated when he was six years old and the family landed in Philadelphia in 1906.  While in Estonia, he had an accident with burning coals from a fire.  He was intrigued by the blue and green colours and picked up a coal out of curiosity.  Sadly his apron caught fire and he received horrific burns to his face.  His family never thought he would survive but he did; however, he bore the facial scars from the accident for the rest of his life.  His father thought it would have been kinder to let him die but his mother said that, on the contrary, he would become a great man as result of this early setback.
Although he was brought up in one of the poorer neighbourhoods of Philadelphia, his talents shone through from an early age.  He played the organ in the local cinema, to supplement the family income, and always drew well.  In fact he thought he might be an artist and won a place at the Pennsylvania Academy of Fine Art.  However, at the age of sixteen and encouraged by his high school teacher he decided that architecture was his real passion and enrolled at the architecture school at the University of Pennsylvania (known as 'Penn') in Philadelphia in 1920.
Philadelphia is a curious city.  It was founded by William Penn, a Quaker whose father lent significant sums to Charles II during the English civil war.  The 'gift' of Pennsylvania (which was the fantastic amount of over 45,000 square miles in area) was the Crown's repayment to the Penn family.  Penn based the design of the city on a grid plan and encouraged his Quaker brethren to join him in the new world.  Now Philadelphia feels like a poor sibling of New York but it was not always so.  In fact it was, up to the end of the 19th century, the largest city in the United States and the capitol before Washington DC was created out of the swamp near the Potomac River, on the line dividing the southern and northern states.  To this day Philadelphia still has an ambassador to the 'Court of St James' and other old world characteristics.   But Philadelphia was overtaken by the more lively and thrusting New York in the late 1800s and some have attributed this to the lack of ambition shown by its Quaker leadership.
In any case, Philadelphia was the city that Louis Kahn and his family arrived into, and it was his here that his talents were nurtured.  Although it is not widely known, Philadelphia has produced a number of interesting architects and architectural thinkers.  For example, Frank Furness was a highly idiosyncratic and interesting architect in the 19th century although his buildings are not appreciated outside of the city.  Robert Venturi, another product of this sleepy city, is likewise underappreciated but was hugely important in turning the profession away from the dreary modernism of the nineteen seventies.  Even those who dislike his seemingly flippant approach to design will admit this.