The U.S. hasn't seen a large and protracted trade war since the early 1930s, which coincided with the Great Depression. With the U.S./China trade war escalating through most of 2018 it has been a confusing and scary time for all investors. There have been lots of contradictory claims from administration officials on both sides, trading apparently dovish claims of an imminent deal but also threats of ever-escalating tariffs and other punitive measures that could slow the economy of both countries.
While the U.S. and China managed to strike a truce at the G20 meeting on 1 December which postpones further tariffs until 1 March 2019, the fact remains that the trade war is far from over, but merely on hold while both sides negotiate complex core issues. So let's look at what could happen to REITs in particular, should current negotiations fail and the trade war escalate well into 2019.
REITs Are Among The Least Trade Sensitive Stocks You Can Own
The first thing income investors want to know is whether escalating tariffs might threaten their dividends. The answer is absolutely not. That's because while the S&P 500 in general gets about 37% of its revenue from off the U.S. shore, REITs are the second least trade sensitive sector you can own.
Currently, just 13% of REIT revenue is coming from off the U.S. shore, with only utilities being more U.S. focused. This means, at least in the short to medium-term, that REIT cash flows and dividends are likely to remain safe, and growing. In fact, ironically enough, REITs may actually benefit from tariffs, in terms of stock prices and with fundamentals.
Most REITs Are Actually Likely To Benefit From Tariffs In The Short-Term
During the Great Recession, new real estate development fell off a cliff, but in recent years has risen to new all-time highs.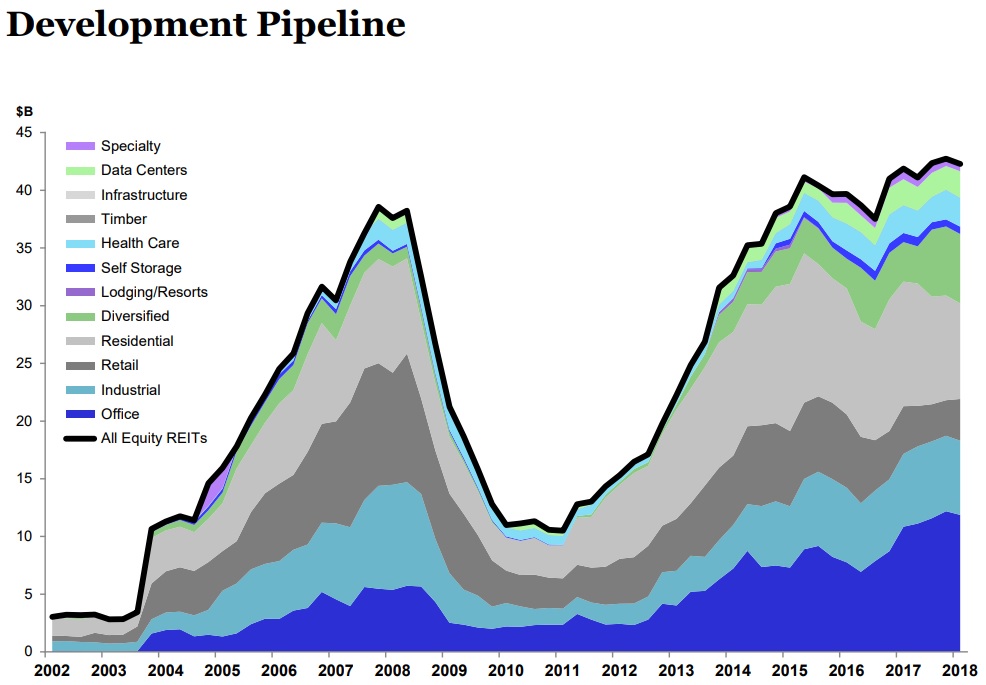 Source: NAREIT
This has helped to slow the rate of same property net operating income (SS NOI), and cash flow growth for the sector, in general. However, it's important for REIT investors to remember two key facts. First, over 90% of REIT revenues are currently being generated from existing assets (already built and owned). Second, thanks to current tariffs (including on steel and lumber), construction costs increased significantly in 2018.
That means more new construction projects are likely to be delayed, or in the case of some especially trade-sensitive projects, canceled in general. This means a slower growth in future supply, combined with still robust demand (U.S. economy is still expected to grow 2.5% to 2.6% next year even with a continued trade war), to combine and help maintain strong occupancy, rising rents, and cash flow.
This means that most REIT industries are likely to be net winners in a higher tariff environment. It's mostly industrial REITs with heavy exposure to key areas (trade sensitive areas – for example, near ports) that are most at risk. Examples of REITs that might be harmed by a protracted trade war include STAG Industrial (STAG) and W.P. Carey (WPC). But note: neither one of these REITs is likely at high risk of a dividend cut even should a trade war escalate and last long into 2019 (but merely experience slower growth).
And some class A office property REITs, like Boston Properties (BXP), SL Green (SLG), and Vornado Realty Trust (VNO), with relatively young portfolios in key gateway cities (including New York, L.A., and San Francisco) potentially stand to benefit from much higher construction costs (steel prices are up over 50% in 2018) for new skyscraper construction (up to 200,000 tons of steel per building).
Similarly, cell tower REITs like American Tower (AMT) and Crown Castle (CCI) would likely benefit from the fact that rising steel prices make it costlier to build new towers, making their massive existing asset bases (for which demand continues to grow at a strong pace), more valuable to tenants. This would increase their pricing power.
Which brings us to another important point – fear in a worst case scenario of 25% tariffs on all Chinese imports, that U.S. inflation might increase. REITs are actually a good hedge against inflation, which is why they've delivered great historical returns over time, including during decades of high and rising inflation (and interest rates).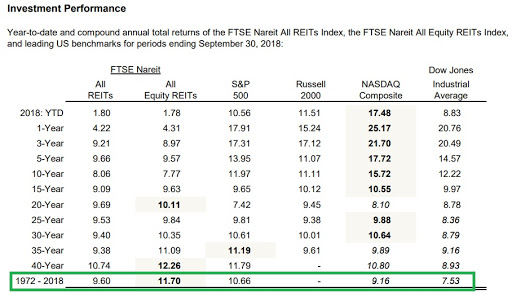 Source: NAREIT
It's also important to note that 25% tariffs on all Chinese imports would amount to just over $125 billion in potentially higher prices. That number is high in absolute terms, BUT in a U.S. economy of roughly $19 trillion, it amounts to about a 0.1% increase in inflation. Thus, however undefined the trade war – even in its worst form – it isn't likely to cause the U.S. Federal Reserve to feel the need to hike rates high enough to threaten to drive the country into a recession. Nor would it set long-term yields (what REIT investors worry about most) soaring to the sky.
Now, this doesn't necessarily mean REIT investors should be rooting for a trade war, either. Because while REITs may outperform over the short to medium-term during heightened tariffs (relative to the market), REITs remain exposed to a trade war indirectly should it be the final blow that finally pushes the U.S. into a recession.
But Should The Trade War Persist And Cause A Recession, REITs Would Suffer More Than Most Stocks