The U.S. hasn't seen a large and protracted trade war since the early 1930s, which coincided with the Great Depression. With the U.S./China trade war escalating through most of 2018 it has been a confusing and scary time for all investors. There have been lots of contradictory claims from administration officials on both sides, trading apparently dovish claims of an imminent deal but also threats of ever-escalating tariffs and other punitive measures that could slow the economy of both countries.
While the U.S. and China managed to strike a truce at the G20 meeting on 1 December which postpones further tariffs until 1 March 2019, the fact remains that the trade war is far from over, but merely on hold while both sides negotiate complex core issues. So let's look at what could happen to REITs in particular, should current negotiations fail and the trade war escalate well into 2019.
REITs Are Among The Least Trade Sensitive Stocks You Can Own
The first thing income investors want to know is whether escalating tariffs might threaten their dividends. The answer is absolutely not. That's because while the S&P 500 in general gets about 37% of its revenue from off the U.S. shore, REITs are the second least trade sensitive sector you can own.
Currently, just 13% of REIT revenue is coming from off the U.S. shore, with only utilities being more U.S. focused. This means, at least in the short to medium-term, that REIT cash flows and dividends are likely to remain safe, and growing. In fact, ironically enough, REITs may actually benefit from tariffs, in terms of stock prices and with fundamentals.
Most REITs Are Actually Likely To Benefit From Tariffs In The Short-Term
During the Great Recession, new real estate development fell off a cliff, but in recent years has risen to new all-time highs.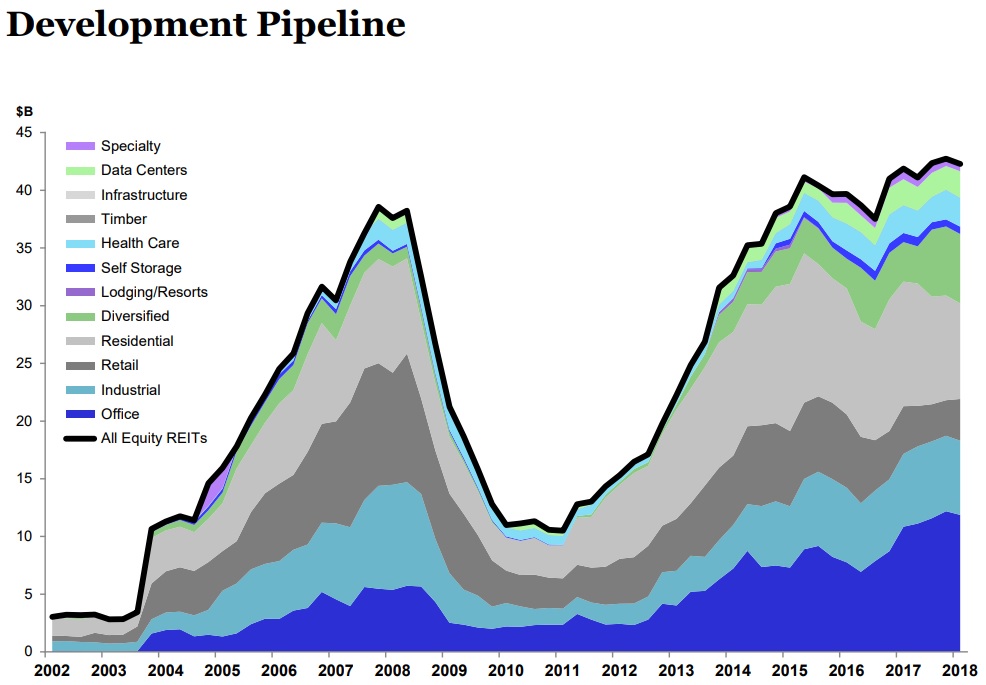 Source: NAREIT